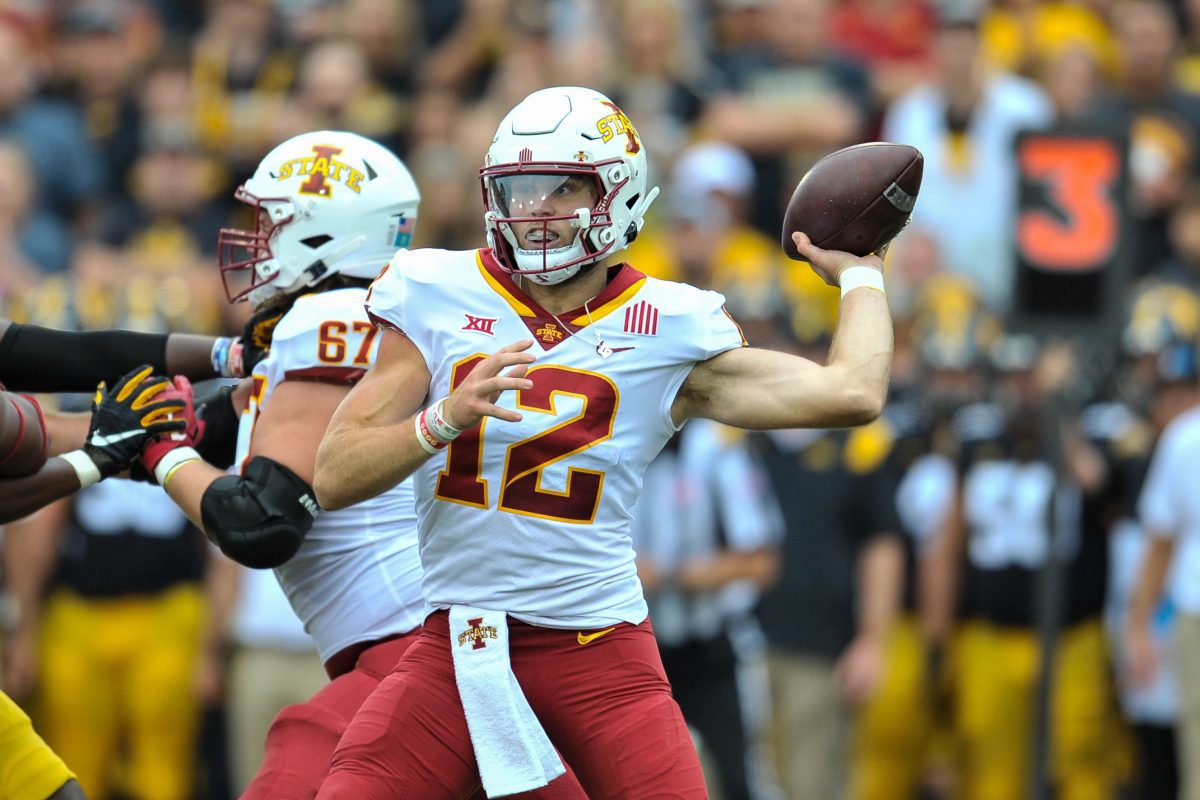 With so many big-time matchups this weekend in the Big 12, it would be easy to forget about some of the games going on. But one thing you can't sleep on is rivalry games and there was a big one going on in Iowa City on Saturday.
It was the annual Cy-Hawk game between Iowa State and Iowa. While Iowa State head coach Matt Campbell has had plenty of success in Ames, he has yet to defeat the other team in the state of Iowa since he took over.
But today was Iowa State's day as they are bringing home the Cy-Hawk trophy to Ames for the first time since 2014. The streak is over and here are my three thoughts on Iowa State's 10-7 win over Iowa.
1. The Legendary Drive
This game doesn't seem like the type of game that was exciting due to the score, but the one touchdown Iowa State scored came off a drive of a lifetime. After a blocked punt in their own endzone, Iowa State somehow got the ball back due to an Iowa fumble on the goal line. The Cyclones started their scoring drive on their own 1-yard line and found a way to turn it into seven points. Out of nowhere, Iowa State converted six third downs on this magical drive and capped off the 21 play, 99-yard drive with a touchdown pass from Hunter Dekkers to Xavier Hutchinson. That was the score that put the Cyclones up 10-7 with 8:27 left to play in the game. I still am not sure how it happened but that is going to end up being one of those drives that people will talk about ten years from now.
2. It Wasn't Pretty but They Won
Every year this game always seems to come down to turnovers and special teams play. Both teams had three turnovers and Iowa State clearly lost the special teams battle against Iowa on Saturday. They had two blocked punts and were lucky enough that it didn't cost them the game. Hunter Dekkers threw two picks in the red zone and there was even a fumble at the goal line by Jirehl Brock that cost Iowa State seven points. In all honesty, Iowa State should have won this game by two or three scores. The good news is that the offense pulled a rabbit out of a hat with that long touchdown drive in the fourth quarter and how about that defense? They held Iowa to just 150 total yards and got three turnovers. Sometimes it doesn't matter how it looks as long as you win and that was the case on Saturday in Iowa City.
3. The Streak is Over!
Ever since Matt Campbell took over at Iowa State, he has taken the program to new heights. They have been to multiple bowl games and even made a Big 12 title game appearance along with a big Fiesta Bowl win. There's no question his staff has raised the bar there at Iowa State. However, in his seven years there he has yet to beat Iowa and now he can cross that off of his checklist. By no means was it the prettiest game but it doesn't matter. Winning rivalry games is hard and winning them on the road is even harder. This team found a way to win and will be bringing the Cy-Hawk trophy back home. It's been a long time coming. So go ahead Iowa State fans, crack open those Busch Lights and crank up the Juicy Wiggle because you have earned it.