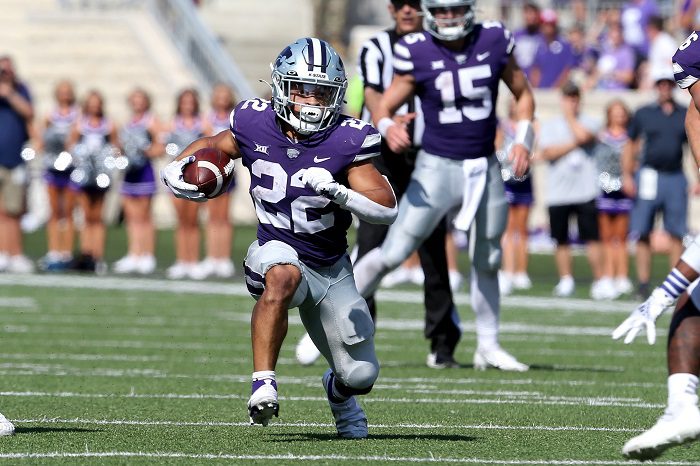 The Kansas State Wildcats hosted the Missouri Tigers on Saturday in rainy Manhattan. This marks the first time these teams have met since the 2011 season in which the Collin Klein-led Wildcats beat the Tigers 24-17. Similar to that game, Saturday was a battle against the elements.
K-State was coming off a Week One win against South Dakota 34-0, while Missouri was fresh off a 52-24 win over Louisiana Tech. While many thought this game would be close, K-State silenced those conversations handling the Tigers in their 40-12 win. With all that being said, here are three thoughts following Saturday's game.
MIZZOU HAD A ROUGH TRIP
Going into this match up, I thought that it would be a fairly close contest. After Missouri's Week One performance against LA Tech, I expected a drastic change for K-State going from playing South Dakota to Missouri. But, I guess I was wrong. The Tigers hardly resembled the team from just one week ago. Rising star receiver Luther Burden was a non-factor, the Tigers quarterbacks threw four interceptions in four drives, and the team lacked intensity and effort. This is one performance Mizzou fans will be ready to push as far out of their minds as possible.
Going forward it'll interesting to see how Missouri moves on from this loss. They take on Abilene Christian next week on Sept. 17th and can hopefully use it as a get-right game before the season hits full stride.
THINGS FEEL DIFFERENT IN MANHATTAN
The message I'm starting to get from the Wildcats is that this team can compete in all three phases of the game. While K-State's offense wasn't spectacular, it was still effective and put together some nice drives. The defense was stellar, forcing turnovers on four straight drives and keeping Missouri to a mere six points. And of course, one of K-State's specialties, Phillip Brooks returned a punt 76 yards to the house to put the game away.
I'm not entirely sure if this is a different team or not from years past. Starting 2-0 for the third time in the Klieman era, K-State looks to make a splash in Big 12 play and really shake up the conference. Does this team have that potential? That's going to be a major storyline to follow and we should find out more next week when the Cats take on Tulane.
RAIN CHANGES THE GAME
Rain does a lot of good, but it has to stay away from football. From the first play of the game on it was only a matter of time until a delay would inevitably hit, and that it did. With six minutes left in the second quarter, both teams headed to the locker room to wait out the rain. Due to a mixture of lightning and heavy downpour, our thirty-minute wait turned into about an hour. While we were fortunate enough to resume and get back to football eventually, it was hard to miss the impact the weather had on play calling.
Both teams kept it on the ground, and it was the Wildcats who dominated in that category, rushing for 235 yards, good for 5.5 yards per carry. Meanwhile, Mizzou was held to just 94 rushing yards on 35 carries, for 2.7 yards per carry. And yes, Deuce was on the loose, as K-State RB Deuce Vaughn racked up 145 rushing yards and a pair of scores as he continues to prove he's the most dynamic player in the Big 12.