Kansas Jayhawks
Three Thoughts on Kansas' 55-42 Overtime Win Over West Virginia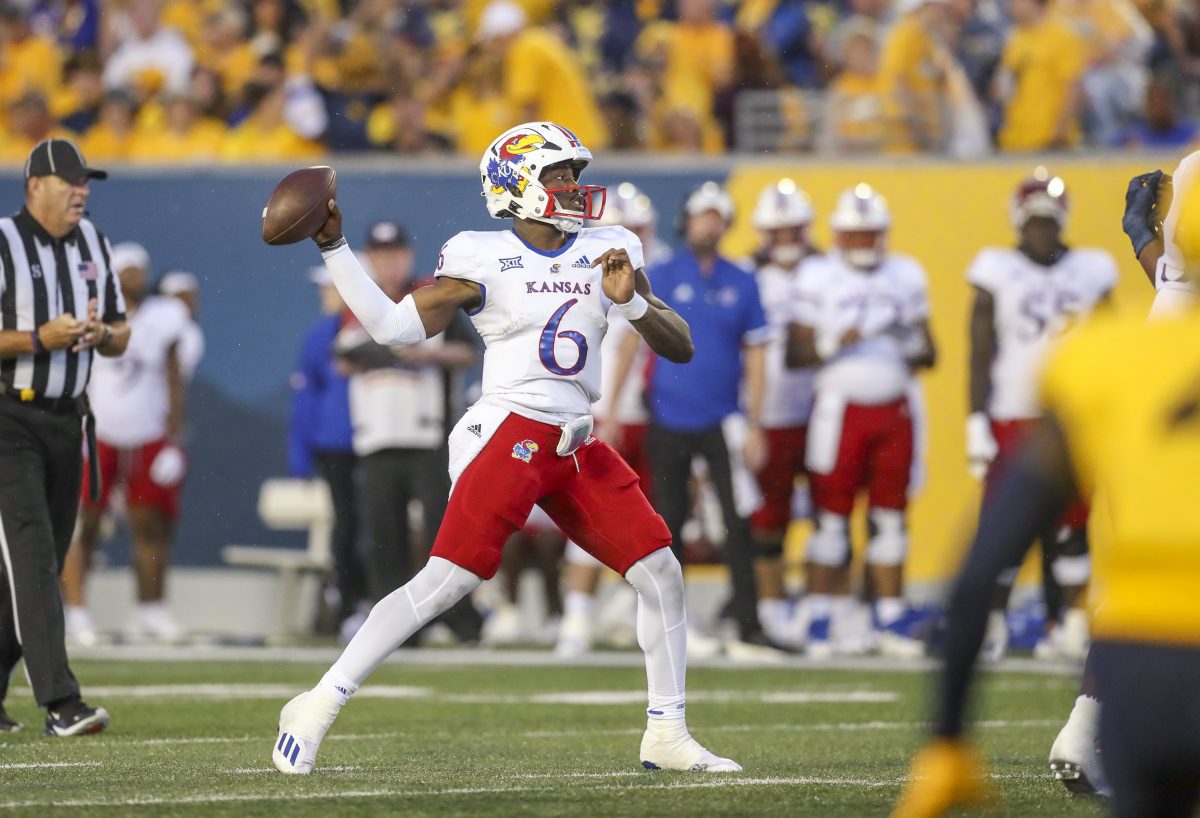 There were plenty big-time matchups this weekend in the Big 12 Conference. You had the Texas/Alabama game, Iowa State/Iowa matchup, and of course Baylor traveling to Provo to take on BYU.
However, some may not have realized that we had our first conference game this weekend in the Big 12. Kansas went to Morgantown to take on the West Virginia Mountaineers to open up Big 12 play.
I am sure many of us thought that West Virginia would have a bounce back weekend after losing the Backyard Brawl, but the Kansas Jayhawks had other plans in mind. Here are my four thoughts on Kansas' crazy overtime win over West Virginia.
1. This Was a Program-Changing Win for Kansas
I wasn't sure of the hire when Lance Leipold was named head coach. He had some good years at Buffalo, but nobody knew if he would be the one to turn the program around. Last season he was able to be competitive in games and even had a signature win over Texas in Austin. Now here we are a year later, and he opens up conference play with a win over West Virginia in Morgantown. Obviously, there's still plenty of football left this season but this Kansas team is going to win some ballgames folks and I believe it is safe to say Lance is the right man for this program. Smile Kansas fans because you are 2-0 for the first time in over ten years.
2. There was a Meltdown in Morgantown
West Virginia got off to a fast start in the game. They had a 14-0 lead going into the second quarter and then the defense started to collapse. Kansas scored three touchdowns in the second quarter and two more in the third quarter as the Mountaineers couldn't stop the Jayhawks offense. In that second quarter Kansas had three ten plus play scoring drives and it got worst after that. West Virginia would allow Kansas to score even faster in the second half. That defense gave up some plays through the air but what was concerning was giving up nearly 200 yards on the ground.
With the defense giving up score after score, the offense had a hard time keeping up. JT Daniels kept them in the game as he threw for 355 yards and three scores. Yes, he had the game ending pick in overtime, but you can't give up forty plus points to Kansas. I could nitpick more things on offense I didn't like but, in the end, this game falls on the coaching staff and that defense.
3. Neal Brown's Seat is on Fire
Coming into Year Four, Neal Brown had to get this program back on track. Since taking over in 2019, he has a sub .500 record overall and in conference play. Now with quarterback J.T. Daniels, this was supposed to be the year to get things in the right direction. Yet, after two games they are 0-2. Week One was a tough loss to Pitt on the road and now you have this one which was a complete stinker of a game. Unless some changes are made with this football team, I don't see Neal Brown coming back after this season. The time to win is now and he better get things figured out quickly or else he won't be in Morgantown much longer.