Big 12 News
Three Thoughts on Oklahoma's 33-3 Win Over Kent State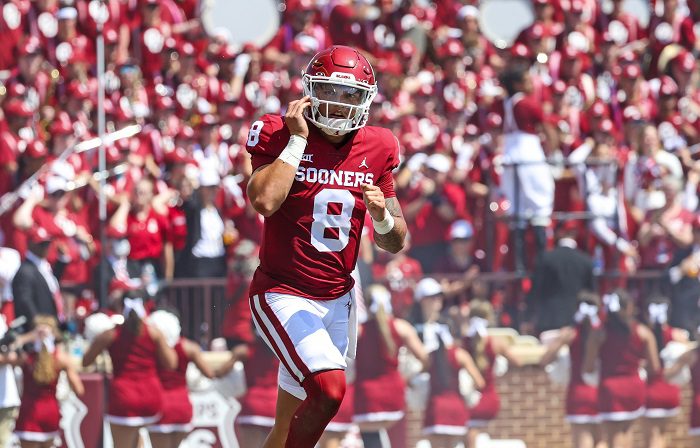 Just as they did last week against UTEP, the Oklahoma Sooners took care of business against the Kent State Golden Flashes, winning 33-3 in Norman on Saturday night.
A slow start had Sooner Nation a bit pent up in the first half, but a scorching hot second half start got the Sooners way out front for good.
Oklahoma is now 2-0 on the season without much of a test to this point, and now a tricky road trip to Nebraska awaits.
Here are three things that stood out in Oklahoma's 33-3 victory over Kent State.
Concerning First Half on Crazy Day of Upsets
With under a minute to go in the first half, it appeared that Oklahoma might join the likes of Texas A&M and Notre Dame as top ten programs to lose on Saturday to unranked nonconference opponents. Oklahoma was down 3-0 to Kent State before Dillon Gabriel found Marvin Mims for a 36-yard score with 18 seconds left to make it 7-3 Sooners at the break. Oklahoma had mustered just seven rushing yards in the first 30 minutes, while Kent State sustained drives throughout on busted plays. Kent State quarterback Collin Schlee made a few plays with his legs in the first half and was certainly frustrating the Oklahoma defense, but that would change in the second half of play.
Dillon Gabriel Leads OU in Explosive Second Half
Whatever happened in the locker room at halftime certainly lit a fire under the Oklahoma offense as the Sooners came out firing with 26 unanswered points in the second half. Dillon Gabriel led the way offensively, going 21-28 for 296 yards and three touchdowns through the air two of which came by way of Marvin Mims. The Sooners top receiver of the night, Mims turned in a career game as he hauled in seven catches for 163 yards and two scores. Oklahoma's two-headed monster at running back was much more productive in the second half as Eric Gray and Marcus Major combined for 109 yards on 15 carries, the majority of which came in the third and fourth quarters. All in all, Oklahoma's second half success gave them control early in the third, and they never relinquished it from that point on.
Road Trip to Lincoln the First Test of Sooners' 2022 Season
Nonconference games against teams like UTEP and Kent State are supposed to be tune-up games for a team like Oklahoma, and they were this time around. Oklahoma paid the Miners $1 million dollars last weekend and Kent State will cash a $1.5 million check after tonight's game just for coming to Norman to play the Sooners.
Next week, there are no exchanges of money or friendly goodbyes as the brave cupcake team gets back on the bus to go home. No, next week, the Nebraska Cornhuskers will play host to the Sooners in Lincoln, Nebraska for the first time since 2009, and that will mark the first true test of Oklahoma's 2022 season. Since falling to Northwestern in their opener, Nebraska has looked awful against both North Dakota and Georgia Southern, so it might not be quite the contest it was expected to be before the season.
Last year, Oklahoma held on for a 23-16 win over the Huskers and another tough battle likely awaits OU in what was once one of the greatest rivalries in college football.