Big 12 News
Three Thoughts on TCU's 59-17 Win Over Tarleton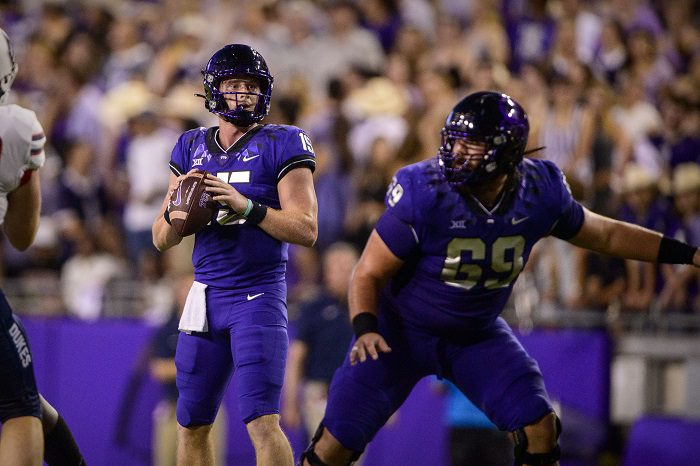 The TCU Horned Frogs hosted their home opener on Saturday night against Tarleton. It was as easy of an opponent as Sonny Dykes could ask for in his first game in front of the Horned Frog faithful in Fort Worth. The game went exactly as you would expect, as the Horned Frogs jumped out to a 21-0 first quarter lead and never looked back in a 59-17 win over the Tarleton.
Here are three thoughts on the game.
Max Duggan Instills Confidence
Max Duggan was the starting quarterback for the home opener after Chandler Morris, who got the start Week 1 vs Colorado, suffered a sprained knee. And while the competition was not up to Big 12 standards, you couldn't ask for a better performance for Duggan. He finished the night 23 of 29 for 390 yards and five touchdowns as the Horned Frogs rolled to a victory.
No doubt the competition is going to step up moving forward, starting in two weeks (more below), but this is also the kind of confidence boost Duggan could use before the quality of opponent picks up. It's been a winding road for him in Fort Worth, so it was nice to see him put together this kind of a performance.
A balanced attack
Seven players got rushing attempts on Saturday night in Forth Worth. Kendre Miler led the way with seven carries for 56 yards and one rushing touchdown. Emani Bailey had four carries for 47 yards and one touchdown, with Sam Jackson scoring the other TD on the ground.
Through the air, 15 players caught passes for the Horned Frogs on Saturday night, with no one getting more than five catches. Jordan Hudson led the way with five catches for 76 yards and a score, while Taye Barber had 66 receiving yards on the night. Quincy Brown added two touchdown grabs of his own as well.
It was a complete, team effort that won't be duplicated when Big 12 play rolls around, but it does show that Sonny Dykes believes he has solid, offensive depth on this roster at the skill positions.
Iron Skillet is On Deck
This may be one of the most-anticipated Iron Skillet match ups given the storyline in this one with Sonny Dykes leaving SMU for the head coaching position at TCU.
Granted, we will have to wait two weeks, as TCU has a bye week next week. But this rivalry has really improved as of late. The last two meetings (2019 and 2021) were decided by a combined eight points. The prior seven meetings were decided by 8, 31, 56, 21, 30, 20, 30 points, all in favor of TCU.
But SMU has improved as a program, in large part thanks to Dykes, and now Rhett Lashlee looks to continue that theme after coming over from Miami.
This will be a can't-miss game in two weeks before TCU opens Big 12 play against Oklahoma the following week.