Football
Three Thoughts on Texas' 20-19 Loss to Alabama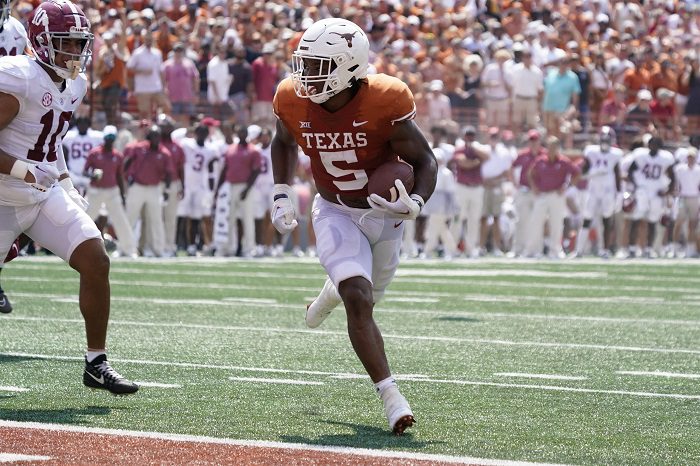 The Texas Longhorns hosted the No. 1 team in the country for just the third time in program history when the No. 1 Alabama Crimson Tide visited Austin, Texas.
It wasn't just a matchup of two historically great programs, or a matchup of mentor (Alabama head coach Nick Saban) against pupil (Texas head coach Steve Sarkisian). It was a matchup of future SEC rivals. That's still weird to write. And Texas students were camping out starting Thursday to get in the game.
In the end, it was Alabama winning 20-19. But, after a half, the game was tied at 10-10 and Texas had a slim lead going into the fourth quarter and took the lead with less than two minutes left. But it's Alabama. Despite a sub-par day, the Crimson Tide found a way to win.
It went down as one of the great games of the 2022 season, and we're only two weeks in.
Here are three thoughts on Texas' Week 2 loss to Alabama.
IT'S A QB QUESTION AGAIN AT TEXAS
For a quarter, Quinn Ewers clearly showed why he won the starting quarterback job over holdover Hudson Card. He went 9-of-12 for 134 yards and had the Longhorns in position to score their first touchdown of the game when he suffered an injury to his left shoulder on a sack by Alabama's Dallas Turner. The offense hummed with Ewers in control, and you could see the burgeoning chemistry between him and wide receiver Xavier Worthy.
Now, all of that is in flux. It wasn't immediately clear the severity of the injury or how long Ewers might be out. All Texas head coach Steve Sarkisian would say at halftime was "not sure yet."
For now, it's Card. He has a solid second quarter, finishing off the Ewers touchdown drive and getting Texas in position for the lead before a missed field goal at halftime. Card finished 14-of-22 passing for 158 yards. He played hurt for much of the second half with a limp as he took three sacks, but he gutted through it and kept Texas moving.
Card led the Longhorns on their final drive of the game with 3:55 left and down a point. He passed them into field-goal range. Even though he took a sack from Alabama linebacker Will Anderson Jr. on third down, Bert Auburn's 49-yard field goal with 1:29 left gave Texas the lead.
Ewers is clearly the better option. The question is whether he'll be an option in the near future. Card looked more comfortable than he did a year ago. Experience does that for you. At this time last year, Texas had 'two' quarterbacks, but in reality Casey Thompson was the only option.
Now? Well, Card has grown and Ewers can sling it. So the question isn't who can or can't play, it's whether Ewers is healthy enough to play next week?
BIJAN CAN HANDLE THE LOAD
As the game progressed, it was clear that while Alabama's front seven was on target, the secondary was far less so. And, while Texas did a good job of exploiting that weakness, they didn't forget about their All-America running back.
The Longhorns used him primarily as a runner in the first half, as 12 of his 13 touches came out of the backfield. He finished with 45 yards. That's not quite four yards per carry, but when you consider he was likely Alabama's main point of emphasis on Saturday — especially after Ewers' injury — Texas was probably happy with that. His one catch, for 42 yards, set up the missed field goal at the end of the first half. But, 13 touches for nearly 90 yards, plus the touchdown run, against that Alabama defense is quality work.
In the second half Alabama put even more pressure on Robinson, and there's only so much one back can take. Plus, Texas went conservative between Card's injury and having the lead at home. Robinson finished with 57 yards rushing and 43 yards receiving (100 yards total). It wasn't the dynamic game that he's capable of in full, but he had an impact and his presence on the field helped steady things after the Ewers injury.
TEXAS DEFENSE RISES UP
On the game's final drive, with Alabama driving down two points with 1:24 left, the Texas defense had a chance to make the biggest statement of the day in college football.
It didn't come through, which was a bit surprising considering that for most of the day the Texas defense had played well.
Alabama quarterback Bryce Young connected with Jahmyr Gibbs on a 20-yard pass, followed by a 5-yard pass to Cameron Latu. Young then gained 17 yards on a keeper and put the Crimson Tide in field goal range with less than a minute. The Crimson Tide took the lead on Will Reichard's field goal with 10 seconds left. And that was that.
For most of the game, the Longhorn defense frustrated the Alabama offense. Young did not have a high-quality day. Jase McClellan's 91-yard touchdown run was Alabama's only big play of the game on offense. Texas nearly had a safety in the third quarter, after Texas defensive lineman T'Vondre Sweat sacked Young in the end zone. But after a replay and after a bizarre ruling, it was called an incomplete pass and Alabama punted. Given the score of the game, the call mattered.
It took Alabama basically abandoning the run game in the fourth quarter to win. Plus, Texas left too much time on the clock for the Crimson Tide after Auburn's field goal.
Alabama didn't play well offensively. The Texas defense had a lot to do with that. If you're looking ahead to Big 12 play, the Longhorns made a statement in defeat — this defense is built to make a difference.
You can find Matthew Postins on Twitter @PostinsPostcard.