Baylor Bears
Big 12 Football Week 2: The Good, the Bad, and the Ugly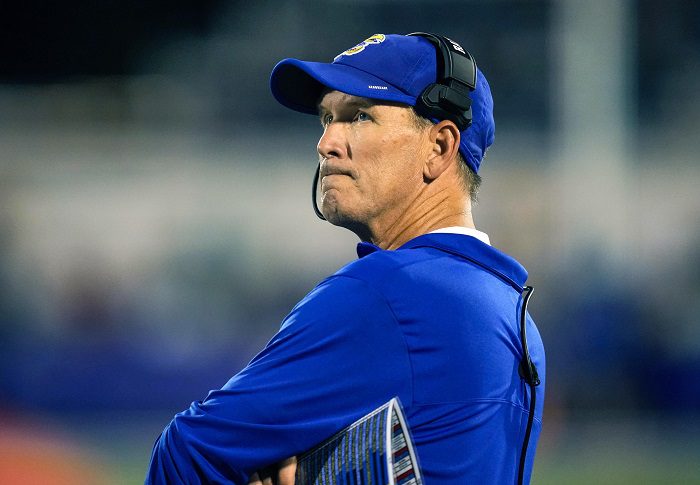 After a great opening weekend in the Big 12, it was time for a bigger challenge. We had another full slate of games this weekend with a ton of non-conference games and one conference game that opened up Big 12 play. Between big time matchups, rivalries and even a future conference matchup in Provo, here is the good, bad, and ugly from week two in the Big 12.
The Good
Kansas State (Beat Missouri 40-12)
How about an old school Big 12 beatdown? That is exactly what Kansas State gave Missouri on Saturday afternoon. The Wildcats absolutely shutdown the Missouri offense as they had ten tackles for loss on the day. They allowed just 222 yards, and the lone touchdown came on the last play of the game. Meanwhile the offense ran the ball with authority as Deuce Vaughn had himself a day with 145 yards and two scores. Once again Adrian Martinez didn't have to throw the ball much as he completed just nine passes. This was a great win for Kansas State over an SEC team. It rained almost the entire game but by the end I couldn't tell if it was just rain or Missouri tears.
Iowa State (Beat Iowa 10-7)
Matt Campbell has done a lot of great things in Ames, Iowa since he took over back in 2016. However, the one thing he hasn't done is beat Iowa. That changed on Saturday with a big win over the Hawkeyes in Iowa City. It wasn't pretty by any means as Iowa State had three turnovers in the red zone and had two punts blocked. Normally, that is a recipe for disaster, yet this team found a way to win. The defense played great, and the offense had a legendary 21 play, 99-yard drive to take the lead in the fourth quarter. On that long drive, Iowa State's offense went 6/6 on third down and ended it with a touchdown pass from Hunter Dekkers to Xavier Hutchinson.
Sometimes it doesn't matter how sloppy it looks as long as you win. I said after the game that beating a rival isn't easy and doing it on the road is even tougher. Well, Iowa State beat their rival on the road and the Cy-Hawk trophy is going back to Ames for the first time since 2014.
Texas Tech (Beat Houston 33-30 in Double OT)
I was extremely impressed with the Red Raiders this weekend. They played a great first half where they found themselves up 17-3. The defense didn't play as well in the second half, but the offense couldn't do much either. But thanks to some big plays, Tech was able to get the win in the end. The offense had two long touchdowns from Donovan Smith to Martinez and Price for scores and Smith also had the game winning touchdown run in double overtime. When this team's back was against the wall, they came up big and give credit to Joey McGuire and his staff for having this team fired up.
TCU (Beat Tarleton State 59-17)
Not much to take away from this game due to the inferior opponent. The defense was ok, but the offense was the story here. Chandler Morris was out so Max Duggan got the start and ended up throwing for 390 yards and five touchdowns. This game was never close as some backups got some playing time in this one.
Oklahoma (Beat Kent State 33-3)
Oklahoma had to wake up in this game in the second half. After two quarters of play they were only beating Kent State 7-3 at halftime. I am not sure what Brent Venables said in the locker room, but it worked as the Sooners came out ready to play in the second half. Oklahoma scored 24 points in the third quarter as Dillon Gabriel got the offense moving. Wide receiver Marvin Mims had a big evening with two touchdown grabs, but I would like to see more from the run game. Next up is a trip to Lincoln, Nebraska to take on the Huskers. Scott Frost may or not be the head coach of Nebraska by the time next Saturday gets here.
Kansas (Beat West Virginia 55-42 in OT)
Kansas isn't on the good side of the list very often, but man did they have a HUGE victory in Morgantown on Saturday. They got down early and that offense led by Jalon Daniels kept chipping away throughout the game. Jalon got it done through the air and even led Kansas with 85 rushing yards. What was crazy is the fact that the offense managed to convert 11 of their 15 third downs. Lance Leipold's team played a good, clean game on the road as they didn't have many penalties and won the turnover battle as well. This was a program building win for Leipold and I do firmly believe that he is the right man for the job in Lawrence.
Oklahoma State (Beat Arizona State 34-17)
Spencer Sanders didn't have his best day as a passer, but it didn't matter thanks to the run game and that defense. Running back Dominic Richardson had himself a game with 131 yards and a score. And how about the defense? They were dominant on third down as Arizona State converted just 2 out of their 13 third downs. Derek Mason's defense got off the field when they needed to but the turning point in this game was the fourth quarter as Oklahoma State pulled away.
The Bad
Texas (Lost to Alabama 20-19)
Even though they lost, some folks in burnt orange may consider this a win. I didn't think Texas would keep it this close, but they did. The Quinn Ewers injury didn't put a damper on this Texas team as Hudson Card took over. Even he got shaken up a bit and yet stayed in the game. Perhaps the most impressive thing was the defense for Texas. Yes, they let Alabama score at the end but overall, they looked ten times better than they did at any point last season. Also, the officiating in this game was terrible. Between all the flags, no calls and confusion, I am not sure I would want that crew officiating another Big 12 game.
Baylor (Lost to BYU 26-20 in Double OT)
The final game of the weekend turned out to be a classic. Unfortunately for Baylor, they just couldn't come back with a win. Defensively, Baylor played well but I have some serious concerns about the offense. The offense ran the ball a whopping 52 times for just 152 yards. Baylor didn't attempt to throw the ball much at all because they couldn't. Right now, the Bears have a glaring hole at receiver because nobody is winning matchups on the outside. This staff isn't confident in the passing game and BYU knew exactly what was coming. But the thing that was backbreaking for Baylor was the special teams and mistakes. The Bears were penalized 14 times and had a missed PAT and field goal in overtime. You can't play that sloppy on the road and expect to win.
The Ugly
West Virginia (Lost to Kansas 55-42 in Double OT)
I thought this team would have a big bounce back Saturday after a heartbreaking loss in the Backyard Brawl last week but that didn't happen. After jumping out to a fast 14-0 lead in the first quarter, the defense had a complete meltdown giving up 35 points in the next two quarters. The defense couldn't get off the field on third down allowing Kansas to convert nearly 75% of their third downs. Meanwhile with the defense getting torched, the offense had a tough time keeping up for a while. I know that JT Daniels ended up throwing the costly pick in overtime, but I am not going to blame the offense for the loss here. This game falls on the defense and the coaching staff as they both made a ton of mistakes. Right now, West Virginia has a 0-2 record and the still have Virginia Tech and Towson on the schedule before they play another conference game. If they go 1-3 before their next Big 12 game, then Neal Brown's seat will be scorching hot.