Big 12 News
Matt Campbell is 'Interested' in Nebraska Job: CBS Sports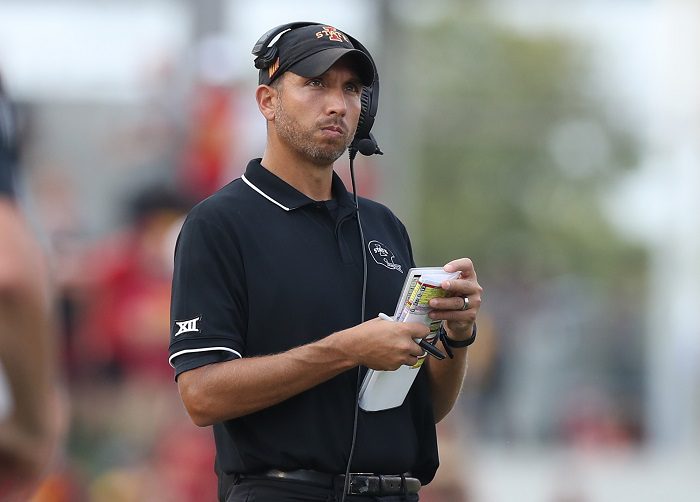 Scott Frost was fired on Sunday by Nebraska and now we have our first major coaching opening in college football.
While Nebraska has been on a downward spiral since leaving the Big 12 Conference, it's still a place with enormous resources and has a national brand.
And naturally, there will likely be a Big 12 name or two on the target list for Nebraska. CBS Sports' Dennis Dodd is already reporting that Nebraska has interest in Matt Campbell and he also reports Campbell is "interested" in Nebraska.
"Several sources have told CBS Sports that Campbell is interested in Nebraska. It's certainly more highly resourced than Iowa State, especially with the Big 12 moving down in the pecking order with the forthcoming departures of Texas and Oklahoma. But Campbell has to get to a certain level this season to be in the mix. That means 6-6 or even 7-5 might not be good enough for Nebraska, which absolutely has to hit a home run this time around. Campbell (10-7 in his last 17 games) may have simply hit his ceiling at Iowa State. Prior to this development, insiders were saying Campbell was interested in only two jobs: Ohio State and Notre Dame. Both are filled at the moment."
Campbell has been linked to several jobs in recent seasons, including Florida, USC and Notre Dame. In fairness, he's always put his money where his mouth is when it comes to staying loyal to Iowa State.
Is Nebraska appealing enough? Does he want to try to revive the once-proud powerhouse? Is the Big Ten, especially the weaker Big Ten West, enticing?
Understandably, Iowa State fans will use history as their best defense, as they should. But Nebraska needs to get this next hire right, and it makes sense that they would want someone with the pedigree of Matt Campbell.