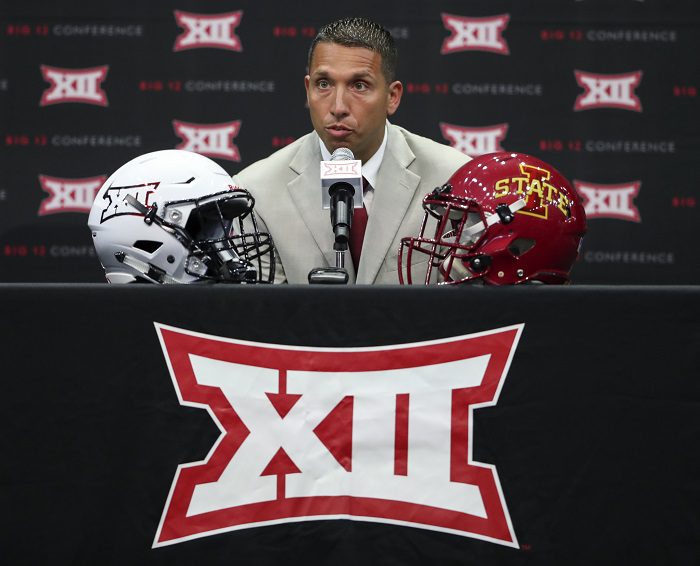 Now that Scott Frost is out at Nebraska, speculation will naturally turn to who will succeed the former Cornhuskers quarterback as head coach.
One advantage for Nebraska in firing Frost now is that it has about three months to conduct a coaching search. Expect their administration, led by athletic director Trev Alberts — another Nebraska product — to leave no stone unturned in finding Frost's successor.
That successor could come from the Big 12.
While Nebraska is not what it was when Frost and Alberts played, the job is still one of the game's blueblood jobs. As someone who has been to a Nebraska game, I can safely say that's an all-weather fan base. It just wants to get back to winning double-digit games. Of course, it's just not that easy.
I think Nebraska will cast a wide net and that will include Big 12 coaches. Here are the three Big 12 coaches I think Nebraska is most likely to push for and — this is JUST as important — the coaches that I think may actually show some level of interest in the job, even slightly so.
Matt Campbell, Iowa State
Don't look at me like that. This is just how it goes. There's a Power 5 job opening. Campbell's name is going to get mentioned. There are a lot of good reasons for Nebraska to be interested in Campbell. On Saturday, Iowa State beat Iowa in Iowa City, ending their losing streak to the Hawkeyes. At a broader level, he has taken Iowa State to heights it has rarely experienced, including an appearance in the Big 12 Championship Game at the end of the 2020 season. Campbell has done remarkable work in Ames. We've been down this road with Campbell plenty of times. He's successful and Iowa State pays him well, so he has the luxury of waiting for the job he really wants (assuming he doesn't already have it). I expect Nebraska to make a push for Campbell when the time comes. I also expect Campbell to deflect all mention of the conversation.
Lance Leipold, Kansas
This isn't just recency bias, thanks to the win over West Virginia on Saturday. Leipold has an extremely successful track record at Division III Wisconsin-Whitewater and FBS Buffalo. Those jobs, and the programs he built there, are reasons Kansas was interested in him, and why he took one of the toughest jobs in the country. He's already making headway. Leipold could make the Jayhawks a perennial bowl team. But that may also be the ceiling. Nebraska offers incredible facilities and a 'name brand' to recruit on, thus allowing him to build something bigger. This all depends on Leipold's ambition. But Nebraska, even in its current state, is a better job than Kansas. Sorry, that's just how it is. If I'm Alberts, I at least gauge Leipold's interest.
Chris Klieman, Kansas State
Klieman got the Kansas State job due to his huge success with North Dakota State, where he won multiple national championships leading the Bison. He took on replacing the legend, Bill Snyder, and hasn't shrunk from it. He's a great fit in Manhattan, and he's building that program in his image. Getting Adrian Martinez to come to K-State through the transfer portal was quite the coup, too. He's a capable recruiter and he knows that part of the country well, perhaps better than the other two names on this list, because of his time at NDSU. He wouldn't be following a legend like he did at K-State. But he would be taking the reins of a legendary program. He won't be intimidated by that, either. I suspect Nebraska will investigate.
You can find Matthew Postins on Twitter @PostinsPostcard.