featured
Oklahoma State Football: A Work in Progress, But a Winning Formula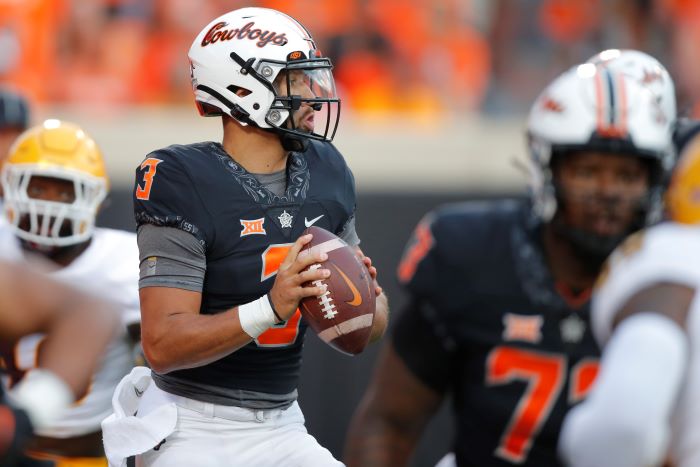 When Arizona State hit a 70+ yard pass on the first play of the second half Saturday night I wasn't in the stands at Boone Pickens Stadium. My seat, which I've had for longer than Mike Gundy has been head coach, was empty. Instead, I was in line in the gift shop with my wife buying a hoodie and some sweatpants for her because a cold front had moved in and it brought a sharp temperature drop and some light rain with it.
As a veteran of two decades, I'm rarely caught off guard by the weather at a game but my wife is a novice. This is her first season going with me to every single game. My suggestions of more than shorts and a T-shirt were eye-rolled into another dimension where I hope for the football wives there that cute clothes are also warm.
The ten or so minutes of game time I missed while being a good husband and standing in the long, long lines (my wife was not the only wife surprised by the weather) made me have to watch on the gift shop TVs as instead of punching in a touchdown before the half to go up 21-3 my Cowboys instead settled for the field goal to go up by only 14.
Half of that lead was surrendered in the first handful of plays when the game commenced and I wasn't feeling too good about my team. When we traded yet another field goal for a touchdown and let the Sun Devils get as close as 20-17 I had convinced myself we were going to lose the game.
Of course, we all know the Pokes ended up winning. They spent the 4th quarter churning out yards on the ground mostly, managing to score twice more and killing a lot of the clock. The Cowboys' depth up front finally took its toll on the Devils and the loaded defensive line harassed away any shot of an ASU comeback.
I re-watched the game today and it wasn't as bad as I felt it was in during my time in the world's longest gift shop line. Everything that's keeping the Cowboys from looking like the team that deserves the top 10 ranking they have is fixable. All that kept them from blowing the doors off Saturday night were a handful of miscues: a few key dropped passes, a couple of blown assignments in the secondary, and a really bad interception by Sanders.
Arizona State isn't a pushover but they aren't world-beaters either. Emery Jones was a five-star recruit to Florida for a reason and Herm Edwards is working out better than I thought he would when they hired him. Sparky will make a bowl game for sure, but if OSU plays the way they just did against Baylor down in Waco two games from now, they'll head home with a loss. Dave Aranda's squad will turn a handful of miscues into 21 points. Luckily there's a tune-up game and a bye week to get things straight before then.
One thing for sure is that defense last season spoiled our fans. I've heard a lot of "I miss Jim Knowles" up in the stands for two games and I'm partially in that camp, but only partially. Derek Mason is still feeling out his new job and I still have faith in his defensive coordinator abilities but when ASU picked up the first down on 3rd and 18 late in the game my seat neighbor and I lamented over how Knowles would have almost assuredly called a zero blitz in that situation. And of course in our minds that would've worked perfectly unlike the call that just gave up a new set of downs.
In reality though, what we are missing from last year more than Knowles are four starting defensive backs and two starting linebackers that made NFL rosters. Outside of an uber-experienced defensive line and one safety, the entire defense is brand new starters. It may take half the year to get into form and even then it's unlikely they'll be a top ten defensive unit like the Cowboys had last season. Last year's squad was special and we may never see that level of defense again in Stillwater.
Luckily the offense is looking better than the 2021 group. The offensive line looks much better so Spencer Sanders is now running much more often by design instead of just running for his life. New starting tailback Dominic Richardson looked good against ASU, never breaking a big one but going for 4-6 yards every time and keeping the chains moving. The receiver group is loaded (as long as the drops get cleaned up) even with a couple of injuries nagging some of them. Mike Gundy also seems to have taken the leash off of offensive coordinator Kasey Dunn as the play calling has been far more aggressive starting with the bowl game last year.
The bottom line is while they may not look like they deserve a top ten ranking right now this is still a good football team that is capable of making its way back to the Big 12 title game. The first three conference games are against Baylor, Texas Tech, and TCU. Coming out of those 2-1 should be a realistic goal for this squad as long as one side of the ball doesn't have a complete meltdown in any of the games. And if payback plays a role in Waco a 3-0 stretch isn't out of the question.
So buckle up because I feel like this year will be a lot of games like Saturday where everything seems bleak at some point but for the most part, things get turned around and come out okay. But we're Oklahoma State Cowboys fans so biting our nails is something we're all used to, right?