Baylor Bears
Overreaction Monday: Texas is a Contender, Kansas' Bowl Chances, Baylor Loss to BYU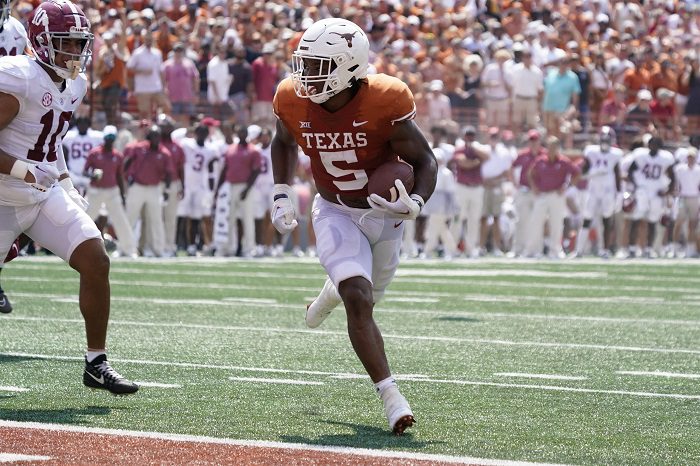 Every Monday during the college football season, fans of teams across the country return to work and discuss the events of the weekend with their coworkers. Around the watercooler or coffee machine, overreactions are born as suddenly one team is now a national title contender (they're not) and another's season is over after a tough loss (it isn't).
Allow us to sift through the rumors, false allegations, and straight-up nonsense for you this season with overreaction Monday, where we tell you whether you need to cool the jets or you legitimately have something to worry about.
Texas is a Big 12 Contender.
Not an overreaction. Unless you donned the Burnt Orange on Saturday, you knew that Alabama was going to walk into Austin and drag the Longhorns up and down the field. Hell, some of you that practice "Horns Up" probably knew in your heart of hearts that was going to happen. Except it didn't. No, for the vast majority of the game Texas looked faster and more physical than Alabama did at the point of attack, and certainly was the more disciplined team on Saturday. The only reserve I have about nabbing Texas as my favorite to win the Big 12 at this point in the season is that Quinn Ewers is likely out for half of the year. When he was in the ballgame, Texas was unquestionably in control offensively. This team could finally be the one that turns things around in Austin, and the squad we saw on Saturday is more than capable of holding its own in its future conference.
Kansas Could Make a Bowl in 2022.
Not an overreaction. While Kansas is off to its best start since 2011, the Jayhawks are likely not quite ready to compete for a Big 12 crown. However, that doesn't mean they can't knock off a few teams along the way and end up in a bowl game. What Lance Leipold and Rock Chalk have done to this point can't be ignored, as putting away Tennessee Tech early and hanging around and eventually beating West Virginia on Saturday night is more than we've seen from KU in years. Quarterback Jalon Daniels has proven to be a difference-maker for the Jayhawks to this point in the season and he has the talent around him to make things happen. Taking down a West Virginia team in Morgantown is something that has never been done at Kansas, and that is something to be excited about if you rock with KU. Can Kansas realistically make a bowl in 2022? Yes.
K-State Can Win the Big 12 Without Adrian Martinez Throwing the Football.
Overreaction. When I, and half of the college football world for that matter, named K-State as their dark horse contender for the Big 12 in 2022, it was under the presumption that Adrian Martinez would be the answer at quarterback for the Wildcats. Although his Wildcats' dominated Missouri on Saturday, Martinez turned in another disappointing performance through the air. Through two games he has been underwhelming, completing 20-35 passes for 154 yards and no scores, adding 26 rushing attempts for 91 yards and two touchdowns. Now, they haven't had to worry to this point as Kansas State has outclassed both its opponents thus far. That will likely be the case yet again this week against Tulane, but after that it gets tougher. Following this week's contest, the Wildcats will take on Oklahoma, Texas Tech, and Iowa State in consecutive weeks. Those teams are good enough to take advantage of a one dimensional offense, so Martinez needs to step it up in the passing game.
Baylor is in Trouble after Loss in Provo.
Overreaction. If you didn't stay up for the Baylor-BYU game that went well into the morning hours of Sunday, it was a physical, hard-hitting game that was in front of a raucous BYU crowd. The difference in this game was that Baylor continually decided to run the ball in passing situations late in the game and the Cougars were ready for it. Could that be problematic in the future? Absolutely. If Blake Shapen and the Baylor wideouts don't make big strides from what we saw Saturday, it could be a huge issue. It also needs to be said that BYU looks like it could be special this season, and if it were a member of the Big 12 in 2022, it would be among the favorites to win the conference. On October 15, BYU will take on No. 10 Arkansas, and that will likely be the moment that the national media finds out that BYU is the real deal and that Baylor just lost to a good team this week.
Oklahoma Has Problems on the Offensive Line.
Not an Overreaction. Going into halftime against Kent State, the Sooners had mustered just seven yards rushing and had a 7-3 lead on the Golden Flashes. It seemed that Oklahoma slept through the first half, and some of that was certainly due to the fact that the Sooners played badly up front. There are several young guys playing for Oklahoma there and it feels that they are still working out some kinks in a new system. OC Jeff Lebby has kept his game plan pretty vanilla to this point, but Oklahoma struggled to move the line of scrimmage against Kent State. That is a concern, considering what awaits them in the next few weeks with Nebraska, Kansas State, TCU, and Texas coming over the next month of action. If they don't find a way to settle in to the new system quickly, the Sooners could have trouble on their hands against better teams.