Iowa State Cyclones
Big 12 Football Mailbag: OU, UT Look Strong, Expectations at KU, Conference Stronger Going Forward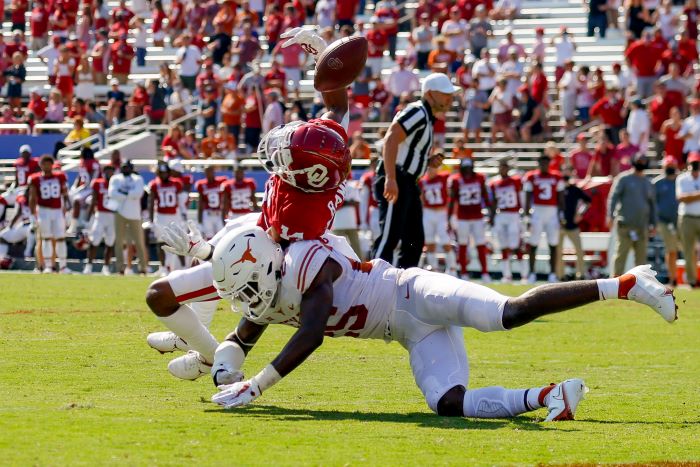 Welcome to the HCS Big 12 mailbag. This mailbag is for all you football junkies out there who root for a Big 12 school who not only have questions about your team but other teams in the conference as well. So, join me, grab a cold brew or your favorite drink and relax as I answer all your Big 12 questions in my mailbag. This week I took some questions from Twitter and Facebook for the mailbag.
I want to thank each one of you who submitted a question this week and for tonight's drink of choice? An ice-cold PBR, cheers!
@clonesjer asks: Texas and Oklahoma both look really strong, is this reality or will they fall back to earth?
Duke: Both looked good, but both had some issues. Oklahoma had a slow start as they had just a 7-3 lead in the first half against Kent State. The Sooners did end up breaking away in the second half as Dillon Gabriel looked much better in the final two quarters. Plus, their defense was good all game long. As for Texas, there were some positives. The defense played extremely well and the offense with Quinn Ewers was money in the first quarter. However, once he got hurt, the Texas offense didn't look nearly as good. The bad news is that Ewers is going to be out for a few weeks which may cost Texas a game or two. Out of these two schools, I think Texas may fall back to earth a little bit with Ewers on the sidelines.
@Haugie10 asks: Which player has exceeded expectations from the Big 12 this year? For me it's Jirehl Brock at Iowa State.
Duke: For me there have been two players that have surprised me this season so far. Offensively I would go with Oklahoma State quarterback Spencer Sanders. I know he didn't have the best game against Arizona State, but he looked like Superman in week one against Central Michigan. Right now, Sanders has thrown six touchdown passes and has just one interception. If he can keep those turnovers down, then he will become the player we have been talking about for years. As for a defensive player, I would go with defensive end Reggie Grimes from Oklahoma. He had a big week one with 2.5 sacks and then had another 1.5 last weekend against Kent State.
@JakeConover1991 asks: How smart am I going to look when I cash in my Iowa State vs Kansas Big 12 championship ticket?
Duke: Both teams have looked good through two weeks, and both have a chance to meet each other with a 4-0 record. If that happens, I want College GameDay in Lawrence, Kansas. However, it is a little early to talk about conference championship weekend before we get into conference play. If I were you, I would probably make another bet because I am not confident that your ticket will pay out.
@Cmack0507 asks: It's super early in the season, but should Kansas fans start hyping their expectations for the remainder of it? Are the Jayhawks punching above their weight or has West Virginia just regressed that badly?
Duke: I would say it's a little of both. West Virginia has some issues but let's focus on who won the game. Kansas is better in year two under Lance Leipold. I thought they would have a similar season to last year, but we truly are witnessing some positive things happen for the Jayhawks. First off, Jalon Daniels is developing into a solid quarterback. Next, the offensive line is ahead of where of where I thought they would be, and I have always praised running back Devin Neal. He is probably the most underrated running back in the Big 12 Conference. Now they still have a few things to work on defensively, but this Kansas team has a chance to win four or five games this season. For the first time in a long time, Kansas fans should be excited about the football team again.
@DBSportsYT asks: Is there a team exceeding your expectations from where you thought they'd be before the season? If so, how much better would you have them now?
Duke: There are two teams who have caught my eye so far this year with Kansas and Iowa State. I just talked about Kansas above and I picked them to finish last in the Big 12. Now sitting at 2-0 (for the first time since 2011) and 1-0 in conference play (for the first time since 2009), I believe they may not finish last. They have some pieces on offense with Jalon Daniels and Devin Neal and if they can clean up some things on defense then they can win some games.
As for Iowa State, I had them seventh in my preseason poll and I could see them maybe finish in the top five. We all know they play great defense, but the play of Hunter Dekkers has been better than I thought this early in the season. Sure, he didn't have a great game against Iowa, but he did lead them on that legendary 21-play, 99-yard touchdown drive on the road. I said before the season that there were going to be some growing pains with him but the weapons around him with Xavier Hutchinson, Jaylin Noel, and Jirehl Brock should help him out.
@wiggitwiggit asks: I think the new Big 12 is going to be the most competitive league in college football once the four new teams come on board. Yeah, it would be nice to have a Texas or Oklahoma, but I think the conference is stronger without them. Your thoughts?
Duke: I don't think your thought is crazy at all. Is it going to hurt losing two big time programs like Texas and Oklahoma? Yes, but the addition of a national brand like BYU will help. Plus, Houston, UCF, and Cincinnati have all had some recent success as well. In fact, most of the new schools have had more success than Texas has had in the last decade. When I look at the new Big 12 from top to bottom, I realize it is going to be a wild roller coaster ride every year. In other conferences you may have one or two teams that are a cut above everyone every single year like Alabama and Georgia in the SEC or Ohio State in the Big Ten. In this new Big 12, it looks like it will be the most competitive league from top to bottom. That will create chaos and there will be plenty of drama to go along with it. So yes, overall, I do believe that the conference is stronger with the four new schools.