Big 12 News
FOX Sports: Texas vs. Alabama Most-Streamed Football Game Ever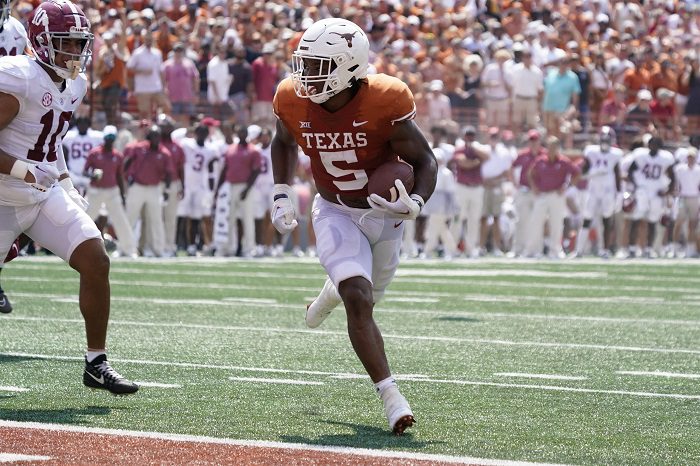 We were treated to quite the football game last weekend when the Texas Longhorns nearly shocked the world, falling 20-19 to top-ranked Alabama.
Being that the game was in FOX's 11:00 a.m. window, the game was nationally televised and was quite the atmosphere with the Tide in town. For those that couldn't squeeze into Austin to catch the game, streaming it was an option and clearly there were quite the number of fans that went that direction.
According to FOX Sports, the UT-BAMA game was the most-streamed regular season football game, college or NFL, of all time. That's quite the accomplishment with cable television dying and streaming services line YouTube TV taking over.
That wasn't the only record broken by the game on Saturday however, as FOX also made the announcement that the matchup averaged 10,595,000 viewers; the most-watched college football game across any network in 2022 and FOX's fourth-most watched regular season matchup in history.
Finally, Darrell K Royal Stadium set a record of its own as well on Saturday, as it was packed to the gills with a total of 105,213 fans in attendance. The Longhorn faithful certainly played a role in this game as Nick Saban's squad seemed flustered from the get-go.
An incredible matchup it was, but it was costly as well as Quinn Ewers went down with an SC sprain that could keep him out 4-6 weeks. In his Monday press conference, Steve Sarkisian said that Ewers was "day-to-day," as are Bijan Robinson, Hudson Card, and D'Shawn Jamison after getting banged up agaisnt the Tide.
Texas is set to host UTSA on Saturday and are currently favored in that game by 11 points. Kickoff is set for 7:00 p.m. CT on the Longhorn Network.