Big 12 News
Lance Leipold Gets Asked About Connection to Nebraska Job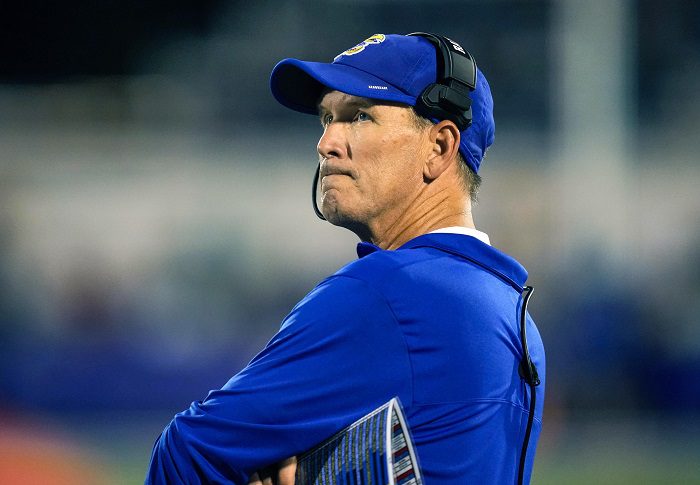 After losing to Georgia Southern this weekend, the Nebraska Cornhuskers decided to part ways with head coach Scott Frost.
After his fifth season got off to a 0-1 start, Frost was likely to be fired after October 1 when his buyout was cut in half to about $7.5 million, but another loss sped up the process and now Nebraska is searching for a replacement.
The current criteria for Nebraska's next head coach is simple: go better than 5-21 in one score games and have a better record than 16-31.
All jokes aside, Nebraska missed out on the coaching carousel that was the 2021-22 offseason as programs like Oklahoma, Notre Dame, Miami, USC, LSU, and Oregon all saw changes at the helm, but a program with the pride and history of Nebraska will certainly attract a top-tier candidate.
One of the names circulating around the job is Kansas head coach Lance Leipold. Leipold has his Jayhawks off to a 2-0 start in 2022 and has made quite the difference at Kansas is the short time that he has been there. If he continues to have success in Lawrence, it's no wonder that his name is being mentioned for this job.
When asked about his name being connected to the Nebraska job, this is what Leipold had to say.
The question, from Matt Tait of the Lawrence Journal-World, is a fair one, and it seems that Leipold isn't even willing to discuss it.
His response has the KU faithful up in arms that they are about to lose the man that has seemingly turned a page for their program, but I would venture to say that it is very early on in the process and I wouldn't worry based off of this response. Kansas has a big game this weekend against Houston with a chance to start 3-0.
KU and Houston are set to kickoff at 3:00 p.m. CT, with the Jayhawks being a nine-point underdog on the road.