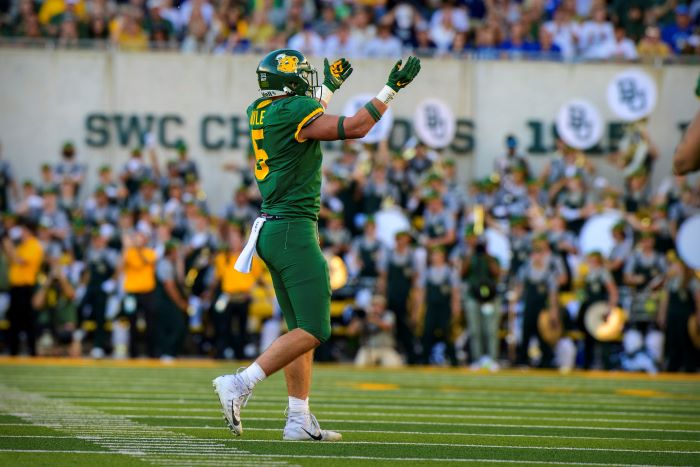 Here is everything you need to know about the upcoming matchup between the Baylor Bears and the Texas State Bobcats.
GAME INFO
Saturday, September 17, 2022; 11 a.m. CT; McLane Stadium, Waco, Texas
TV: FS1 (Eric Collins, Devin Gardner)
Radio: Baylor: KRZI (flagship) 1660 AM, 92.3 FM
Records: Baylor, 1-1; Texas State, 1-1
Last Week's Games: BYU 26, Baylor 20 (2 OT); Texas State 41, FIU 12
Rankings: Baylor ranked No. 17 (AP Top 25); Texas State unranked
Series History: Baylor leads series 8-0
Last Meeting: Baylor 29, Texas State 20 (2021)
Favorite: Baylor (-31)
Fun Fact: Texas State head coach Jake Spavital has plenty of experience with the Big 12. He was a graduate assistant at Oklahoma State in 2019, West Virginia's quarterbacks coach in 2011-12 and then returned to the Mountaineers to be their offensive coordinator from 2017-18. That was his final stop before taking over at Texas State.  
KEY PLAYERS
BAYLOR BEARS
QB Blake Shapen
We're starting to get a read on the starter, who is in his first full year as the starting quarterback. He's looked efficient in both games, completing 72.9 percent of his passes. While the yardage numbers aren't great — just 351 yards — he didn't play the entire game against Albany and faced a stingy defense against BYU. But he's thrown three touchdowns, hasn't tossed a pick and has a 155.0 quarterback rating. He appears to be building on the success he had late last season.
LB Matt Jones
Through two games, Jones leads the Bears with 12 tackles — just like everyone predicted, right? Jones has 12 tackles, including a sack, a tackle for loss and a pass-break up. Eight of his tackles came against BYU, so he put together a productive performance against a quality opponent. He's the perfect example of why you recruit a 'make-up' of player at certain positions. He was a three-star recruit out of Odessa Permian High School and he's grown into a Preseason All-Big 12 First team selection after a 2021 in which he had 52 tackles in a breakthrough season. He's on pace for 72 tackles. Expect him to get more.
TEXAS STATE BOBCATS
Kordell Rodgers
This is the guy that the Bears need to avoid in the passing game on Saturday. Rodgers picked off two passes against FIU last week — including one for a touchdown — along with a tackle for a loss in the victory. That interception return, for 60 yards, was the first for any Bobcat defender since 2020. He now has two career two-interception game and he's the only Bobcat to do it in the program's FBS era. FIU only threw his way three times, and for good reason.
RB Calvin Hill
The name is familiar, but he's not related to THAT Calvin Hill, the former Cowboys running back. He's coming off the fourth-best rushing performance in Texas State's FBS history (since 2012) after gaining 195 yards against FIU last week. That's the best performance since Robert Lowe's 248 yards in 2015. Entering Week 3, it's the third most rushing yards of any back this season. Also, watch him late. He put up 108 yards on FIU in the fourth quarter.
KEY STORYLINES
BAYLOR BEARS
Baylor's winning streak is over. Two good things came out of that loss, though. First, the Big 12 rivalry between these two teams is gonna be lit. Second, the Bears now have a better idea of what they need to fine-tune before they start Big 12 play on Sept. 24 against Iowa State. Shapen's production should start to take an upturn this week as he plays a whole game against a Group of 5 opponent. The bigger question on offense is if the Bears are getting closer to figuring out their running back rotation. Right now, Qualan Jones has 126 yards, but three other Bears have at least 70 yards. The Bears are likely to use all of them, but they certainly want one back to emerge to use in those key moments.
TEXAS STATE BOBCATS
Jake Spavital took over a hard job at Texas State. The program is nestled just outside of Austin, and you know what every high school football player's first choice is going to be. The rise of UTSA's program hasn't helped, nor has the Roadrunners' recent space of success. Spavital has improved the Bobcats' win total each season. The bad news is they only won four games last season, and with three different Sun Belt teams upsetting Power 5 schools last weekend, he's just hoping to win six games this year and get into a bowl game. This Bobcats team does look more talented than other editions, though. Hill could be one of the Sun Belt's most productive backs.
PREDICTION: Baylor 38, Texas State 21
The Bears are not going to be happy when they take the field against Texas State, and they'll likely grab an early lead as they work out some of those issues from last week. Expect Texas State to hang in there a bit, but the Bears will pull away in the second half.
You can find Matthew Postins on Twitter @PostinsPostcard.