featured
Big 12 Bowl Projections Entering Week Three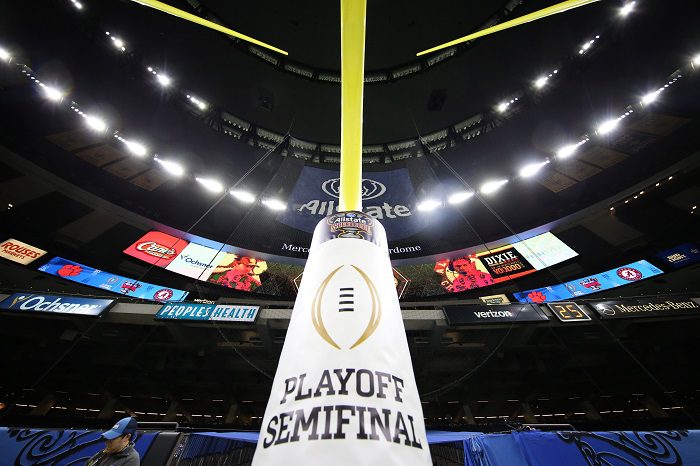 Even though we are just two weeks into the college football season, that doesn't mean we can't look ahead to what the future may hold. There are still plenty of important games to get through and a whole month to go but it is never too early to start thinking about the postseason.
Jerry Palm from CBS Sports recently released his latest college football bowl projections. It is always interesting to see how things change from week to week but here is what he currently has listed for the Big 12.
Peach Bowl (CFB Playoff)
Oklahoma vs Georgia
Last week, Alabama was the opponent for Oklahoma and now it is Georgia. After the Texas game, the Crimson Tide fell a few spots and are projected to play Ohio State. Either way, it would be nice to have a Big 12 team back in the playoff because it's been a few years since we had one.
Sugar Bowl
Baylor vs Tennessee
Even after a loss to BYU out in Provo, Baylor is still in good hands according to Jerry Palm. I was a little shocked to see them still here but there are people who haven't jumped off the Baylor wagon just yet. It would be huge for Dave Aranda to get this team back to a Sugar Bowl after all they lost from last season.
Alamo Bowl
Oklahoma State vs Oregon
At this point I would be a little surprised to see Oklahoma State here but a matchup against Oregon would be very intriguing. It's definitely one of the better matchups the conference has to offer.
Cheez-It Bowl
Texas vs NC State
This would be a game between two teams who may end up better than I thought they would be. NC State is a sleeper in the ACC and Texas just kept up with Alabama for four quarters. But depending on Quinn Ewers' injury, things could change for Texas over the next few weeks.
Texas Bowl
Iowa State vs Ole Miss
I said it last week, but I would absolutely love to see this matchup in person. Forget about the game, take me to the parking lot and leave me there. Both of these fan bases know how to tailgate, and the food and drinks would be top notch. Of course, the game would be great too with a two completely different head coaches between Matt Campbell and Lane Kiffin. From the media availabilities and activities, this would be one of those bowl games I would end up staying for a few days before kickoff.
Liberty Bowl
Kansas State vs South Carolina
If South Carolina wanted to play an SEC school this is the closest thing they would get from the Big 12. This game would certainly look like one because this would be one tough, hard-nosed showdown. However, don't be shocked to see Kansas State climb up a few spots in the pecking order as the season progresses.