Trending Now
Neal Brown's Buyout is $20 Million Before December 31st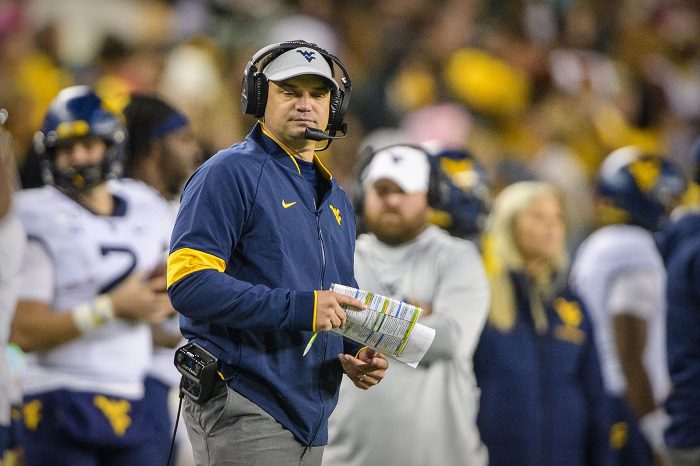 After an 0-2 start, the West Virginia Mountaineers have their backs up against the wall, and head coach Neal Brown's seat is already up in flames.
After a heart-breaker in the Backyard Brawl against Pitt, West Virginia dropped a game in overtime to Kansas after having a double-digit lead in the ball game.
In his time at WVU, Neal Brown is now 17-20, and after comments from athletic director Shane Lyons, his short leash has gotten even shorter.
"I know and deeply care that our fans are frustrated with the start of the football season, but so are our coaches and student-athletes, who have busted their tails getting ready for the year," Lyons said. "As athletics director, I am as disappointed as the fans, but I see how much our coaches and players care and want to win and make our fans proud. Everyone involved knows that the on-field results have not met expectations and absolutely no one is satisfied. There are 10 games left in the season and the focus is still on getting the results that we all expect."
So, what happens if West Virginia wins this week against Towson but then drops games to Virginia Tech and Texas in back-to-back weeks before the bye?
With hot head seemingly prevailing when it comes to head coaching hires/fires in college football, it appears that Neal Brown's time in Morgantown could be running short. The question is, when will West Virginia pull the plug? Well, it could be after the regular season comes to an end, if the buyout is a concern.
If Lyons and WVU decide that Brown's time is up before December 31, 2022, it will cost them a hefty $20 million. After the new year rolls in, that figure drops to $16.7 million, which is significant. If, and only if, the wheels completely come off in Morgantown and they start the year 1-5, it could come sooner than the end of the year. However, $20 million is a lot of money to cough up midseason, so we will have to wait an see how they handle things if Brown doesn't get things turned around.