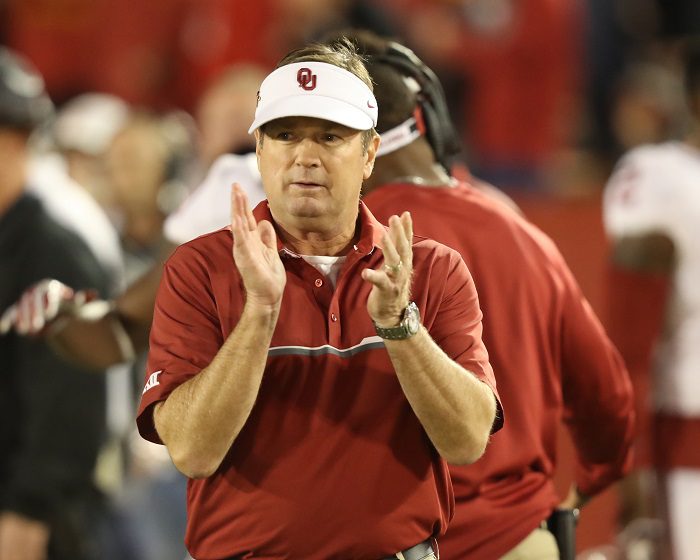 Oklahoma fans, you can rest easy knowing that one of Oklahoma's legendary head coaches won't be suiting up for one of your biggest rivals.
Recently, Scott Frost was fired at Nebraska after a 1-2 start, leaving the Cornhuskers full-time head coaching gig vacant. That means that big-time names are going to start being thrown around, and among those names is, as always, Bob Stoops.
The Sooners' all-time winningest coach says that he won't be switching sides in this once great rivalry.
"No one is looking for me to have to say it but no," Stoops said recently on his YouTube channel. "That is not a job that I am going to be interested in. I think it's a heck of a job, great job. They got an incredible following. So, somebody will be lucky to have that great job but that won't be me."
When Stoops stepped away from Oklahoma in 2016, he never fully put down the headset. In 2020 he was the head coach of the XFL's Dallas Renegades and in 2023 he will once again take over the revived Dallas XFL franchise. He also answered the call when Lincoln Riley left on a moment's notice for USC this past November, and stepped in to coach the Sooners to an Alamo Bowl victory over Oregon.
When it comes to college colors, Stoops is Crimson and Cream through and through, and that doesn't appear to be changing any time soon.
Oklahoma is set to take on the Cornhuskers this weekend in Lincoln, and enters that game as an 11-point favorite. Kickoff is set for 11:00 a.m. on Saturday and the game has been chosen as the site for FOX's Big Noon Kickoff this week.