featured
Can Neal Brown Avoid a Meltdown in Morgantown?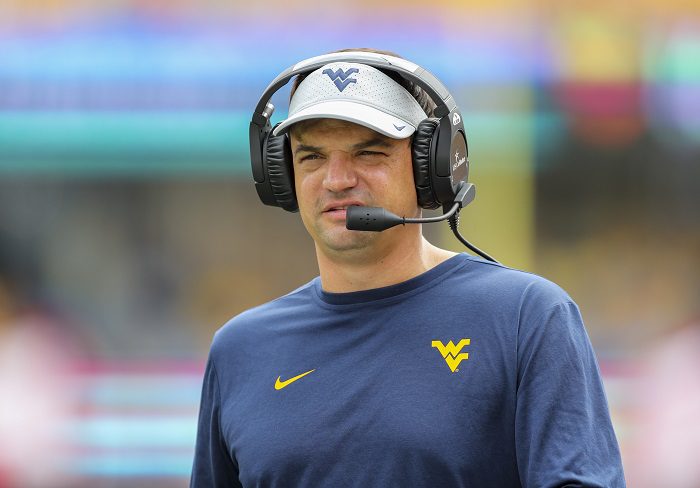 It is truly crazy how fast things can change in the world of college football. Unfortunately for Neal Brown at West Virginia, he is finding out the hard way.
Two weeks ago, his team played in the Backyard Brawl against Pittsburgh. With just a little over six minutes left in the game, West Virginia was up by seven and had a chance to ice the game on a 4th and 1 from the Pitt 48-yard line. Instead of going for it, Neal decided to punt. Just nine plays after that punt, West Virginia found themselves down by seven due to a 14-point swing and ended up losing the game.
As bad as that loss was, nothing would prepare Mountaineer fans as to what happened this past Saturday against Kansas. After getting out to an early 14-0 lead in the first quarter, West Virginia completely fell apart and ended up losing 55-42 in overtime. Mistakes were made and the defense couldn't get off the field as they let the Jayhawks convert 11 of their 15 third downs.
It was truly shocking to see West Virginia perform the way they did last Saturday. I thought they would have a big bounce back game against Kansas not only because of the loss the week before but due to the fact that it was their home opener. Instead of a rebound win, they ended up with yet another loss to start their 2022 season with a 0-2 record and a loss in conference play.
After that game, Neal Brown commented on his team's winless start. "I get the disappointment." Brown said. "We lose two games right there at the end in both games. One in overtime and one right there at the end. We're driving to tie the game up. I get the frustration. I promise you that there is no one more frustrated than me. Not that that is going to make them (the fans) feel any better, but I get their frustration."
Even West Virginia Athletic Director Shane Lyons had to answer questions regarding Neal Brown's job security earlier this week. "I know and deeply care that our fans are frustrated with the start of the football season, but so are our coaches and student-athletes, who have busted their tails getting ready for the year," Lyons said in a statement Monday to the Associated Press. "As athletics director, I am as disappointed as the fans, but I see how much our coaches and players care and want to win and make our fans proud. Everyone involved knows that the on-field results have not met expectations and absolutely no one is satisfied. There are 10 games left in the season and the focus is still on getting the results that we all expect."
That isn't exactly a ringing endorsement for Neal Brown and anytime the Athletic Director has to come out answer questions about the coach's job security is never a good thing. Typically, it means the end is near.
But this whole thing didn't happen overnight. Neal Brown has been the head coach at West Virginia for a while now and is in year four. As it stands, Neal Brown is 17-20 as the head coach and now has an 11-17 record in conference play. To simply put it, the job Neal has done so far isn't' good enough.
As bad as it has been, there may be one thing that saves Neal Brown no matter what happens this season. That one thing of course is money. When Brown was hired back in January of 2019, he signed a six-year $19.05 million contract.
After going 5-7 in his first season and 6-4 in the shortened 2020 COVID season, it was good enough for West Virginia to extend Neal Brown's contract that runs through the 2026 season.
What is even more jaw dropping is the money still owed to Neal Brown. If West Virginia decides to fire him after this season, they will still owe him over $20 million if he gets fired before January 1st of next year. After that date, his buyout drops to around $16.7 million. That number keeps going down by about four million per year, but another interesting part is that even if he gets fired before December 31st of 2024, Brown would still be owed 100% of his remaining salary. Anything after that would go down to 85%. Plus, these numbers don't include the money that would be owed to the rest of the staff as well.
I would imagine that West Virginia Athletic Director Shane Lyons gives Neal Brown more time not only because of the buyout amount but also because Lyons was the one who gave Neal the extension in the first place. That is why I have a tough time seeing Neal get fired any time before January 1st.
Now this issue could all go away with one simple thing which is by winning. There are ten games left in the season and while West Virginia may not be favored to win many more, they still have to be played. We are going to find out a lot about this team over the next five games.
Over the next six weeks the Mountaineers will play Towson and Baylor at home while traveling to Virginia Tech, Texas, and Texas Tech. Of course, the schedule won't get any easier after that as they still have to play Oklahoma, Oklahoma State, Iowa State, and Kansas State all in the month of November.
But Neal Brown and this team can't look ahead or be worried about the tough schedule ahead. The focus right now should be all on Towson to get ready for Saturday. It's time to block out the noise and get the train back on track and that must start right now or else Neal Brown won't be around for the 2023 season no matter what the cost is.