featured
Oklahoma vs. Nebraska: A Casualty of Conference Realignment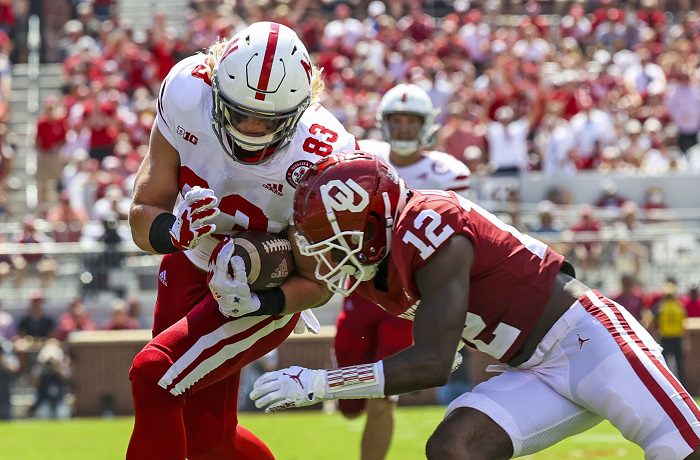 In Week 3, Oklahoma is headed to Lincoln, Nebraska; a place where two historic programs have clashed 42 times prior in what was once the greatest rivalry in all of college football.
Despite that, there isn't a single player on Oklahoma's roster that has ever been to Lincoln to play against the Cornhuskers.
The Sooners and Cornhuskers shared a conference for nearly a century, the Big Eight for 75 years and the Big 12 for 14 seasons.
While in the Big Eight, these two programs dominated the conference. Oklahoma (34) and Nebraska (41) combined to win 74 conference titles, the next closest being Missouri with 12 of its own.
In the Big Eight, they played every single year from 1928-1997, and in the Big 12, they played twice every four years from 1997-2010.
Then, thanks to conference realignment, the rivalry ceased to exist.
For the longest period since the first game was played in 1912, the Sooners' and Huskers' rivalry laid dormant for a decade. 10 years passed, and ten teams in Norman and Lincoln both were denied the opportunity to take on their respected rivals separated by the State of Kansas.
The tragic reality is that players that will suit up for either team this weekend grew up in a time when their respective programs weren't rivals, but rather afterthoughts to one another.
The story of Oklahoma vs. Nebraska should be a cautionary tale that college football enthusiasts and decision makers should heed before realignment further destroys the geographical rivalries that this great sport is built upon.
The Golden Years of OU vs. Nebraska
From 1962 to 2010, the Sooners and Cornhuskers met 45 times, and on 44 of those occasions at least one team was ranked (excluding 2005). 26 times both teams were ranked, and on 20 occasions both teams were ranked inside the Top 10. Oklahoma leads the series 46-38-3, with the Sooners holding the longest win streak (16, 1943-1958) in the series and the Huskers had the largest margin of victory (69-7, 1997).
There have been several memorable matchups in this series involving the No. 1 ranked team in the country. On November 25, 1971, "The Game of the Century" saw the top-ranked Nebraska Cornhuskers took down No. 2 Oklahoma 35-31 on Thanksgiving Day after Nebraska running back Jeff Kinney scored on a two-yard rushing touchdown with 1:38 remaining. 17 of the 22 All-Big Eight player selections for the 1971 season played in that game, speaking to the domination that these two programs had over the conference at that time.
In every year from 1971-1980, the Sooners and Huskers met as Top 10 foes, with the Sooners going 9-2 in that stretch. In 1978, one of the most peculiar things in this rivalries history occurred. Tom Osborne's fourth-ranked Cornhuskers got the better of top-ranked Oklahoma in the regular season meeting in Lincoln, winning 17-14 on November 11th. With the win, Nebraska had secured an automatic bid to the 1979 Orange Bowl. Then, the following week, as the No. 2 team in the nation, Nebraska lost to an unranked Missouri 35-31 at home. Meanwhile, Oklahoma went back to Norman and whooped Oklahoma State in Bedlam, 62-7. With that kind of follow-up performance, the Orange Bowl committee decided that it wanted to give the at-large bid to Oklahoma, giving them a shot at redemption.
Here are the reactions from both Switzer and Osborne when the committee shared the news.
Oklahoma won the rematch 31-24, finishing the season 11-1 and No. 3 in the AP Poll, while Nebraska, 9-3, fell to No. 8.
In 1987, No. 1 and No. 2 would clash again, this time Barry Switzer's second-ranked Sooners coming out on top 17-7. Oklahoma would go on to lose to Miami in the Orange Bowl that year, finishing 11-1 and No. 3 in the polls. Switzer would coach just one more season at Oklahoma after that, and in his penultimate game as the Sooners' coach, "The King" lost to Tom Osborne's Huskers, 7-3. In his 16 years at Oklahoma, Switzer's teams were held to three points or less just four times and in the final regular season game of Switzer's career at OU, Osborne got the better of him. In 17 matchups, Switzer went 12-5 against Osborne and was the only coach to have more than three victories against the Nebraska legend.
When the 90s rolled around, Osborne and the Cornhuskers started a streak of some of the most dominant years in college football history, and things got ugly for the Sooners towards the latter half of this decade's meetings with Nebraska. Between 1994 and 1997, Osborne's Huskers set the standard in college football, going 39-2 over a four-year stretch and winning three national championships. In that time, Nebraska outscored Oklahoma 192-31, with 1997's 69-7 victory over the Sooners being the worst loss in OU history. That Nebraska team, led by quarterback Scott Frost, would go 13-0 and capture the Coaches Poll National Championship with a 42-17 Orange Bowl victory over Tennessee.
Stoops' Sooners "Arrive" Against Cornhuskers
The lowest point in Oklahoma's football history was, without question, the 90s. The Sooners combined record from 1990-1999 was 61-52, but was particularly bad under Howard Schnellenberger (1995) and John Blake (1996-98) when Oklahoma missed a bowl in four-straight years and went 17-27.
Then, in 1999, a young defensive coordinator from Florida by the name of Bob Stoops stepped in and vowed to make the Sooners a winner again. In 1999, Oklahoma went 7-5 and made it to the Independence Bowl, where it lost 27-25 to Ole Miss. Stoops' team was full of talent left over from John Blake's era, but he couldn't quite get it done on the sidelines. Stoops instilled a toughness and grit that Oklahoma had lacked for years, and going into 2000, OU was quietly on the verge of greatness.
After a 6-0 start, Oklahoma had climbed to No. 3 in the AP Poll with back-to-back wins over No. 11 Texas and No. 2 Kansas State, but now the real litmus test awaited them: Eric Crouch and the top-ranked Nebraska Cornhuskers. Ahead of the game, the College Gameday crew talked about how the Sooners' defensive line was too undersized to handle the Huskers' option attack. However, the story was quite the opposite. Nebraska hopped out to a 14-0 lead and it seemed like the Huskers would roll to their eighth-straight victory in the series, but Bob Stoops' squad had other plans. The Sooners churned out 31 unanswered points, capped off by 32-yard pick-six by Oklahoma defensive back Derrick Strait, to win the game 31-14. That day, Oklahoma fans tore down the goal posts.
Then defensive coordinator (and now Oklahoma head coach), Brent Venables, recalls the moment that the Sooners took down the Huskers, and just from his emotions, you can tell what the win meant to the program.
With the emphatic 31-14 victory, the Sooners announced their return to prominence, and it took a win over the Huskers for the country to finally recognize that Oklahoma had finally rebuilt something special in Norman. That team would go on to win the 2000 National Title, going 13-0 in Stoops' second year, and the wave of momentum that carried them there was the monumental victory over Frank Solich's Huskers.
A Rivalry Lost in History
With such a rich history between the two programs, there hasn't been a decade that has passed in the last century that one of these two teams haven't been relevant in the national picture. In the present it is Oklahoma, but there have been several decades that their relevance has overlapped. Unfortunately, the casual fan of either team isn't even aware of the rivalry that was.
Instead, Nebraska fans under the age of 30 have been indoctrinated into believing their main rivals are Northwestern, Iowa, and Minnesota. The younger Oklahoma fan base has grown familiar with Texas and Oklahoma State being their only rivals. That, to me, is extremely unsettling. The greatest part about rivalries is the storied history between two programs. Yet, we are headed into an era where those kinds of things, seemingly, don't matter.
Before long, ESPN and FOX will try to sell you on "manufactured" rivalries like Oklahoma-Georgia, USC-Ohio State, Texas-Alabama, and UCLA-Michigan. Television executives are dreaming of new, shiny rivalries that we haven't seen before. But how does that even hold a candle to the 87 meetings that we have seen between these two blue-bloods? What about the Bedlam Series, which predates Oklahoma's statehood? We saw Texas-Texas A&M go away, and we've seen Nebraska-Colorado diminish as well. Conference realignment has cost us so many rivalries already, and with the Sooners and Longhorns leaving the Big 12, we will lose two more with Bedlam and Texas-Texas Tech.
Oklahoma vs. Nebraska used to mean something. It wasn't a novelty game for FOX to fill its Big Noon Kickoff window with. It was something that fans from flyover states looked forward to every year, and now it is just an artifact in a College Football Museum. This game used to have national title implications and Heisman trophy winners. It's had some of the greatest coaches in this sport's history on the sidelines, yet we never hear about it anymore.
It's too late to stop the momentum of realignment now, as much as I wish that were not the case. Soon enough the Oklahoma-Oklahoma State rivalry will be talked about in the past tense, just like this one, and it will also become another one of football's greatest lost series.
Nebraska and Oklahoma have another home-and-home series set for 2029-2030, but after that the future is unclear. Will this game ever get the justice it deserves by becoming a yearly occurrence again? Likely not, but one can hope.