Big 12 Previews
Oklahoma State vs. Arkansas-Pine Bluff: Preview and Prediction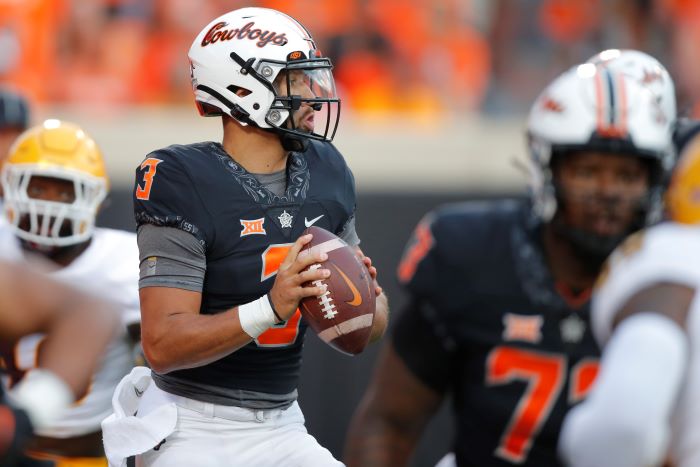 Here's everything you need to know about the upcoming matchup between the Oklahoma State Cowboys and the Arkansas-Pine Bluff Golden Lions.
GAME INFO
Saturday, September 17, 6:00 p.m. CT; Boone Pickens Stadium; Stillwater, Oklahoma
TV: ESPN+ (Pete Sousa, Chad Brown)
Radio: Cowboy Radio Network (Dave Hunziker, John Holcomb and Robert Allen)
Records: Oklahoma State 2-0; UAPB 2-0
Rankings: Oklahoma State ranked No. 8 (AP Top 25); UAPB unranked
Series History: First-ever meeting
Last Meeting: N/A
Favorite: Oklahoma State (-57.5)
Fun Fact: Mike Gundy is a perfect 13-0 against FCS opponents in his tenure at Oklahoma State, and a perfect 3-0 against teams from the state of Arkansas in that time.
Key Players
Oklahoma State Cowboys
QB Spencer Sanders
Perhaps the most important player in the Big 12 to this point, Spencer Sanders has been vital to Oklahoma State's success to this point in the season. He is responsible for nine touchdowns through two games and has been more of a threat running the ball through two games than he has been in the past. With 25 carries for 111 yards and three scores on the ground, Sanders is forcing opponents to respect his legs as well as his arm through two games.
DE Tyler Lacy
Defensive end Tyler Lacy leads Oklahoma State's defensive line in tackles through two games with 10 stops. Lacy also leads the team in sacks with two and tackles for loss with five on the year. The defensive line has been the strength of the defense so far and that should continue on Saturday. Expect Lacy, along with Brock Martin and Collin Oliver to dominate the line of scrimmage against the overmatched Golden Lions.
Arkansas-Pine Bluff Golden Lions
RB Kayvon Britten
Last week against North American, Britten wasn't needed much as UAPB had little resistance in running away with the game 76-3. In Week 1 however, the Golden Lions needed him and he responded. In a shootout against the Lane Dragons, Britten went off, taking 31 carries for 237 yards and three scores. If there is to be any sort of challenge from UAPB on Saturday, it will have to be because Britten ran wild against the Pokes.
LB Monroe Beard III
Listed as one of the Top 50 NFL prospects from HBCU's in 2022, Beard is coming off his first full season as a starter and led the team with 78 tackles, 8.5 TFL's and five sacks in 2021. Thus far in 2022 Beard has 11 tackles and is the heart of the Lions defense. He will have a tough task in keeping Spencer Sanders and Dominic Richardson under wraps on Saturday.
Key Storylines
Oklahoma State Cowboys
Staying healthy is the biggest concern in this game for Oklahoma State. The Cowboys should win this game without much trouble, and then they have a BYE week to prepare to take on the Baylor Bears in Waco on October 1. Get out of this game without any major setbacks with a win and the Pokes will be 3-0 heading into Big 12 play.
Arkansas-Pine Bluff Golden Lions
If UAPB is to make some noise in the SWAC this year, putting some points on the boards against Oklahoma State would be a good goal to build off of. The Golden Lions were selected to finish fifth in the SWAC West, so they aren't expected to make the conference title game, but keeping this game competitive for a couple of quarters would go a long way in building their confidence.
Prediction: Oklahoma State 66, UAPB 13
Oklahoma State rolls from the very beginning as they take no time at all to put their first score on the board. I expect Spencer Sanders to sit after halftime in this game, along with several other key players on both sides of the ball. This will be a good time to tune in and see Gunnar Gundy, son of Mike Gundy, get some snaps in a live game. Other than that, this should be a snoozer.