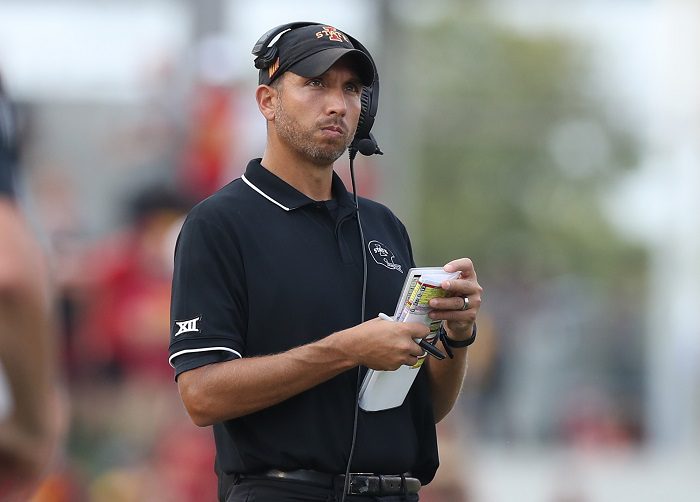 It's week three of the college football season as teams across the country are wrapping up non-conference play. While last weekend was full of big-time games, this weekend was a little calmer as the matchups were much easier.
But as we enter conference play in the Big 12, nobody wants to go into conference games without a little bit of momentum. For Iowa State, they were sitting at 2-0 going into the weekend with one final non-conference game against Ohio.
While beating in-state rival Iowa on the road was the cherry on top of their non-conference slate, they still had to play one more game before they host Baylor next weekend. Ohio made the trip to Ames and many thought this could be a potential trap game for the Cyclones. But there was nothing to worry about on Saturday afternoon as Iowa State won with ease. Here are my three thoughts on Iowa State's win over Ohio.
1. There Was No Letdown Today
After Iowa State's big win over Iowa last week, many folks thought that the Cyclones would come out a little flat on Saturday and that wasn't the case. What we saw was a focused team out there who played well from start to finish. At no point, was Ohio ever in the game. Iowa State was in control the entire time for all four quarters. I found it funny that the spread on this game was just 18 points and Iowa State was just three points from doubling that number. You know what they say, good teams win and great teams cover. Today, Iowa State covered as the move to 3-0 on the season.
2. Iowa State's Defense Stays Hot
There has been a lot of love for Hunter Dekkers and the offense, which is fine, but nobody is talking much about this defense. So far this season they have allowed just 27 points through three games. That means Iowa State is giving up an average of just nine points per game which is crazy when you think about it. Against Ohio, Iowa State delivered yet again with another stellar defensive performance. The Bobcats converted just 2/13 third downs and had just 233 total yards of offense. And how about the run defense? Ohio ran the ball 22 times for a whopping 24 yards. I think it's time we start giving this defense a little more credit because Jon Heacock is bringing it week in and week out.
3. Everyone Was Involved on Offense
There were a lot of positive things going for Iowa State on Saturday afternoon. Hunter Dekkers was impressive throwing for 268 yards and three scores and Xavier Hutchinson caught his fifth touchdown pass of the season. But the one thing that really was great to see was how many guys were involved in the offense. Jirehl Brock, Deon Silas, and Eli Sanders all got carries as all three players had at least one run that went ten yards or more. Also, ten players caught a pass which is something you don't see everyday even in a blowout.