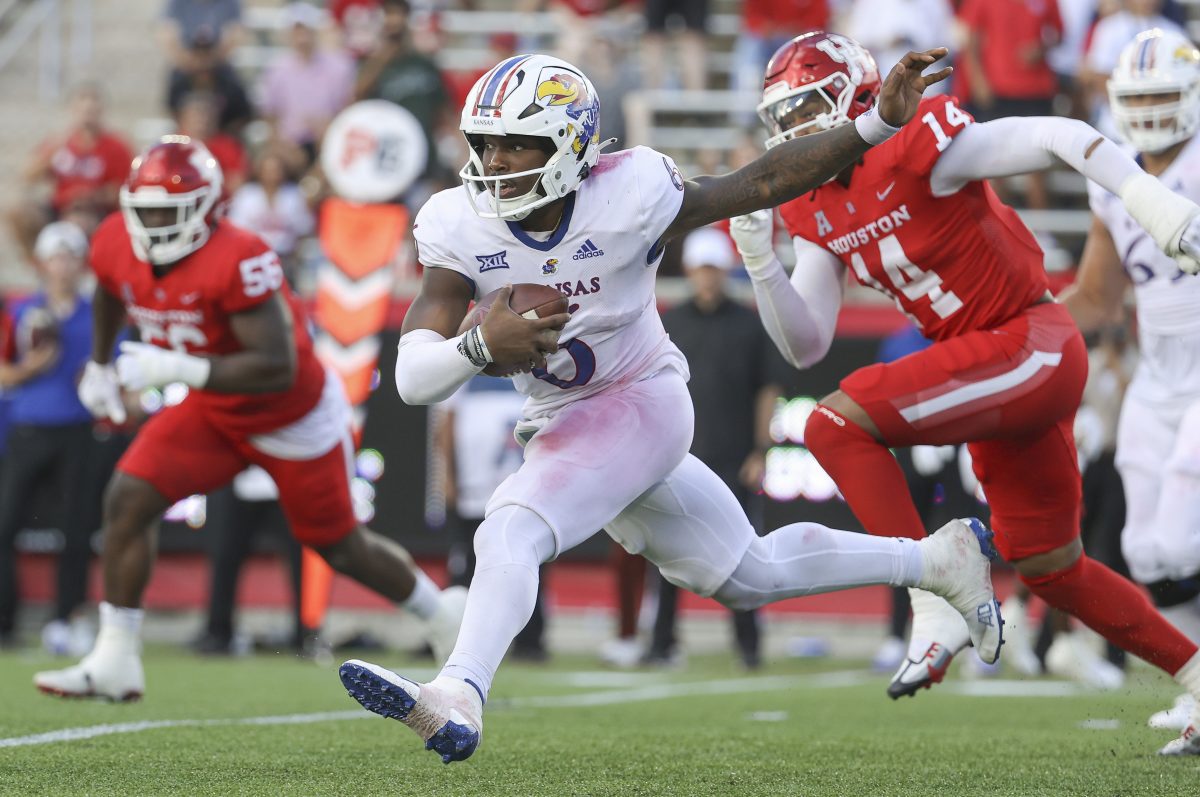 Last weekend was a great weekend for Big 12 football. It was jam packed with tons of awesome matchups and it even featured a late game between two future conference foes when Baylor took on BYU.
Despite this weekend not being as good, there was another game between two schools who will be in the same conference next season as the Kansas Jayhawks traveled down to Houston to take on the Cougars.
With Kansas off to their first 2-0 start since 2011, all eyes were on the Jayhawks as they faced a tough Houston team who was picked to win the AAC this season. Well, Kansas passed the test against Houston with another big road victory. Here are my three thoughts on Kansas' 48-30 win on Saturday.
1. The Run Game Was Unstoppable
I said this past week that the play of the offensive line for Kansas has been very surprising. They returned a lot of experience up front, and that unit has really found their mojo so far this season. Against Houston on Saturday, the did an excellent job opening up holes in the running game. Kansas racked up a whopping 282 yards on the ground with quarterback Jalon Daniels leading the way with 123 yards and two rushing scores. It seemed like on every single drive; the offense was able to break off a long run to help set up a score. People always say the best way to quiet a crowd is by running the ball effectively and Kansas did just that down in Houston.
2. Jalon Daniels is Becoming a Great Quarterback
Since Todd Reesing left campus, Kansas hasn't had much luck with the quarterback position. They have had countless players start at quarterback over the last few years and it finally feels like they have their best once since Todd Reesing last played in 2009. Once again, Jalon delivered with another monster performance as he combined for five total touchdowns which is tied for the second most in Kansas history. Jalon threw for 158 yards and even led the team with 123 rushing yards. It seems like he has really made strides in his game and now has nine total touchdowns on the year while just turning the football over once. There's a lot of good offensive players in the Big 12 Conference and I think it is time we start putting Jalon Daniels in that conversation because he has earned it.
3. Kansas is Back
In all my years of covering this conference, I was waiting for the day where Kansas football could become respectable again. Well, after today I am finally sold on that idea. I have seen four different coaches on the sidelines in Lawrence since 2014 and Lance Leipold is the best once since Mark Mangino was there. We saw this program make progress last season with the win over Texas and now they are finally stacking up those wins. Right now, Kansas sits at 3-0 for the first time since 2009 and have wins over Houston and West Virginia on the road.
This team has a chance to make a little history next week if they can beat Duke. Kansas hasn't won more than three games in a season since 2009 and they could reach four wins next Saturday. I didn't think they could reach a bowl game this early in the Lance Leiplod era, but I may end up being wrong about that. And speaking of Lance Leipold, Kansas may want to extend his contact as soon as possible so he doesn't go anywhere anytime soon.