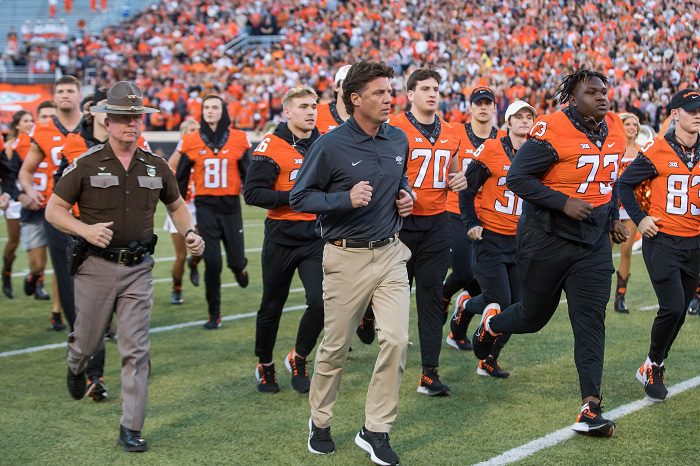 The Oklahoma State Cowboys put a bow on their non-conference schedule and did exactly what they were expected to do with a dominant 63-7 win over Arkansas-Pine Bluff. The Cowboys came into the game ranked in the Top 10 for the first time this season and did not disappoint a fan base anticipating a blow out. That's exactly what they got.
Here are three thoughts on the big win for the Cowboys, who improved to 3-0 with the victory.
1. A Fast Start
The Cowboys scored touchdowns on four of their first five drives of the game to lead 28-0 after the first quarter. There were some quick-strike drives and some sustained drives, but they all led to scores. The Pokes put their first touchdown on the board as Spencer Sanders hooked up with Brennan Presley on a 36-yard TD strike. The next TD was a 10-play, 87-yard drive ending in 10-yard pass from Sanders to John Paul Richardson. Sanders then found Braydon Johnson for a 42-yard touchdown on the first play of the drive for a score, and on the final TD drive of the opening quarter it was Sanders to Presley again. The route was on after the first 15 minutes and the Pokes were cruising to a victory.
Sanders' night was done well before halftime as he finished 13/16 for 242 yards, four touchdowns and no interceptions. The rest of the night leads to No. 2 on the list…
2. A Glimpse to the Future
The fun part about games like this for Oklahoma State and other good Power 5 programs is that they get some of their back up players valuable minutes. And in the case of the Pokes, we got a look to the future as Gunnar Gundy hooked up with Talyn Shettron for a touchdown.
There's no guarantee Gundy is the starting QB when Spencer Sanders leaves (Garret Rangel is a true freshman who is former a four-star prospect), but we can say with certainty that Talyn Shettron, a consensus four-star prospect from Edmond, Oklahoma, is going to be a big piece of the Oklahoma State offensive puzzle moving forward. The two hooked up for a pretty pitch and catch touchdown late in the second quarter.
Gundy finished his night 12/20 for 128 passing yards, with two touchdowns and one interception, while rushing for another 42 yards. Ollie Gordon, another highly-touted freshman, finished the night with a team-best 65 rushing yards and a touchdown.
3. Enjoy the Rest
The Cowboys are exactly where they expected to be after a relatively soft non-conference slate. And now the Pokes head into a bye week, and they better enjoy it. Oklahoma State doesn't have a bye the rest of the season, so they will play nine Big 12 games in a row starting October 1st at Baylor in a rematch of last year's epic Big 12 Championship Game.
Interestingly, the Cowboys play the four Texas schools in a row to start Big 12 play: at Baylor, vs. Texas Tech, at TCU and vs. Texas. Then they close the season with three of five road games at K-State, Kansas and Oklahoma.
There's no easy stretch. Then again, there's no such thing as an easy stretch in a round-robin Big 12 Conference. But Mike Gundy needs to make sure his guys are all rested because starting October 1st, it's full steam ahead for this program.