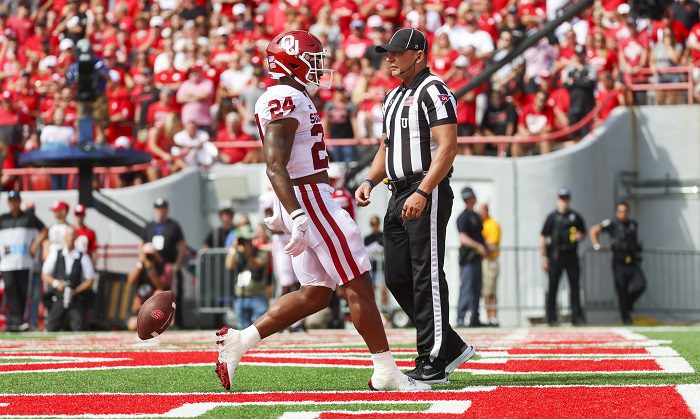 For the second time in as many seasons, Oklahoma and Nebraska met to renew one of the great rivalries in college football. But unlike last season's match up in Norman, which was a close 23-16 game won by the Sooners, this one turned into a route in Lincoln. Despite Nebraska firing Scott Frost this past weekend and giving Mickey Joseph a chance to see what he can do, his first game as interim head coach didn't go as planned as Oklahoma rolled Nebraska 49-14 on the road to improve to 3-0 on the season.
Here are three thoughts on the game.
Oklahoma's Offense a 180-Degree Start From Last Week
Last week against Kent State, Oklahoma led 7-3 at halftime. This week at Nebraska, the Sooners trailed 7-0 early, and then outscored the Huskers 35-0 for the rest of the first half. Oklahoma put up 355 total yards in the first half with 190 passing yards and 165 rushing yards. Eric Gray, Dillon Gabriel, and Marcus Major each had rushing touchdowns in the first half as the Sooners put this one away in the first 30 minutes of game action.
Oh, and then there was the trickery as Marcus Major caught a touchdown pass from Brayden Willis. Yes, you read that right. That means Brayden Willis has as many career touchdown passes against Nebraska as former OU QB Spencer Rattler. Just sayin'.
Let's Not Forget About This Defense
As has too often been the case in recent years for Oklahoma, all the attention goes to the offense. But this Oklahoma defense was absolutely lights out after the first drive when Nebraska moved the ball down the field with ease for a touchdown and a 7-0 lead. After that 77-yard drive, Oklahoma gave up just 71 yards the rest of the first half.
The Sooners racked up four sacks and eight tackles for loss in the first half alone, while allowing Nebraska to only go 2-9 on third downs. Ethan Downs led an incredibly explosive performance on the day from this front seven, who was all over Casey Thompson and lived in the Nebraska backfield. The defense's first half performance help put this one away in the first 30 minutes.
Nebraska Has Made a Decade's Worth of Errors
It's incredible to see how far this program has fallen. The Huskers played in the last Big 12 Championship Game before realignment, leaving for the Big Ten, and Bo Pelini's team nearly won that game. Since then, it's been nothing but mistake after mistake for this program, most notably the original departure from the Big 12 for the Big Ten. The program has zero juice and no direction right now, and there's no end in sight. They've lost key rivalries that were college football staples and their national presence gets diminished by the day. There's nothing that defines this program other than its fan base, which to its credit continues to show up week after week.
It's quite a fall from grace for a once-proud program that was a blue blood in college football. That's no longer the case, and Saturday was the latest example of that.