Football
Three Thoughts on Texas Tech's 27-14 loss vs. NC State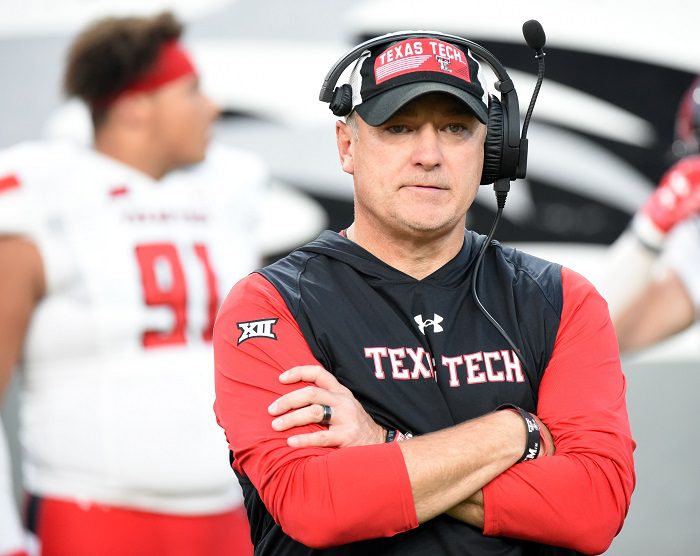 The Texas Tech Red Raiders suffered their first defeat of the Joey McGuire era, as they lost to the NC State Wolfpack, 27-14, on Saturday night.
Texas Tech quarterback Donovan Smith started his second game and, once again, it was an uneven outing. Many will focus on the pick-six he threw in the first half. But he also passed for 214 yards, one touchdown and two interceptions and rushed for a touchdown.
It was a tough game for both teams. Offense was at a premium. Both defenses played well.
The game was marred by the gruesome leg injury suffered by Texas Tech linebacker Bryce Ramirez in the first quarter. It was an injury so bad that ESPN cut away from the game for several minutes as trainers from both teams immobilized the leg and took him to a local trauma center for more evaluation.
Here are three thoughts on the game.
1. 'WE HAD A LOT OF SELF-INFLICTED WOUNDS'
Texas Tech head coach Joey McGuire put it best to ESPN at halftime. How else to explain having more total yards than NC State (136 to 108) but still be down 20-6 at halftime? Statistically the Red Raiders weren't dominating, but they had edges in key areas. Plus, they rendered the Wolfpack passing game basically inert for the first half (just 38 yards).
So why were they down? Like McGuire said, self-inflicted wounds. None was more glaring than Smith's intercepted pass that turned into a pick-six, returned by NC State's Aydan White. Drew Hocutt, filling in at punt returner for an injured Adrian Frye, muffed and lost a punt. NC State recovered, and the Red Raiders were fortunate that the Wolfpack were only able to turn it into a field goal. But, that was 10 of their 20 points off Tech mistakes.
Throw in Tech's inability to get into the red zone in the first half and its 2-for-8 conversion rate on third down, McGuire and his staff had plenty to tweak in the second half. Unfortunately, those tweaks didn't work.
2. THE RED RAIDER DEFENSE LOOKS LEGIT
For years, the knock on the Red Raiders was that it was all about offense and doesn't care much about defense. It's a narrative the program has tried to fight, but every game where the Red Raiders score a lot and the opponent scores more didn't help. Change starts with doing it on the field, and perception trails behind. McGuire and his defensive staff, led by Tim DeRuyter, may finally be changing that on the field.
NC State was a quality offensive team with a quarterback in Devin Leary that could be in the NFL one day. All night, the Red Raider defense made the Wolfpack offense work for everything they got. As noted earlier, Leary and the pass game weren't getting much of anywhere in the first half. Things got better in the second half. But, by game's end Tech held NC State to 270 total yards.
The Wolfpack scored their points off field position and trickeration. The Red Raiders made them grind it out all night.
Texas Tech put together a quality defensive performance on the road, even if it turned into a loss. If this is what the Red Raiders carry into Big 12 play, well, someone needs to tell Emmanuel Acho what's up.
3. WHAT DECIDED THE GAME
One key decision and one key play basically put this game to bed to start the fourth quarter.
First, after a review, it was determined that Texas Tech's third-down play to end the third quarter shouldn't have counted as the clock expired. So the Red Raiders got another shot to start the fourth quarter. But Smith's pass to Jerand Bradley led him too far out of bounds for what would have been a first down. He caught the ball, but officials ruled his knee was already down.
First came the decision. On Tech's 35-yard line and down 20-6, McGuire chose to go for it on 4th-and-8. Smith was flushed out of the pocket and had to run, and he only gained three yards. The Wolfpack got the ball back.
The play happened next. The Wolfpack had trouble moving the ball all night. But offensive coordinator Tim Beck went with a little trickery to generate the score needed to put the game away. Quarterback Devin Leary threw a backward pass to Thayer Thomas, who then threw it across the field to a streaking Demie Sumo-Karngbaye for a 38-yard touchdown pass to give NC State a 27-7 lead.
That decision — and that play — put the game away.
You can find Matthew Postins on Twitter @PostinsPostcard.