Baylor Bears
Big 12 Football Week 3: The Good, the Bad, and the Ugly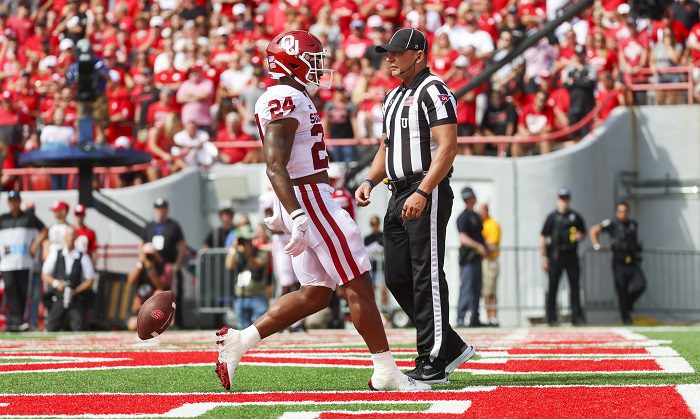 We are now three weeks in to the 2022 college football season as we wrap up non-conference play. There have been plenty of surprises so far in the Big 12 and the conference looks wide open more than ever. Conference play will be in full swing next week, but before we get to that, here is the good, the bad, and ugly from week three in the Big 12.
The Good
Oklahoma (Beat Nebraska 49-14)
Many people thought that this would be a close game because it was in Lincoln and due to the fact that Nebraska just fired Scott Frost. But the emotions didn't play a factor as those Nebraska tears weren't going to stop Oklahoma from putting a beatdown on the Huskers. The Sooners had a monster day on the ground racking up 328 rushing yards led by Eric Gray who had 113 yards and two scores. Nebraska had zero chance of stopping Oklahoma's offense who ended up with 580 total yards. Jeff Lebby's offense converted 10/16 third downs as they cruised to an easy win on the road.
Oklahoma State (Beat Arkansas-Pine Bluff 63-7)
Not much to say here because this game was more like a scrimmage or a practice than an actual game. Spencer Sanders had a field day with four touchdown passes as Brayden Johnson caught two of them. Surprisingly, the Cowboys defense was on the field for over 37 minutes, yet they only gave up seven points. Even the backups got to play in this one was Gunner Gundy and Garret Rangel got some snaps. In the end, did I learn anything about Oklahoma State from this game? Not really.  
West Virginia (Beat Towson 65-7)
Another cupcake game here as West Virginia put a hurting on Towson. The Mountaineers were dominant from start to finish as the rushing attack went off for 316 yards. Tony Mathis Jr. and CJ Donaldson both went over 100 yards a piece and combined for five touchdowns on the day. West Virginia had over 600 yards of offense and the defense shut down anything Towson did. Much like the Oklahoma State game, I didn't learn a lot here due to the fact that the opponent was so bad. With that said, West Virginia needed to get in the win column, and they did.
Baylor (Beat Texas State 42-7)
While the game wasn't really close, Baylor did have a bit of a slow start in this one. It was just a one score game until Blake Shapen's 35-yard touchdown run with 26 seconds left in the first half. The good news is Baylor's defense did an excellent job shutting down the Texas State run game and got off the field on third and fourth down. It was also great to see the offense run the football effectively as Richard Reese ran for 156-yards and three touchdowns. This may have not been the best test for Baylor, but it was a good confidence boost after a tough loss last weekend in Provo.
Iowa State (Beat Ohio 43-10)
If you were expecting a letdown from Iowa State after beating Iowa, you were dead wrong. Iowa State kept their foot on the gas pedal as Hunter Dekkers had a big day with 268 passing yards and three touchdowns. The run game looked good with Deon Silas, Jirehl Brock, and Eli Sanders all getting carries. And how about ten players catching a pass? That is something you don't see every day. But as good as the offense is, this defense deserves more praise. They held Ohio to just ten points and allowed the Bobcats to convert just two third downs. Through the first three games, this defense is giving up an average of just nine points per game.
Texas (Beat UTSA 41-20)
Despite the score, this game was fairly close for three quarters. In fact, UTSA had a 17-7 lead in the second quarter before Texas decided to wake up. The Roadrunners recovered an onside kick and had a trick play score in the first half, but the Longhorns managed to go into halftime tied at 17. Fortunately for Texas, the ground game caught fire in the second half as Bijan Robinson had two monster touchdown runs to lead the offense. For me, the game turned on the Jahdae Barron pick six late in the third quarter. That play changed the game as Texas outscored UTSA 24-3 in the second half. Texas may have had a little Alabama hangover, but they still managed to win the game by 21 points so give them credit.
Kansas (Beat Houston 48-30)
I saved the best for last here because Kansas is 3-0 for the first time since 2009! Just like last week against West Virginia, the Jayhawks were down 14-0 and came roaring back thanks to the offense. Jalon Daniels had another big game with 158 yards passing and also led the team in rushing as he ran for 123 yards. He ended up with five total touchdowns on the day which is tied for second most in Kansas history. Also, this offensive line for Kansas deserves some praise because they did a great job opening up holes in the run game as the offense ran for 280 yards on the ground.
After going three and out on their first two drives, the offense scored points on eight of their final ten drives of the game. Right now, we are witnessing Jalon Daniels becoming a great quarterback and Lance Leipold turning this program around right before our very eyes. Folks, this Kansas team is for real.
The Bad
Texas Tech (Lost to NC State 27-14)
If not for the defensive effort from the Red Raider defense, this game could have been a lot worse. The defense kept Texas Tech in this game and held NC State to just 270 yards of offense. The problem was the turnovers as Donovan Smith threw two interceptions and even Behren Morton threw one as well. There was even a special teams fumble on a punt return too. Between the lack of offense and the turnovers, Texas Tech struggled in this game, but give credit to NC State, because they are a good football team.
The Ugly
Kansas State (Lost to Tulane 17-10)
There's no reason for me to talk about the defense here because this game falls on the shoulders of the offense and the coaching staff. I'll start with quarterback Adrian Martinez as he was extremely hesitant to make throws downfield. There are still questions about him as a passer and I don't think any of them were answered on Saturday. It also didn't help that Deuce Vaughn was kept in check for most of the game. I know he dealt with some cramps, but that wasn't good for the offense either. The biggest difference in this game was on key downs. The Wildcats went just 2/15 on third down and an abysmal 1/5 on fourth down. When it mattered the most, the offense couldn't keep the chains moving.
As far as the coaching goes, offensive coordinator Collin Klein kept things a little too simple against Tulane. I believe he could open the playbook up a little more. I saw a shovel pass on a third and nine when they were down by seven with a little over three minutes to play and that was interesting. But there were also times where Kansas State should have punted and played the field position battle a little bit better. Overall, it was just an ugly loss, but at least this wasn't a conference game.