Kansas Jayhawks
Five Biggest Takeaways From Week 3 of the Big 12 Football Season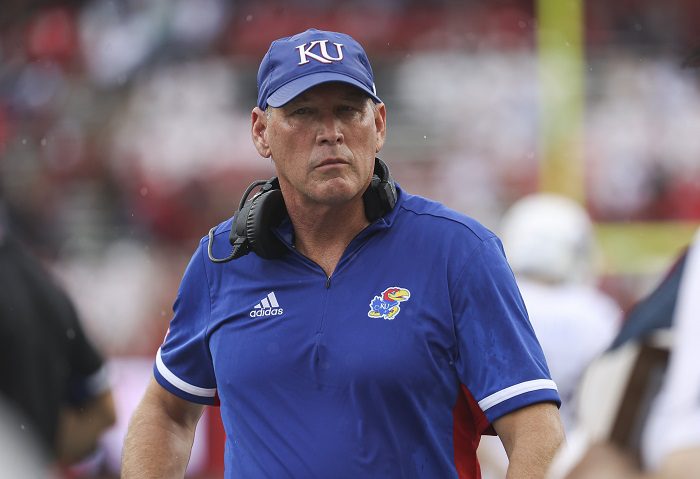 Week 3 of the Big 12 football season is in the books in what was a disappointing week for a couple of Big 12 teams, but also euphoric for others (well, one). There were several blow outs as many Big 12 teams were wrapping up their non-conference slates with cupcake games before conference play begins over the next two weeks. The Big 12 went 7-2 in Week 3, as nine of the 10 teams were in action (TCU had a bye week).
So with all that being said, here are the Top 5 takeaways from Week 3 in the Big 12 Conference.
1. How About Them Jayhawks?!
Kansas is 3-0 for the first time since 2009 after beating Houston 48-30. KU trailed the game 14-0, just like they did last week at West Virginia, and came storming back to win this one on the back of quarterback Jalon Daniels, who finished his night with five touchdowns, three passing and two rushing. Kansas finished with 438 yards, including 280 rushing yards. It's not just that this Kansas team is 3-0, it's how they're winning: on the road and coming from behind. The Jayhawks have won back-to-back road games for the first time since 2007. Lance Leipold has these guys playing confident football and it's showing in all facets of the game.
Another sign of great coaching: In 2021, KU was the least-penalized team in the Big 12 with just 33 penalty yards per game. The Jayhawks had just two penalties on Saturday and are near the top of the Big 12 in least-penalized teams in the early part of the season.
2. Kansas State Gets Trapped
As I noted in my picks against the spread (4-3 this week, 16-8-1 on the season), this felt like a trap game for Kansas State taking on Tulane one week after a former Big 12 North foe in Missouri and the week before playing Oklahoma in prime time on the road. And while I thought Tulane would cover the 14-point spread, I never thought Kansas State would lose and look as bad as they did, especially offensively, against the Green Wave.
OC Collin Klein had a questionable game. Quarterback Adrian Martinez's stat line looks serviceable (21/31, 150 passing yards, 1 TD/0 INT), but he still doesn't look comfortable and isn't letting it rip. Head coach Chris Klieman even called him out on it after the game, and he's right.
Example: Martinez threw underneath passes well short of the sticks on back-to-back third downs. That just can't keep happening. And if K-State thinks that the defense and Deuce Vaughn is enough to go on the road and beat Oklahoma (who Klieman is 2-1 against), then they're kidding themselves.
3. Growing Pains for Tech
It was a weird night for Texas Tech. The defense was the only thing that kept their game against NC State from being a blow out. The Red Raiders ended up losing 27-14.
But the offense was suspect and the play-calling and coaching decisions were just weird, if we're being polite. Where to start?
How about down 13-0 and on the 12th play of the drive on a 4th and 1 at the NC State 28-yard line with a beast of a dual-threat QB in Donovan Smith, the Red Raiders choose to throw it outside instead of running Smith against a likely-tired Wolfpack defense and it results in an 84-yard pick six.
Or how about going for it on 4th and 8 from your own 35-yard line with 15 minutes left in the game down by 13? Down 27-14 with eight minutes left and allowing NC State to burn nearly seven minutes of game clock and not using any of your three time outs, but then using those three timeouts with one minute to go down 13 points? Huh?
None of it made much sense. And Smith was off his game throwing the ball tonight, although it wasn't always his fault as his offensive line game him absolutely zero time most of the night. Texas Tech returns to Lubbock and has to get ready for a Top 25 Texas Longhorns team next week.
4. Neal Brown Needed This One
Neal Brown losing the first two games of the season took his seat from warm to warmer, if not hot, depending on who you ask in Morgantown. And while a big win over Towson does nothing to necessarily cure that, it's the best he could have done given the situation. Had WVU not done exactly what they did on Saturday, it just would've been more ammunition for those who believe things aren't working out with Brown at the helm in Morgantown.
That being said, the Mountaineers have one of the hardest schedules with 11 Power 5 games and now they turn around to a short week with Virginia Tech on the road. It doesn't get any easier for Brown from here on out, as his October Big 12 schedule features the four teams from Texas. But for those wondering, the buyout is not small.
5. A Once-Proud Blue Blood is Irrelevant
Yes, I'm talking about Nebraska, who got smoked by the Sooners 49-14 in Lincoln on Saturday, just days after firing head coach Scott Frost.
This takeaway isn't about a Big 12 team, per se, but of course there are Big 12 ties here, as Nebraska leaving the Big 12 Conference was the beginning of the end for them having any national relevancy to speak of. They're a dormant program with no juice. It's been a decade's worth of mistakes for Nebraska football and while I am not predicting a similar fall from grace for Oklahoma and Texas when they leave the Big 12 for the SEC, it is obviously important to at least share the message of: The grass isn't always greener…
Just ask Nebraska, and Colorado, and Missouri, and (to a lesser degree) Texas A&M. Three of the four may be cashing big checks, but have they really benefited on the field? What have the fans gained from the move? You know those answers.