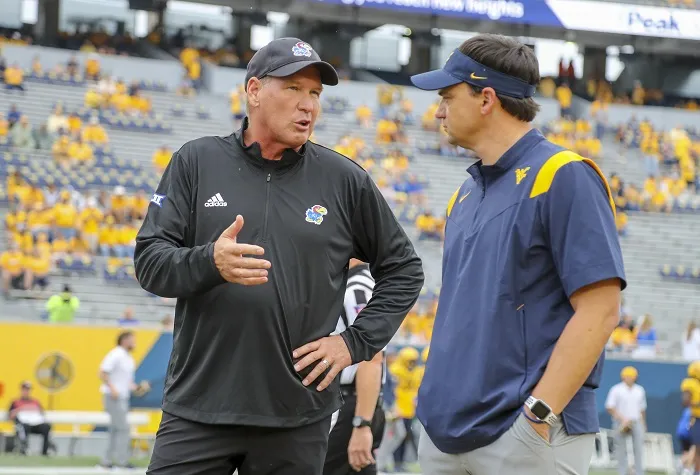 The 2022 college football season wrapped up Week 3 and the Big 12 had itself a quieter week than Week 2, but exciting nonetheless. There were future Big 12 showdowns like Kansas and Houston, an old Big 12 showdown in Oklahoma vs. Nebraska, and several cupcakes.
So now it's time for our Big 12 Power Rankings. Here's a reminder on how I've done this for years: It's about how your team looked and how it played, not always about if your team won or lost. And last week's rankings have little impact on this week's. That's what makes this fun. These are also not predictions for the way the season will end, just a Power Rankings based on the most recent performances.
So with that being said, here are our Week 3 Big 12 football Power Rankings.
1. Kansas Jayhawks (Last Week: 5)
The Jayhawks are 3-0 for the first time in 13 years after beating Houston on Saturday. For a second-straight week, KU trailed 14 points on the road and came back to win. Quarterback Jalon Daniels is becoming one of the most exciting players to watch in the Big 12 and he earned Kansas' first Walter Camp Football Foundation National Player of the Week after his performance on Saturday.
The bad news for Kansas: The last two weeks our No. 1 team (Baylor, K-State) has ended up losing the following week.
2. Texas Longhorns (Last Week: 2)
Texas got off to a little bit of a sluggish start after nearly beating No. 1 Alabama last week, but ended up rolling UTSA in the second half for a comfortable win on Saturday. Bijan Robinson carried the load with 183 rushing yards and three scores. And with Hudson Card still banged up, a lot of the heavy lifting may have to be done by Robinson for the foreseeable future.
3. Oklahoma State Cowboys (Last Week: 4)
The Cowboys had their game with Arkansas-Pine Bluff over by the end of the first quarter when it was 28-0 and then won 63-7. The non-conference wasn't great for OSU this season, but they rolled to comfortable wins against Central Michigan, Arizona State and UAPB. We'll learn much more about OSU after a bye week when we get a rematch of the Big 12 Championship Game against Baylor on October 1st.
4. Oklahoma Sooners (Last Week: 8)
The Sooners looked as good as they have in the early season, crushing Nebraska 49-14. But this game also says as much about how bad Nebraska's football program is right now, as the game took place just days after Scott Frost was fired. The offense was crisp, and could have scored plenty more, while the defense was solid and continues to show growth under Brent Venables. Things are shaping up nicely for OU entering conference play, but it's fair to say this was still the weakest non-conference slate in the Big 12.
5. Iowa State (Last Week: 6)
Iowa State is now 3-0 after rolling Ohio on Saturday. Hunter Dekkers continues to look really good at quarterback after finishing 28/36 for 268 yards and three touchdowns. Defensively, the team had four sacks and seven tackles for loss. But now the competition steps up with Baylor at home this weekend in one of the most underrated games on the college football slate in Week 4.
6. Baylor Bears (Last Week: 7)
Baylor came home after losing to Baylor and did what it was supposed to do against Texas State. There wasn't much to learn or takeaway from the game, but for the Bears, they are 2-1 after non-conference play and have everything ahead of them as they try to defend their Big 12 title. They certainly are capable of doing that.
7. Texas Tech Red Raiders (Last Week: 3)
There was plenty to be disappointed in on Saturday night for the Red Raiders. The coaching decisions were very questionable, such as going for it on 4th and 10 from their own 35 down 13 with 15 minutes remaining. Huh? The offensive line showed all the holes we expected, and more, dating back to before the season began. And as a result, QB Donovan Smith had a rough night, with absolutely no time to get comfortable. The defense actually played pretty well, but it was put in several bad spots during the game.
8. K-State Wildcats (Last Week: 1)
Well, that was ugly. Like, really ugly. K-State lost to Tulane in a classic trap game between Missouri and Oklahoma. I picked Tulane to cover, but never anticipated an outright loss. K-State's play-calling was suspect and Adrian Martinez was timid for most of the game. The talent is there for KSU to compete near the top of the Big 12, but the passing game needs to get something going or there will be plenty more 17-10 losses in the Cats' future.
9. TCU Horned Frogs (Last Week: 9)
TCU's schedule thus far looks weaker by the day since Colorado is an absolute mess and Tarleton is, well, Tarleton. TCU was off this past weekend, but takes on SMU in a battle of the Iron Skillet this weekend, which will tell us much more about what Sonny Dykes' team is capable of this season.
10. West Virginia Mountaineers (Last Week: 10)
Sorry, West Virginia. Beating up on Towson does not get you out of the basement. Beat Virginia Tech and start to get back on track in Big 12 play and we can start talking about that.