Trending Now
Neal Brown Has Best Odds to be Next College Football Coach Fired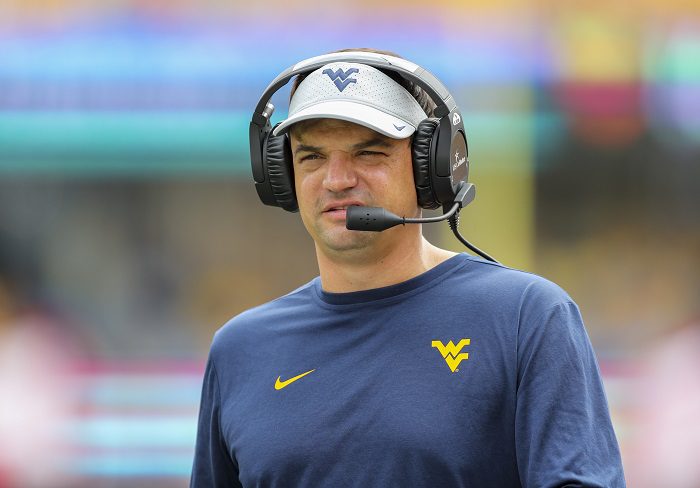 The game of college football is a demanding one, and if expectations aren't met within a reasonable period of time, college coaches can easily find themselves looking for a new job.
That's why there is almost a constant stream of coaching rumors, hot seats, reaffirmations from athletic directors, or announcements that someone has been let go. Sometimes, even Vegas gets in on the action, and if you ask them, the next guy out is at West Virginia.
Mountaineers' head coach Neal Brown has the best odds of being the next college coach fired with 4/1 odds according to BetOnline. He is just ahead of longtime Stanford head coach David Shaw (5/1), Georgia Tech head coach Jeff Collins (6/1) and USF head coach Jeff Scott (6/1).
Another Big 12 coach made the list as well, although he is further down the board at 14/1 odds, and that is Texas head coach Steve Sarkisian.
Here is a complete rundown of the odds of the next college football coach to be fired, courtesy of BetOnline.
| | |
| --- | --- |
| Neal Brown (West Virginia) | 4/1 |
| Davis Shaw (Stanford) | 5/1 |
| Jeff Collins (Georgia Tech) | 6/1 |
| Jeff Scott (South Florida) | 6/1 |
| Chip Kelly (UCLA) | 9/1 |
| Ken Niamatalolo (Navy) | 9/1 |
| Jay Norvell (Colorado State) | 10/1 |
| Karl Dorrell (Colorado) | 12/1 |
| Scott Satterfield (Louisville) | 12/1 |
| Steve Sarkisian (Texas) | 14/1 |
| Bryan Harsin (Auburn) | 16/1 |
| Jimbo Fisher (16/1) | 16/1 |
| Pat Fitzgerald (Northwestern) | 18/1 |
| Marcus Freeman (Notre Dame) | 20/1 |