featured
Overreaction Monday: K-State's Season, OU's Defense, Kansas is For Real, Iowa State on the Rise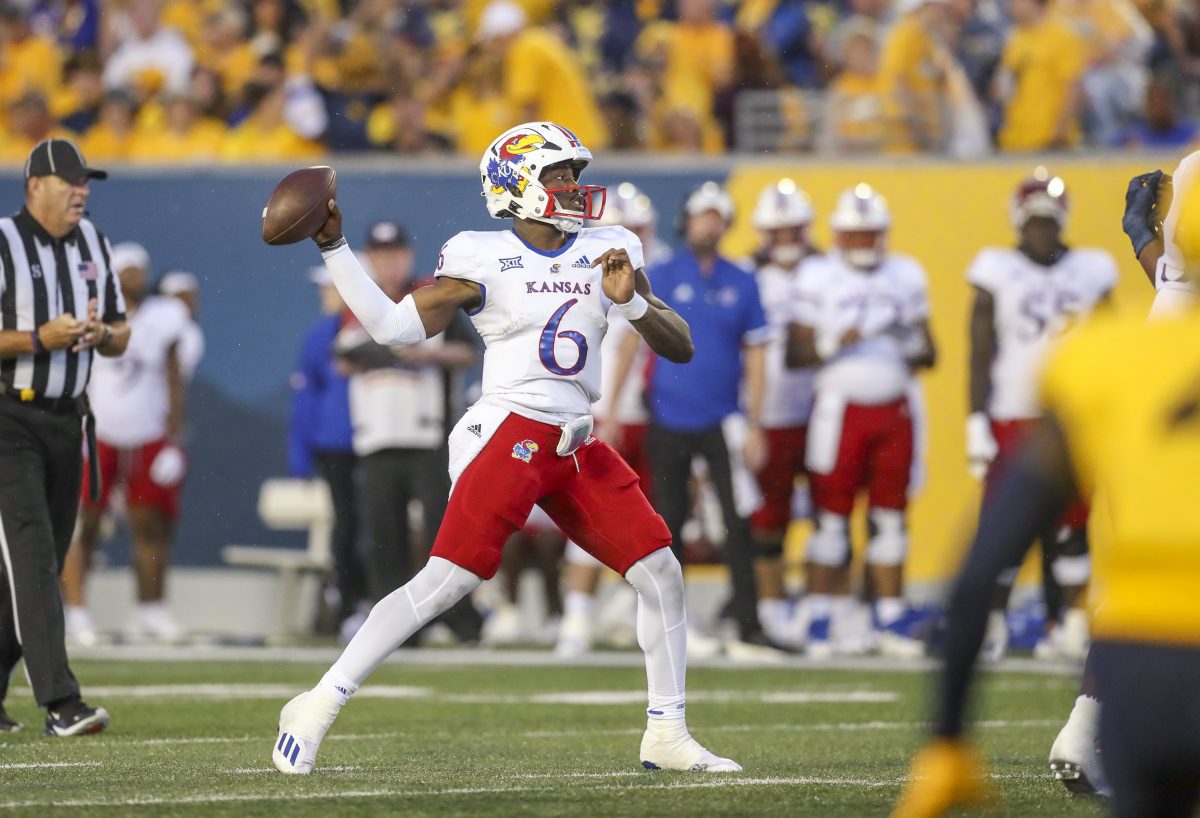 Every Monday during the college football season, fans of teams across the country return to work and discuss the events of the weekend with their coworkers. Around the watercooler or coffee machine, overreactions are born as suddenly one team is now a national title contender (they're not) and another's season is over after a tough loss (it isn't).
Allow us to sift through the rumors, false allegations, and straight-up nonsense for you this season with overreaction Monday, where we tell you whether you need to cool the jets or you legitimately have something to worry about.
K-State's Dream Season is in Trouble After a Home Loss to Tulane.
Not an overreaction. I'm not quite ready to hit the panic button yet, but I'm getting awfully close. K-State came into the 2022 season as everyone's favorite dark horse contender for the Big 12, but that took a big hit on Saturday after the Wildcats dropped a game to Tulane, 17-10. K-State's offense was wildly inefficient, going 2-15 on third down and totaling only 150 yards through the air. QB Adrian Martinez continued to look hesitant to throw the ball downfield and his average completion of 4.8 yards and QBR of 41.3 showed that. If K-State hopes to get back to its winning ways it will need to be two-dimensional on offense and find other ways to score than giving the ball to Deuce Vaughn, who managed just 81 yards on 20 carries against the Green Wave.
Oklahoma's Defense Will Crumble in Big 12 Play.
Overreaction. Prior to Saturday's game against the Sooners, Nebraska was averaging 36 points per game. With a score on their first possession, and one on their final possession in garbage time, Nebraska managed just 14 points against Oklahoma in a blowout loss. Before halftime, Venables' squad had built a 35-7 lead and had collected eight tackles for loss and four sacks. The Sooners lead the nation in TFL's (32.0), are fifth in sacks (13.0), 14th in scoring defense (10.0 ppg) and are tied with Clemson for 35th nationally in total defense (312.7 ypg). Those numbers are staggeringly different from last year's and show just how much Brent Venables has been able to do on that side of the ball in short amount of time he has been in Norman.
The Kansas Story is Cool, But It Won't Last.
Overreaction. I know, Kansas has been the doormat of the Big 12 and one of the worst teams in the FBS for the last decade, and seeing them at 3-0 and receiving votes in the AP Poll (23 votes) has you feeling extremely skeptical. Allow met to ease your mind. Kansas is a good football team, you can believe it. Quarterback Jalon Daniels leads the country in QBR (97.5) and is responsible for 10 touchdowns already this season. The defense could become an issue against better offenses, but KU is scoring 51.5 points per game, good for third nationally. What Lance Leipold has done with the Jayhawks since he was hired in 2021 is incredible and is a story that you can both see and believe.
Iowa State is a Bonafide Big 12 Contender.
Not an Overreaction. I'm going to jump on the Iowa State train before it gets going to fast, but I am a believer in Matt Campbell and the Iowa State Cyclones. We should've known that in a "down year" Iowa State was going to finally get over the hump and take down Iowa, which is exactly what they did two weeks ago. Then, this weekend, the 'Clones took care of business against Ohio, and Hunter Dekkers was impressive (28/36, 268 yards, 3 TDs) in the 43-10 win. In Week 4, Iowa State hosts No. 17 Baylor, but is favored by 2.5-points. That's no coincidence. I believe ISU has a real shot at winning that game, and when they do, they will throw their hats in the ring as Big 12 Contenders again in 2022.
Texas has Fixed its Second Half Meltdown Issue.
Not an Overreaction. When Texas went into halftime tied 17-17 with UTSA, we were all thinking it. "Here we go again." I thought to myself, "Texas is going to lose this game after looking so good against Alabama, and they are going to make me look like a fool for giving them a stamp of approval last week." Well, they proved me wrong. Despite last year's second-half issues, Texas looked more physical, better prepared, and adjustment-laden in the second half of their 41-20 win over a pesky UTSA team. With Quinn Ewers out, Texas still managed to pull away in this game, something they would've struggled with in year's past. This team has depth, talent, and an inspired program around it, and that is promising as the Longhorns enter Big 12 play.