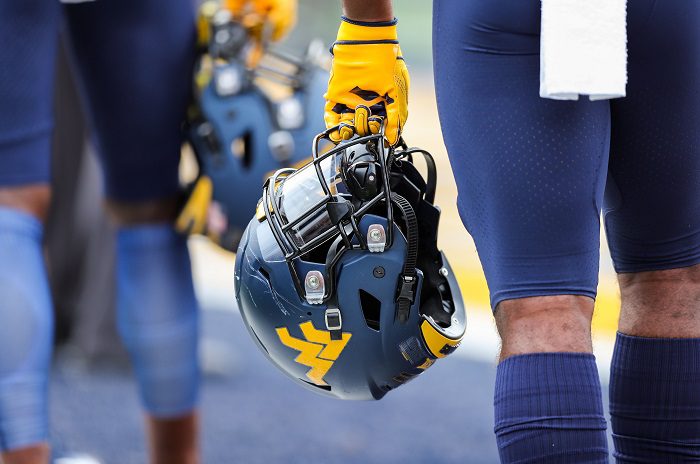 Here is everything you need to know about the upcoming matchup between the West Virginia Mountaineers and the Virginia Tech Hokies in the battle for the Black Diamond Trophy.
GAME INFO
Thursday, September 22, 2022; 6:30 p.m. CT; Lane Stadium; Blacksburg, Virginia
TV: ESPN (Matt Barrie, Louis Riddick, Harry Lyles Jr.)
Radio: Mountaineer Sports Network (Tony Caridi, Dwight Wallace, Jed Drenning)
Records: West Virginia 1-2 (0-1 Big 12); Virginia Tech 2-1 (1-0 ACC)
Rankings: West Virginia unranked; Virginia Tech unranked
Series History: West Virginia leads series 29-23-1
Last Meeting: West Virginia 27, Virginia Tech 21 (2021)
Favorite: West Virginia (-2.5)
Fun Fact: Both programs are ranked in the Top 20 in all-time wins, with West Virginia at 770 wins (15th all-time) and Virginia Tech at 765 (17th all-time).
Key Players
West Virginia Mountaineers
TE CJ Donaldson
Although Donaldson is listed as a tight end, the bruising 240-pound freshman has done his damage this season as a ball-carrier. Donaldson has turned 29 carries into 274 yards (9.4 ypc) and six touchdowns on the ground through three games and figures to be a big part of the West Virginia offense going forward. With two 100-yard games already this season, it is likely that the 'Eers have found a replacement for Leddie Brown in 2022.
K Casey Legg
West Virginia kicker Casey Legg has been money for the Mountaineers in 2022, and his name is about as appropriate as the come given his position. Although all of his kicks have come from inside the 30-yard line, he is a perfect 4/4 on field goals and 14/14 on PATs. In a game where things could be tight from wire-to-wire, Legg will be vital to West Virginia's chances in this game.
Virginia Tech Hokies
QB Grant Wells
After an atrocious first game against Old Dominion where he went 21/36 for 197 yards, one touchdown, and four interceptions, VT quarterback Grant Wells has looked better. Since that game, Wells has gone 42/60 454 yards and three touchdowns to no interceptions. He will need to continue the latter if he hopes to lead the Hokies to victory against the Mountaineers
LB Dax Hollifield
At the center of the Virginia Tech defense is senior linebacker Dax Hollifield. Hollifield leads the Hokies with 23 tackles on the year, and has also recorded one sack and one forced fumble thus far. With West Virginia potentially handing the ball off to Donaldson a dozen times in this game, Hollifield will be tested often with countering the freshman "tight end's" physicality.
Key Storylines
West Virginia Mountaineers
Can West Virginia carry the defensive momentum it built against Towson into a game against a real opponent? West Virginia is averaging 46 points per game through three weeks, yet it is just 1-2. That falls on a defense that was suspect in both its losses, especially to Kansas at home. Last week, Towson only managed 180 yards of offense to WVU's 624. The Virginia Tech offense is only averaging 23.7 points per game, and if West Virginia can capitalize on that, they should win this game and get things back on track.
Virginia Tech Hokies
Can Virginia Tech keep up if this game turns into a shootout? The West Virginia offense hasn't had any trouble putting points up on the board this season, so if that trend continues, does VT have the horses to keep up? The Hokies rank 93rd in total offense (364.0 ypg) and 102nd in scoring offense (23.7 ppg) and they haven't shown much explosiveness on that side of the ball to this point. Something tells me that they might need to score 30 to win this game, and I don't know if they do that on Thursday night.
Prediction: West Virginia 31, Virginia Tech 28
This game is vitally important for West Virginia, who needs to get a W to get back to 2-2 and on track to get to bowl season. Neal Brown's seat is as hot as it has ever been, despite a massive buyout, and he will have his team ready to go on Thursday night. I think the trio of J.T. Daniels, Bryce Ford-Wheaton, and CJ Donaldson is too much for Virginia Tech and the Mountaineers will win a close one, taking home the Black Diamond Trophy for a second-straight year.