featured
Bedlam Series Officially Dead When Oklahoma Leaves for SEC: Report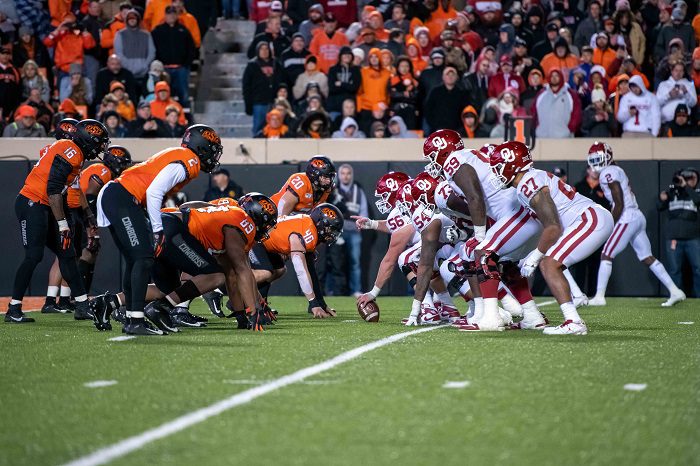 We have tried to do our best to prepare you for this day college football fans, but it has finally come and I'm still not sure that those of us that live in the Panhandle State are ready for this. The day of reckoning has come for the Bedlam Series and it appears that 112-year streak of annual meetings will come to an end when Oklahoma leaves for the SEC.
According to Brett McMurphy of the Action Network, athletic directors from both schools have confirmed that Oklahoma and Oklahoma State will cease to continue playing when the Sooners leave for the Southeastern Conference sometime between now and 2025.
"It (playing Oklahoma) presents logistical issues under our current (scheduling) structure," Oklahoma State AD Chad Weiberg said. "We don't have any openings to play them. We're full. Unless there are significant undertakings to make the game happen, it can't happen."
Adding to what Weiberg said, Oklahoma AD Joe Castiglione says that Oklahoma State has been the one to sever ties with the Bedlam football series.
"Oklahoma State has shown no interest to schedule any future games in football, so we're moving on (with filling OU's future nonconference openings)," Castiglione said.
While both sides admit to scheduling conflicts, the main problem lies in future conference scheduling. Both Oklahoma and Oklahoma State will likely be looking at nine-game conference schedules, with the Big 12 continuing what its done for years and the SEC likely adopting a nine-game model when Oklahoma and Texas move in.
"It's very difficult to predict the future of college athletics right now," Weiberg said. "Would we have interest? Yes, when the logistics work out, but that appears to be well into the future.
"It is disappointing (the series is ending). This is a part of the history of this state, is Bedlam. To think about that coming to an end or some lengthy pause, up until a year ago was almost unfathomable."
With Bedlam coming to an end, Oklahoma-Oklahoma State will enter the "Rivalry Graveyard" that so many others have over the years thanks to conference realignment. Games like Oklahoma-Nebraska, Texas-Texas A&M, Pitt-West Virginia, Nebraska-Missouri, Kansas-Missouri, Arkansas-Texas, and Oklahoma-Missouri used to be heated rivalries that were played annually or bi-annually, but now they are just a memory.
Despite the football series ending, both AD's are confident that they will keep playing the series in the other sports. However, the football series ending will have the greatest impact, both on the fan base and programs.
"(Bedlam ending) is one of the consequences of OU's decision (to join the SEC)," Weiberg said. "It's disappointing for the people of the state of Oklahoma."