Baylor Bears
Big 12 Football Mailbag: Iowa State Win Total, Neal Brown's Job Status, Biggest Weaknesses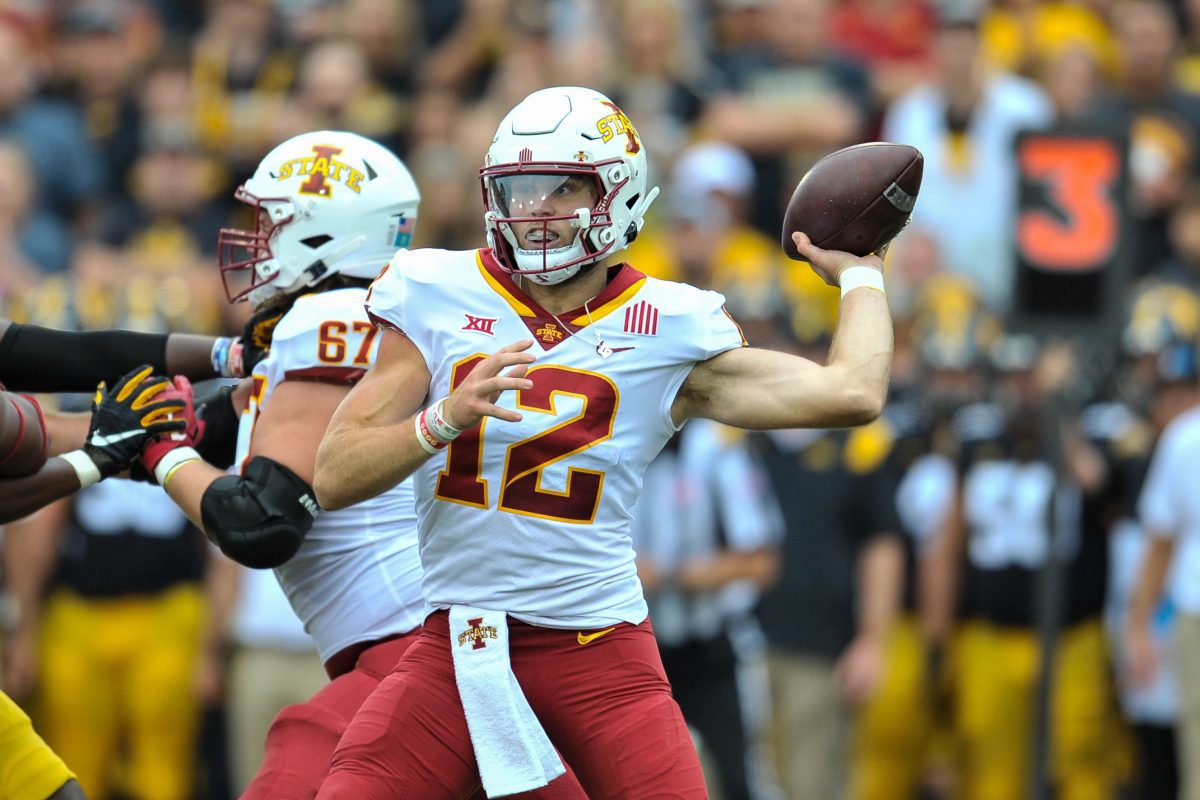 Welcome to the HCS Big 12 mailbag. This mailbag is for all you football junkies out there who root for a Big 12 school who not only have questions about your team but other teams in the conference as well. So, join me, grab a cold brew or your favorite drink and relax as I answer all your Big 12 questions in my mailbag. This week I took some questions from Twitter and Facebook for the mailbag.
I want to thank each one of you who submitted a question this week and for tonight's drink of choice? You'll just have to see for yourself.
@mat_with2ts_ asks: If Iowa State beats Baylor this weekend, do you think they'll finally get their elusive 10-win season for the first time? Or is the Big 12 too uncertain still?
Duke: Let me start by saying that I believe this Iowa State team is extremely underrated. I know they lost ton of production from a year ago but there is a lot to like about this team. The defense is solid as always under Jon Heacock, but the offense is what has surprised me a bit so far. Hunter Dekkers has been excellent so far this season at quarterback with his quick release, big arm, and fast decision making. Plus, the weapons in the passing game with Jaylin Noel and Xavier Hutchinson help him out as well. And just last weekend, we saw that run game get going as Jirehl Brock looks to take charge of that backfield.
With that said, I am not sure if I can buy ten wins just yet for Iowa State. If they win this weekend, that puts them at 4-0 but they still have to play Kansas, Kansas State, Texas, Oklahoma, and Oklahoma State. I can see eight or maybe even nine wins for the Cyclones, but I am not at ten quite yet.
@thomas_hembry asks: Who is going to step up to the plate and offer the better sports service to represent the Big 12?
Duke: Not to be rude here, but does it really matter? I don't think the Big 12 cares about who wants to air the conference as long as the money is right. Whether it's Fox, CBS, ESPN, Amazon, Apple or whoever, the company that gets the right to air or stream Big 12 games is going to be the one who pays the most. We all know that this is all about money and the Big 12 is going to do whatever they can to get the most money. Sorry to be blunt, but this is just how I feel about this topic.
@CMack0507 asks: What are the chances that Neal Brown has a job come Monday? Even if he wins, is it only delaying the inevitable or does he have a legit shot to still be the coach next season? Because I see, at best, maybe three conference wins.
Duke: Without a doubt in my mind, Neal Brown will have a job on Monday. I wrote an article last week talking about how much it would cost for West Virginia to fire him. If he gets fired before January 1st of 2023, the school will owe Neal Brown over $20 million. After that day, his buyout drops to $16.4 million. While I agree that the future is bleak for Neal Brown, no matter his record, he won't get fired at any point during the season due to money. Trust me when I say that I was truly shocked to see how much West Virginia owes Neal Brown.
@BryanJMetcalf asks: After 3 weeks of games, what are some glaring concerns facing teams that need to be address (if possible) going forward for the remainder of the season
Duke: There is no perfect team in the Big 12 but sometimes it is hard to spot glaring weaknesses this early in the season. Some of these teams haven't been tested much in the non-conference and we don't really know a ton about these teams until conference play. But I can give try and give one weakness from each team.
Kansas, West Virginia: Overall defense
TCU and Kansas State: Quarterback play
Texas Tech: Quarterback play/Offensive line
Baylor: Wide receiver
Texas: Quarterback health
Oklahoma State: Secondary
Iowa State: Special Teams
Oklahoma: Honestly, hard to come up for one for the Sooners.
@simon_wilson24 asks: Can we get a trophy of "the handshake" for the Iowa State/Baylor game?
Duke: In case, anyone is wondering this is the photo Simon is referring to.
It is of Matt Campbell and Matt Rhule after the game in 2018. As good as this picture was, I think a different trophy should be presented to the winner of this game.
The trophy should be of a tent from the infamous 2019 game in Waco. It was hot as hell outside, and Iowa State wasn't able to use a tent for shade on their sideline that was baking in the sun. The winner should get the trophy and the loser of the game should be required to be on whichever sideline is in the direct sunlight with no tents for next year's matchup. Someone make it happen.