featured
Tirade Tuesday: The Bedlam Series is Officially Dead, Which is Tragic for College Football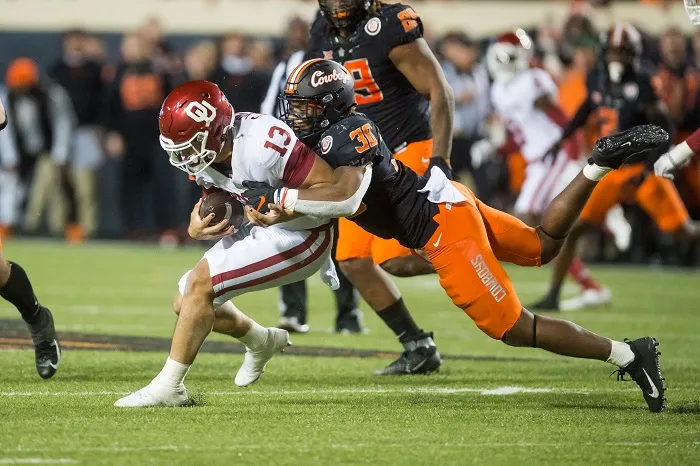 In this week's Tirade Tuesday, I am jumping up on the soapbox about something that hits close to home. On Tuesday morning, it was announced that the Bedlam series between Oklahoma and Oklahoma State is coming to an end when Oklahoma moves to the SEC.
Now, for someone who has spent his entire life in the Sooner State, this comes as a bit of a culture shock. Each of the last four generations of my family have seen, or heard, the Sooners and Cowboys play every year. Bedlam has been played for 112 consecutive years and a total of 116 times. It is one of the oldest and deepest rivalries in college football and has only recently become the game to watch on Rivalry Weekend. Oklahoma holds a 90-19-7 edge in this series, but the record isn't nearly indicative of how competitive this rivalry has become in recent years.
Now, thanks to conference realignment, and a bit of pettiness, all of that history becomes just that: history.
In Brett McMurphy's report, both athletic directors seem to be pointing the finger at one another as to the reason for the series ending.
Oklahoma athletic director Joe Castiglione says that Oklahoma State has shown "no interest" in continuing to play the series, while Chad Weiberg, Oklahoma State's AD, says that it is strictly Oklahoma's fault that the state is losing its biggest annual sporting event because they are moving to the SEC.
"Oklahoma State has shown no interest to schedule any future games in football, so we're moving on (with filling OU's future nonconference openings)," Castiglione said.
"It (playing Oklahoma) presents logistical issues under our current (scheduling) structure," Weiberg said. "We don't have any openings to play them. We're full. Unless there are significant undertakings to make the game happen, it can't happen."
I believe both sides are unwilling to budge on who's to blame, and quite honestly an argument can be made on both sides. At the end of the day, both parties would need to be cooperative for this to work and that simply isn't the case at this point in time. It's the exact situation that kept Texas and Texas A&M from playing since the Aggies left for the SEC.
Pretending that Oklahoma State wouldn't jump at the opportunity to go to the SEC is asinine, but Oklahoma certainly could've done its "little brother" some favors by calling them a package deal when the idea of leaving for the SEC started to be kicked around.
Instead, the Sooners made a business decision and tied themselves to the Texas Longhorns as a boarding partner, and the rest you already know. Could these two teams really make it work and continue playing the rivalry? Absolutely. I don't believe the "scheduling conflicts" stuff that we are being fed from both parties. BYU and Coastal Carolina set up a non-conference game in less than a week during the COVID-19 stricken 2020 season, so I'm absolutely certain these two could work things out with years to prepare. I'm just not sure that they want to make it work.
First of all, Oklahoma State is better off not playing the Sooners every year. The only knock against Mike Gundy has been his inability to win against Oklahoma consistently, and outside of that he has been absolutely stellar in Stillwater. Then, you add to the fact that this game would now have the SEC vs. Big 12 brand behind it, and you have a recipe for ESPN to further SEC propaganda through the lens of Oklahoma being so dominant over its in-state rival.
Then, on Oklahoma's side of the fence, you have to look at the fact that its schedule is already going to be tricky enough every year in the SEC. Add in an annual game against a perennial Top 25 program like Oklahoma State and the schedule is daunting every single year.
Bedlam has been one of the most exciting rivalries since the turn of the century, with several nail-biters on both sides and games that seemingly go down to the wire each and every year. Plus, there is never an empty seat in the house when toe meets leather, as both fan bases look forward to a chance at bragging rights every November.
Both Oklahoma and Oklahoma State have a part to play in this series coming to an end, whether you choose to believe that is likely determined by the color of your shirt on Saturdays. The fact of the matter is, we are losing another great rivalry to conference realignment, and that really sucks for college football as a whole.