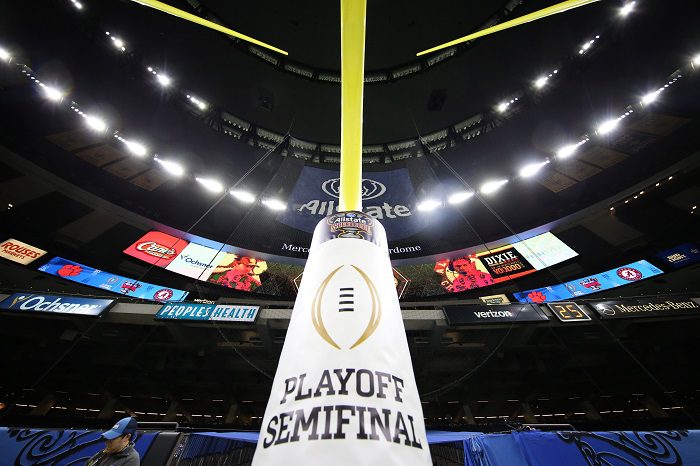 Even though we are just three weeks into the college football season, that doesn't mean we can't look ahead to what the future may hold. There are still plenty of important games to get through and a whole month to go but it is never too early to start thinking about the postseason.
Jerry Palm from CBS Sports recently released his latest college football bowl projections. It is always interesting to see how things change from week to week but here is what he currently has listed for the Big 12.
Peach Bowl (CFB Playoff)
Oklahoma vs Georgia
Jerry has the same matchup listed from last week which has Oklahoma in the College Football Playoff against Georgia. Despite not knowing a ton about some of these teams I do agree that both Oklahoma and Georgia are two of the top four teams in the entire country.
Sugar Bowl
Baylor vs Tennessee
Just like the game above, Baylor remains in one of the top spots in the Big 12 with a trip back to New Orleans. Obviously, it would be huge for Baylor to get back to a NY6 bowl game, but they still have quite a few hurdles ahead including one this weekend at Iowa State.
Alamo Bowl
Oklahoma State vs Oregon
The Cowboys once again are picked to come to San Antonio but don't be shocked to see these two teams move up the bowl list. Oklahoma State appears to become one of the top two teams in the Big 12 and Oregon may not be as bad as some people think after their big win against BYU last weekend.
Cheez-It Bowl
Texas vs NC State
I have mentioned a few times that NC State is a sleeper team in the ACC who could surprise some people. However, this could be a very interesting matchup between two solid defenses. At the moment, both teams are a little challenged offensively but that could change for Texas once Quinn Ewers is healthy again.
Texas Bowl
Iowa State vs Mississippi State
Finally, we have our first change since last week however it is not a big one. The Cyclones have been set to face Ole Miss for the last two weeks and now it appears they will get the other school from Mississippi instead. No disrespect to Mississippi State but I would much rather have Ole Miss in Houston.
Liberty Bowl
Kansas vs Ole Miss
For the first time since I have been doing this, Kansas is on a bowl projection! This team has already passed their Vegas win total in their first three games as they look to go 4-0 this weekend against Duke. If the Jayhawks can get another victory on Saturday, then there is no doubt in my mind that they will be a bowl team this year. Oh, and check out their opponent too!
Guaranteed Rate Bowl
Kansas State vs Maryland
To be honest, this matchup doesn't do a lot for me on the excitement level, and I doubt Kansas State fans would feel much different. This team is too talented to be going to a bowl like this, so they need to get back on track in conference play.