featured
Bye Bye Bedlam, So Long Sooner Schooner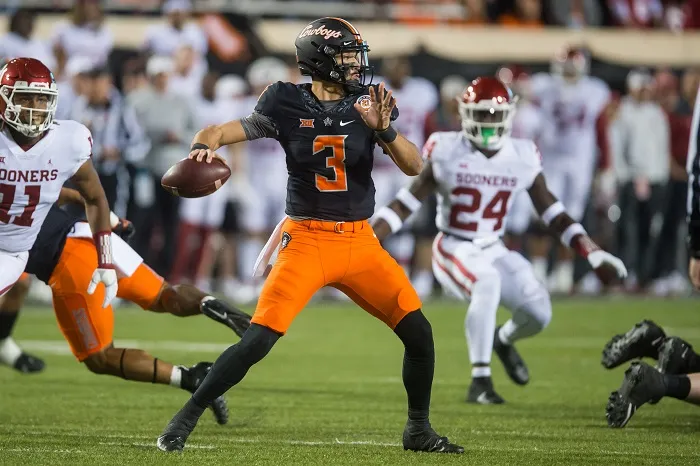 So long Sooners! No need for lengthy goodbyes. I'll even help you pack the schooner.
Maybe my opinion is in the minority when it comes to OSU fans but I don't think it is.
I'm ready for life without Sooners.
Oh sure even after the teams aren't in the same conference anymore I'll still have to see OU fans out in the wild. Some of my best friends are Sooners. I work with them. When I take my wife out to eat, there they are. At the store, at the movies, at church, at the gas station. They can't be avoided. But like I said when the news broke about them and Texas moving to the SEC: I no longer have to pretend to care about their team.
No hard feelings, I promise. Just take your ball and go to your new home.
The funniest thing about the news finally being all-but-official that the Bedlam football series is over is all the finger-pointing by OU. The Sooner brass is all but saying this is all the Cowboys' fault. Mad fans are doing wild, emotional swings between "I can't believe you'd let the tradition die like this" and "OSU is basically a JUCO anyway." Could Oklahoma State be more willing to bend a little and rearrange some schedules to make Bedlam work? Probably, but why should they?
The Sooners took the money. They knew when they decided to leave for the SEC that playing games against the other Big 12 teams, including OSU, might not happen anymore. They did it anyway. Don't forget that. Now they are mad that we don't want to go out of the way to make the game stick around? That's like if your girlfriend dumps you for the better-looking guy with the Trans Am and then doesn't understand why you don't want to still get together every so often so you can buy her dinner.
You see, the continuation of Bedlam as a seasonal, nonconference matchup would be much more beneficial to the Sooners than the Cowboys. OU dominates the series. OSU only wins about 16% of the time, so about 1 in 6. That means most years what will come of Bedlam is the Sooners getting a decent win against a top 25, recognizable brand opponent that boosts their résumé for an at-large bid in the new 12-team playoff. As if a blue blood SEC team will need any help there!
The people that run OU are smart and they understand this. They wouldn't want Bedlam to continue unless it benefited them. It isn't for tradition or out respect or for the good of the state like they say. If any of that mattered to them they wouldn't have made secret plans, cashed the check and left.
What OSU would get 5 out of 6 years is a beating on national television. They'd give the Big 10/SEC talking heads (so basically every sportscaster) more ammo in the "nothing matters but these guys in these two conferences" campaign. They get an 8-5, a 9-3, or a 10-2 record instead of the 9-3, 10-2, or 11-1 season they'd have had without that game. They get a worse shot at an already hard-to-get at-large playoff bid or a lower spot in the bowl pecking order.
A New Year's Bowl or a playoff spot means big money for a team and their conference. Why would Oklahoma State do anything to boost the Sooners' chances of that payday to the detriment of themselves? The Sooners are already heading towards an $80+ million a year share of the SEC pie.
Oklahoma State needs to forget about OU and move on. They need to focus on trying to rule the new Big 12 in whatever form it ends up in. If the Cowboys can manage to win the conference say, once every three years, and get that automatic playoff bid they may just end up being in the playoffs as much or more than the hated Sooners.
So I say don't give them what they want. Don't let them talk everyone into forgetting that Bedlam wouldn't have gone away had they not chosen the money. Don't let them play the victim after the choices they made caused the issue they are now complaining about.
It's sad to see so many traditions die due to the almighty dollar but don't buy the "poor me" act from the people creating that change for one second. They sold us all out. That's why I'm on board with no more scheduled Bedlams.
Although I'm very much on board with a future Bedlam played in Jerry World as a playoff semifinal.
But until that happens…..
Adios, Sooners!