Kansas Jayhawks
Kansas Football Officials Bracing for Capacity Crowd in Lawrence on Saturday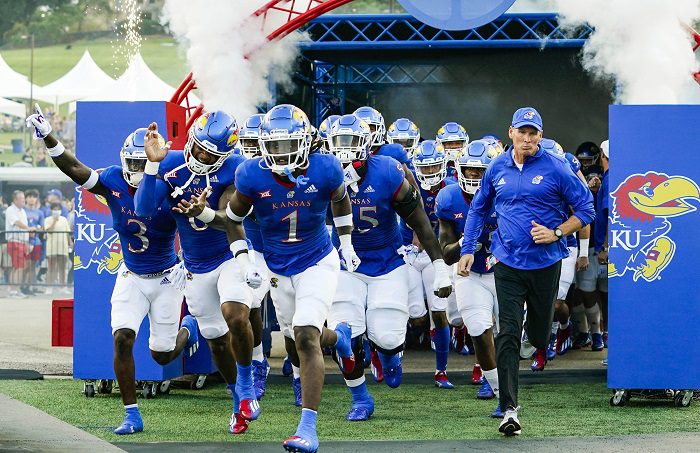 The Kansas Jayhawks have started 3-0 in football for the first time since 2009 and the fan base is starting to take notice.
On Saturday, KU will play host to the Duke Blue Devils, who are 3-0 themselves under first year head coach Mike Elko. In what should be an exciting game, the two schools, who are known for their basketball prowess, will fight to remain among the undefeated.
David Booth Kansas Memorial Stadium is currently under major renovations and is still months, or even years, away from having them finished. However, that is not stopping the Crimson and Blue from filling the stadium the weekend, as the "Pack the Booth" movement has made its way across the Sunflower State.
According to a report from the Lawrence Journal-World, KU has now sold 12,000 single game tickets for Saturday's matchup and school officials are bracing for a capacity crowd of 47,233.
"We're obviously really excited about all of this," Jason Booker, a KU deputy athletic director said. "Coach Leipold and his staff and players obviously are doing the work on the field and our team has been working hard off the field and behind the scenes to make sure everyone who comes on Saturday has a great experience."
Kansas will try to get to 4-0 on Saturday, and in doing would top their win totals from every season dating back to 2009. Beating Duke convincingly could also see the Jayhawks crack the AP Top 25 in next week's poll.
So KU fans, if you haven't yet, get your tickets, Pack the Booth, and create a raucous atmosphere for Lance Leipold and the Kansas Jayhawks on Saturday afternoon.