Trending Now
Pac-12 Commissioner Taking Corner Schools "At Their Word" That They Aren't Leaving Conference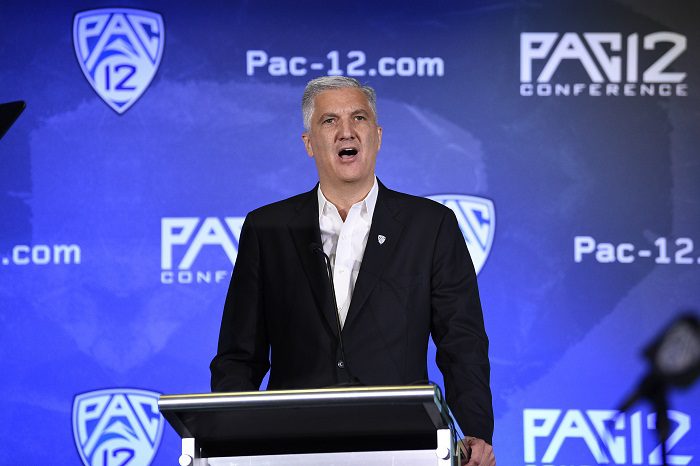 Pac-12 Commissioner George Kliavkoff recently appeared as a guest on the "Canzano and Wilner Podcast" and discussed at length the recent turmoil that the conference has worked its way through.
One of the topics discussed, naturally, was the rumor that the "corner schools," which includes Arizona, Arizona State, Utah, and Colorado, were looking to join the Big 12 amid Oregon and Washington meeting with the Big Ten.
In fact, when asked bluntly if he still guaranteed that nobody from the Pac-12 would be leaving for the Big 12, Kliavkoff doubled down.
"Yes, that's still the case," Kliavkoff answered.
When asked was he was so confident in fact that schools wouldn't jump ship, Kliavkoff had this to say.
"Well, I talk to our presidents, chancellors, and athletic directors all the time and we have conversations about this and everyone has committed to working together to get a great grant of rights following a good media rights deal, and I take people at their word."
Kliavkoff seemed confident that those schools, along with any others, weren't going anywhere and that the Pac-12 was in tip-top shape with media rights negotiations on the table.
"I don't feel, candidly, any sense of urgency at this point,'' Kliavkoff said of completing a media rights deal. "No one's going anywhere; we're all together; we're focused on doing this."
This is just another attempt from Kliavkoff to pretend that everything around his isn't burning down. The Pac-12 is taking so long to close its new media rights deal, which it open a negotiating window for, because nobody wants to pay for what is left of the Pac-12, or at least pay enough for it to compete with the other conferences.
Whether he just has his head in the sand, or there is real reason for optimism in Pac-12 country, it seems that Kliavkoff isn't too worried about losing more schools to other conferences at this point in time.