Baylor Bears
Is Baylor-Iowa State a Budding Rivalry in the New-Look Big 12?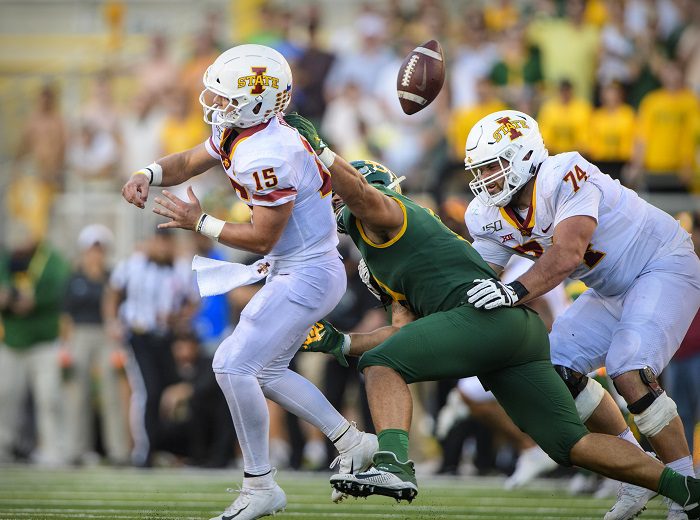 There are many things I love about college football. From the traditions, the atmospheres, and everything in between, there is so much to like about the sport we all enjoy.
One of the things that makes the game so wonderful is rivalries. A game between two schools that absolutely despise one another. Where the winner gets bragging rights for the next 365 days and the loser can't wait for the rematch next season.
In the Big 12, we have quite a few great rivalries. For now, we still have the Red River Rivalry and Bedlam but those will soon be lost due to Texas and Oklahoma leaving for the SEC. However, there are still some fun rivalries in the conference. The Baylor/TCU rivalry is filled with hate along with the Sunflower Showdown in the state of Kansas between Kansas and Kansas State. Of course, I can't forget about one of my personal favorites, Farmageddon which is between Iowa State and Kansas State.
However, over the last few years, another great rivalry is emerging in the Big 12 between Iowa State and Baylor. While one may not think of this as a true rivalry, that's fine but these two schools do not like each other, especially on the football field.
It all started in the 2018 game in Ames. With the Cyclones up 17-0 in the third quarter, Iowa State wide receiver Hakeem Butler got into it with Baylor safety Blake Lynch. Butler ended up pushing Lynch to the ground and had his knees near his throat. Soon after, Iowa State running back David Montgomery went after Baylor's Greg Roberts who took a swing at him before the two went at it with one another. Shortly after that, both players got ejected from the game as the benches cleared.
In the end, Iowa State would go on to win 28-14 and of course, that led to this memorable handshake between Matt Campbell and then Baylor head coach Matt Rhule.
As crazy as the 2018 game was, 2019 was just flat-out weird. I was there on that hot, humid September day in Waco. Since Iowa State was the away team, their sideline was directly in the sunlight. On top of that, Iowa State was told that they could not use tents for shade because they weren't approved by the Big 12. And to give you an idea of the temperature difference between the two sidelines that day, ESPN put up this graphic during the game.
Going into the fourth quarter, Baylor had a 20-0 lead but Brock Purdy and that Iowa State offense game roaring back as they found themselves with a 21-20 lead with around four minutes left to play. However, Baylor would end up victorious as John Mayers drilled a 28-yard field goal to win the game.
Ironically enough, the 2020 matchup went almost identical to the game from 2019. Iowa States quarterback Brock Purdy threw three first-half interceptions and one of them was a pick-six. Baylor had a 24-10 lead in the third quarter, and then the Cyclones flipped a switch and came storming back. Only this time, it was enough to win a classic 38-31 thriller.
Then yet again, last season provided yet another great game between these two schools. The Bears took control of the game in the second quarter and of course, the Cyclones came back from another deficit. Iowa State scored with just 24 seconds left after Brock Purdy found Breece Hall for a 16-yard touchdown to pull his team within two points. Unfortunately for Iowa State, the two-point conversion was no good as Baylor went on to win 31-29.
I genuinely believe that last year's game set the tone for the rest of the season for both teams. Baylor went on to win the Big 12 Conference when nobody expected it and ended their season on a high note with a big win over Ole Miss in the Sugar Bowl. Meanwhile, Iowa State had expectations in 2021 yet had a disappointing year finishing with a 7-6 record after their Cheez-Bowl loss to Clemson.
Now here we are in 2022 as these two programs meet yet again in September. Over the last four games, each team has a 2-2 record but neither team has won on the road. This year's game will be played in Ames but with so many new faces on each side, who knows what will happen on Saturday? All I know is that these two teams are once again on a collision course that will set up for another great game. This may not be one of those traditional rivalries in college football, but it certainly has the makings to become one in the Big 12 for years to come.