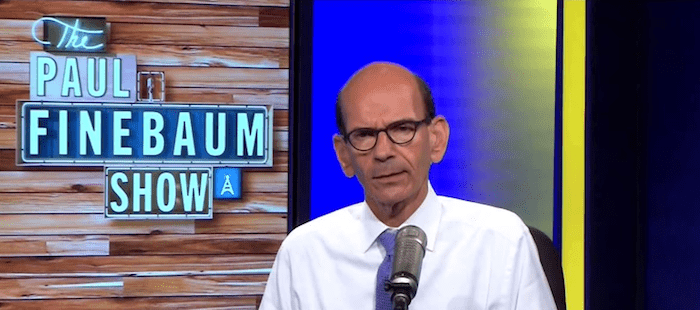 It was announced on Tuesday that the Bedlam Series between Oklahoma and Oklahoma State would officially die when the Sooners leave for the SEC in 2025, at the latest.
There has been a substantial amount of finger-pointing in the aftermath of the reports surfaced, and in reality, both sides are partly to blame. Yes, the rivalry is ultimately ending because Oklahoma is leaving the Big 12, but Oklahoma State isn't necessarily working hard to make sure that the rivalry stays intact, and why should they?
Mike Gundy jotted down his thoughts on the rivalry ending and shared them during media availability, pointing out that this all happened because Oklahoma decided to "follow Texas" to the SEC.
On ESPN's Get Up! Mike Greenburg and Heather Dinich discussed the rivalry ending, and SEC personality Paul Finebaum got involved, barking out his own opinion on the matter.
"Nobody cares," said Finebaum. "We're talking about Stillwater, Oklahoma. Mike Gundy hasn't said anything significant since 'I'm 40, I'm a man.'
"What he (Gundy) said yesterday is nonsensical. Oklahoma's moving on. They're going to be playing Alabama. They'll still be playing Texas. They'll be playing A&M and Georgia.
"This (Bedlam) is a nice, little game in a small state, but to the rest of the country … is giving it a big yawn this morning."
Here's the full clip of what Greenburg, Dinich, and Finebaum had to say.
The "nice, little game" that Finebaum patronizes peaked at 7.7 million viewers last year, which is nearly double the population of the "small state" that the game is played in.
Might want to learn a little more about the rivalry before Oklahoma joins the conference you cover there, Paul.