featured
Kansas Proving That the Right Coach Makes All the Difference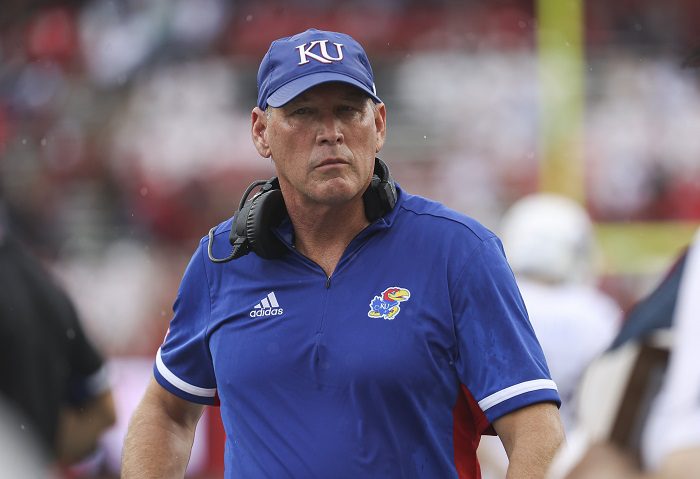 The Kansas Jayhawks have been the laughing stock of the Big 12, and really all of the FBS for that matter, for well over a decade.
Since 2009, KU has been a paltry 31-125, which averages out to a yearly record of 2.4-9.6. It doesn't take a genius to know that that isn't going to cut it anywhere. Seven different head coaches, including both interim and full-time, have made a stop in Lawrence since the 2009 season, and almost all of them have ended in crash-and-burns. That is, until Lance Leipold was hired in 2021.
Following two seasons under Les Miles that ended abruptly following a sexual misconduct scandal involving the former LSU and Kansas head coach, KU athletic director Travis Goff decided to roll the dice on then-Buffalo University head coach Lance Leipold.
Leipold was a hard-nosed, blue-collar coach that had just led the Bulls to three-straight winning seasons, most recently a 6-1 year in a COVID-shortened year in which Buffalo ended ranked No. 25 after a win over Marshall in the 2020 Camellia Bowl.
When Leipold was hired on April 30, 2021, he had already missed out on four of the most important months in the offseason. His team had worked with the previous staff and he had missed out on countless hours of install and prep for the next season. It was a tough job and tough timing, but Leipold was willing to step in and make a difference.
Leipold inherited a roster that had extreme scholarship deficiencies and lacked the talent to win football games. Because of NCAA rules, Kansas was losing more players than it could legally add in a given year, so the Jayhawks were literally playing with less scholarship talent than nearly everyone it played. Then, NCAA rules changed, thanks to COVID, and allowed Leipold to make some necessary additions. The combination of the NCAA lifting initial signing and counter limits and the emergence of the transfer portal allowed Kansas to build a roster that was both workable and able to compete.
At last count, Kansas was working with 79 scholarship players, up from 39 in 2014 when David Beatty took over the program in Lawrence. The impact of that cannot be overstated; Kansas wasn't winning games because it was playing with half a team.
The Jayhawks lacked structure of any kind and a losing mentality and mindset had crept into Lawrence, and that was the first thing that Leipold was tasked with eradicating. In 2021, the Jayhawks went 2-10, but a program-defining win over Texas, in Austin, was the foundation for which Kansas is now building. In the games that directly followed that win, Kansas was more than competitive, losing to TCU and West Virginia by a combined nine points. Quarterback play improved dramatically when Jalon Daniels stepped in as the starter in the latter half of 2021 immediately making Kansas more competitive.
Since Leipold's arrival, Kansas has made several key additions through the transfer portal, including several players that are starting or playing significant roles for KU right now, such as DE Lonnie Phelps, LB Rich Miller, RB Sevion Morrison, LB Eriq Gilyard, and LB Craig Young. Bringing in the right players, with the right mentality, Leipold has started to rebuild the Kansas program out of the ashes into something on the rise.
In 2022, Kansas has looked like a completely different team. In its opener, the Jayhawks outclassed Tennessee Tech, winning 56-10. Then, KU went to Morgantown, a place it had never won, and came out with a 55-42 OT victory. It was the second Big 12 road victory in four tries for the Jayhawks, something KU hadn't done before the Texas game since 2008 when they beat Iowa State in Ames.
Then, last week, Leipold's squad went into Houston, where they were a nine-point dog, and came out a with a convincing 48-30 win over a Houston team that won 12 games last season and was in the preseason AP Top 25.
Now, KU is 3-0, and looking to make that 4-0 with an undefeated Duke team coming to town on Saturday. David Booth will be rocking, as it will hold a sellout crowd for the first time since November 2, 2019. There is real, tangible excitement around Kansas' football program for the first time in 13 years, thanks to Travis Goff's decision to hire the right man for the job, and that man's willingness to take on the challenge.
This Kansas team is different and it thanks to the culture and attitude that Lance Leipold has brought to Lawrence. In an interview with CBS Sports this week, Kansas' head coach broke down some of the things that he needed change when he arrived on campus.
"After sitting down with all the players, consistency, stability, discipline, structure were some of the key words that I heard from our players," Leipold said. "I really felt that fit with how we went about it at Buffalo…
"That was the biggest thing we wanted to do was give them a routine. Whether it be win or loss, we are gonna build this thing by a daily expectation of improvement."
Kansas is certainly improving, and it is because of the foundation that Leipold set when he arrived. If you haven't, take the time on Saturday morning to tune in and watch this KU team play, in front of a sold out crowd no less, and I promise that you will tell a difference right away.
Consider me a fan of Leipold, and a fan of what he has built in Lawrence in a short time, and from what it sounds like, he could be here to see this program climb back to national prominence. With the turnaround that he has commandeered in a little over a year on the job, Leipold is garnering national attention for coaching searches possible openings.
When asked about that, Leipold smiled.
"The good Lord put us here (Lawrence) for a reason. My wife and my family are extremely happy here. We expect to be here a long time."