Baylor Bears
Four Thoughts on Baylor's 31-24 Win Over Iowa State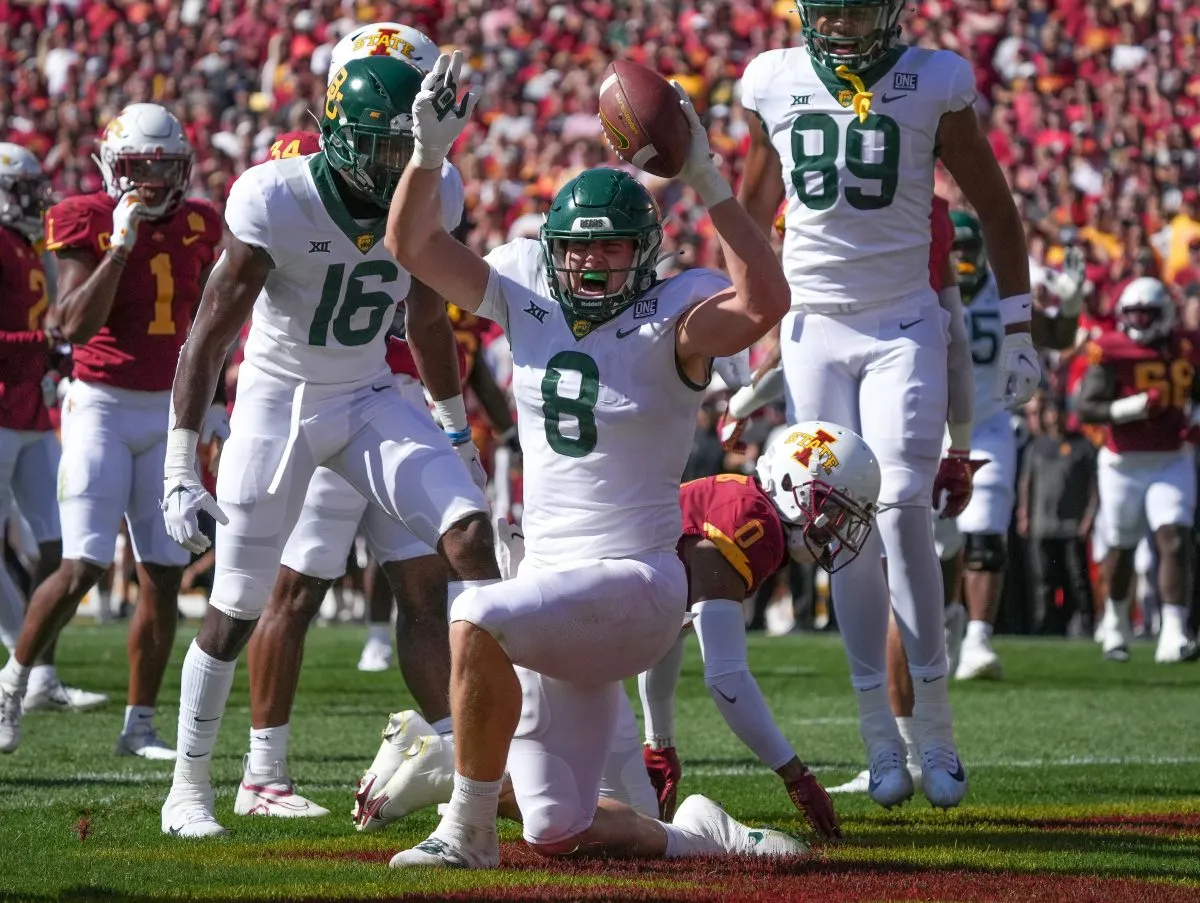 As we head to week four in the Big 12, conference play has finally arrived. There are several key games in the Big 12 this weekend and perhaps none bigger than the one in Ames, Iowa on Saturday afternoon.
The Baylor Bears made the trip north atter a 2-1 start where their only loss was to BYU on the road. Meanwhile, Iowa State went into this game after a hot 3-0 start which included a win over in-state rival Iowa.
Anytime these two schools meet up, there is always drama and there was certainly plenty in this game. Between the wild first quarter and everything else, here are four thoughts on Baylor's 31-24 win over Iowa State.
1. Baylor QB Blake Shapen Looks Sharp
A lot of us had questions about Blake Shapen coming into the season and especially after the BYU game. Against a good Iowa State defense, Shapen delivered as he threw for 238 yards and three scores. He was calm, cool, and collected in the pocket and when things broke down, he used his feet to bail him out of trouble and make a play downfield. At no point and time did he look panicked, and he truly looked like an experienced quarterback. The run game wasn't working a whole lot, but give credit to Blake Shapen because he was big time on Saturday.
2. Baylor is Still a Big 12 Contender
I wasn't sure just how good Baylor was coming into today. They looked extremely average against BYU and there were some concerns on offense. Instead, Blake Shapen looked sharp and don't forget about this Baylor defense. They did an excellent job shutting down Iowa State's run game and were able to make Hunter Dekkers look like a freshman. When Baylor plays like this then they are a tough team to beat. They are solid in the trenches, and you could see them starting to wear down the Iowa State defense later in the game. It was a big win for Baylor to get conference play started and even Dave Aranda got a little excited as well which is something we don't normally see from him on the sidelines.
3. It was a Tough Day for Iowa State
I don't want to say the first half was back breaking, but the defense didn't catch many breaks in the first half. They had their work cut out for them, yet it was just a three-point game going into halftime.
The offense wasn't as crisp as it needed to be. Up to this point Hunter Dekkers played well, but he made mistakes we haven't really seen him make much until today. He missed some throws on key downs and had one bad turnover in the fourth quarter that gave Baylor great field position. With that said, a lot of pressure was put on Dekkers because the run game wasn't there against Baylor. Iowa State ran for just 66 yards and averaged 2.4 yards per carry. Baylor completely shut down the Iowa State ground game and that was a big problem for the Cyclones offense. Between the penalties and the other mistakes, it is safe to say Iowa State didn't have their best game but it's still early in the season. The biggest thing I want to see from this team is how they respond after a loss like this.
4. The First Half Officiating Was Awful
Let me start by saying that Baylor would have still won this game today. The Bears were the better team and played better than Iowa State did. I have no doubt about that but what I saw in the first half from this Big 12 officiating crew was embarrassing.
Just a few plays in the game, Iowa State safety Beau Freyler was ejected for targeting for this hit. As much as I don't like the call, I completely understand it. However, look at the play right underneath the Freyler hit. Nearly an identical hit yet it was not called. Where is the consistency?
Then you had this unnecessary roughness call on Iowa State linebacker Colby Reeder right after the Beau Freyler ejection. I know the game is changing but when did it become two hand touch? I guess I missed the memo.
While those first two calls were bad, this may have been the worst of all. On a 3rd and 7 from the Iowa State 29-yard line, Baylor ran the ball and Iowa State safety Anthony Johnson Jr. took an offensive lineman head on. A flag was thrown on Anthony for a block below the waist which gave Baylor a new set of downs.
I would also add that the Iowa State fourth down touchdown should have been reviewed as well. The officiating did get better in the second half, but that first half was extremely tough to stomach, especially if you are an Iowa State fan.