Big 12 News
Joey McGuire Calls Out Texas Over Potentially Not Continuing to Play Texas Tech After SEC Move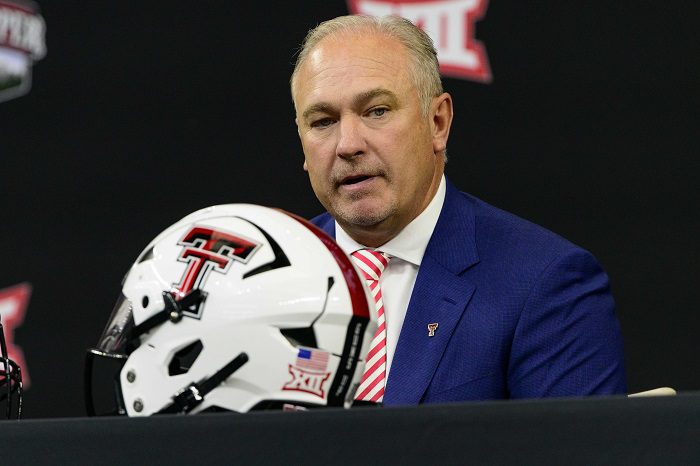 There are concerns around Texas Tech that the Texas Longhorns won't continue to play the Red Raiders after UT leaves the Big 12 for the SEC.
But after Texas Tech beat Texas on Saturday in Lubbock, Tech head coach Joey McGuire took a swipe at the Longhorns about their hesitancy over continuing the series once they leave the conference.
The Texas Longhorns and Texas Tech Red Raiders have played annually since 1960, and last September Texas Tech athletic director Kirby Hocutt met with Texas AD Chris Del Conte to make sure the rivalry continues being played once Texas leaves for the SEC.
At the time, Texas assured Hocutt that they would indeed keep playing in every sport, especially football, for the next quarter-century.
However, there has been no progress since then and Texas Tech AD Kirby Hocutt recently said, "As I've talked to my counterpart at the University of Texas, while all the right things have been communicated to me, it's concerning that in the last couple of weeks I've heard from individuals in Dallas, in Fort Worth and in Midland that there's different things being said from those folks representing the University of Texas and that a scheduling alliance against Texas Tech is not going to happen."
Texas Tech's win on Saturday was their first at home against Texas since the legendary 2008 match up. And depending on what the future holds, it could be their last home game against the Longhorns for years to come.
Texas is scheduled to leave the conference in July of 2025 with the Oklahoma Sooners, however there is plenty of speculation that the two could leave earlier. But don't expect it to come in 2023, as the SEC recently set their schedule, and it does not include OU and Texas.