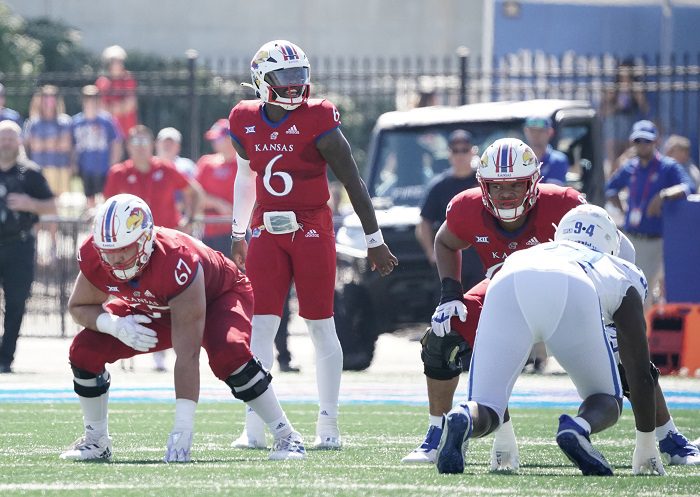 The Kansas Jayhawks and Duke Blue Devils were playing each other in football on Saturday and, yes, there was plenty of hype for this one as both teams came in with 3-0 records. The Jayhawks were 3-0 for the first time since 2009, as Lance Leipold has led this team to massively exceed expectations through the first three weeks of the season.
And in front of a packed house at David Boothe Stadium, the Kansas Jayhawks kept rolling to a 35-27 win over Duke on Saturday afternoon. Kansas is now 4-0 on the season, which last came back during the 2009 season.
Here are three thoughts on the game.
1. Jalon Daniels in the Heisman Conversation
Do I believe Jason Daniels will ultimately win the Heisman Trophy? No, but he absolutely deserves to be in the conversation after the first month of the season. On Saturday, Daniels was fantastic. He threw a career high four touchdown passes, finishing 19/23 for 324 yards, while rushing 11 times for 83 yards and one TD.
Just look at this beautiful pass from Jalon.
Daniels has continued to blossom as a passer, while remaining one of the most dangerous quarterbacks in the sport using his feet. If he continues to grow like this throwing the ball, the ceiling for the Kansas Jayhawks is even higher than we thought it was just a week or two ago.
2. The Defense is Getting Better
KU's defense has been the weakest of the three units thus far, but when taking on a Duke team that was averaging nearly 37 points per game, the Jayhawks continued to show progress.
There were really just three strong drives from Duke in this game, with two coming in the second half of the four quarter. Their second drive of the game went 4 plays for 66 yards and a touchdown, and then in the fourth quarter they put together their two best drives: down by 15, Duke rolled to a 10-play, 92-yard d rive that also resulted in a touchdown. Then it was a seven-play drive for 70 yards and a score.
But overall, when you look at where this defense has been the last two weeks and where it was on Saturday, there has been vast improvement. Kansas held Duke to less than four yards per carry during the afternoon, which was admittedly far better than the passing defense.
If we want to find other places to improve, Kansas did find itself getting penalized more often than it had been all season. KU came in with just 4.0/penalties per game, the fewest in the Big 12. But on Saturday, the Jayhawks were hit with seven penalties for 83 yards, including some costly ones down the stretch that could have turned this game in favor of the Blue Devils.
3. The Best Story in College Football Thus Far
The Kansas Jayhawks being 4-0 as the calendar flips to October next Saturday is the best story in college football so far this season and it's not even close.
College GameDay should have arguably been there this week, but instead they chose Tennessee and Florida (so cliche). Unfortunately, next week seems unlikely, as Iowa State won't be undefeated when it comes to Lawrence, which likely dampers the possibility of a GameDay visit to KU.
But putting all that aside, Kansas football is fun, easy to root for, and is going to give every Big 12 team a serious run for its money this season. What Lance Leipold has done with this program by his second season is absolutely incredible and every college football fan has to absolutely love, and if nothing else appreciate, this story.