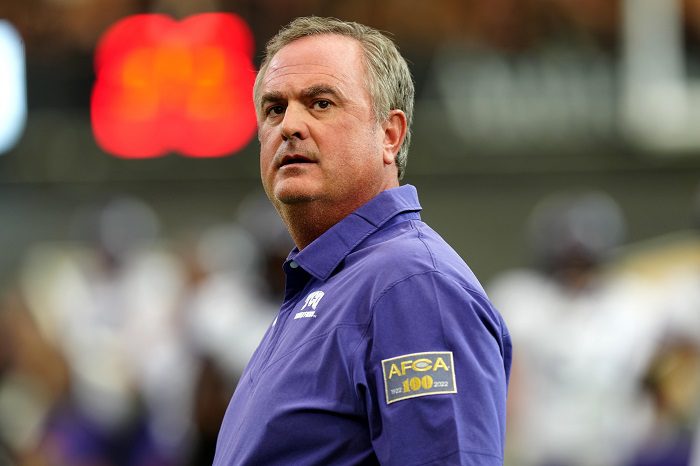 The TCU Horned Frogs came off their bye week and defeated the SMU Mustangs, 42-27, at Gerald J. Ford Stadium in Dallas on Saturday.
The win enabled TCU (3-0) to wrap up an undefeated non-conference slate after victories over Colorado and Tarleton. SMU (2-2) dropped its second straight game after losing to Maryland last week.
Here are three thoughts on the game.
1. REVENGE AVERTED
The major storyline going into the game was the return of TCU head coach Sonny Dykes, who was at SMU from 2018-21 and helped lead the program to three straight winning seasons, including a 10-win season in 2019. TCU lured him away with better facilities and a chance to return to a Power 5 conference, and it wasn't the cleanest of exits. One of Dykes' SMU friends, Bill Armstrong, told Sports Illustrated that he felt 'stabbed in the back' by Dykes' decision to leave for the cross-town rival. The Iron Skillet game had a different feel to it. Tickets for the game on the secondary market were not cheap. Signs popped up on campus touting Dykes as a Judas. For the first time in a while, this rivalry game had a real buzz to it.
So what happened? TCU proved itself to be the better team, which is probably part of the reason Dykes left in the first place.
SMU's decision to upgrade its facilities, in the hopes of joining a Power 5 league, are coming to a head, in part because Dykes jilted them. But it didn't come back to haunt Dykes on Saturday. That isn't to say it won't at some point. After all, they play every year.
2. IS THIS THE REAL TCU?
That was a question I had going into the game. I wasn't sure if we had seen the real TCU to this point. The Horned Frogs beat a moribund Colorado team and lost their starting quarterback, Chandler Morris, in the process. The Tarleton win was empty calories. Say want you want about the rivalry — the Mustangs were the best team TCU had faced to this point.
Quarterback Max Duggan threw for 278 yards and three touchdowns without an interception. Running back Kendre Miller rushed for 142 yards and a touchdown. Five different players caught at least three passes for the Horned Frogs. And running back Emari Demercado had two fourth-quarter touchdown runs. TCU's offense picked up yards in bushels and scored points in bunches, just the way Dykes likes it. The Horned Frogs also did without committing a turnover, which is a good thing because …
3. TCU NEEDED ITS OPPORTUNE DEFENSE
Look — this game featured two Air Raid offenses facing off against each other. There's a reason why the Mustangs hired Rhett Lashlee as head coach. He used to work for Dykes at SMU. So it wasn't surprising that SMU nearly matched TCU in yardage (487 for TCU to 476 for SMU). I'm also not surprised that the Mustangs kept this game close. But a key in a game like this is protecting the football, and SMU couldn't do that on Saturday. SMU quarterback Tanner Mordecai has two interceptions and those are killers in a game like this. TCU's Josh Newton and Abraham Camara picked off those passes, and while neither scored, both stopped SMU drives. And in a game like this in which scores are traded like baseball cards, those turnovers mattered.
You can find Matthew Postins on Twitter @PostinsPostcard.