Baylor Bears
Baylor Women's Basketball 2022-23 Roster Analysis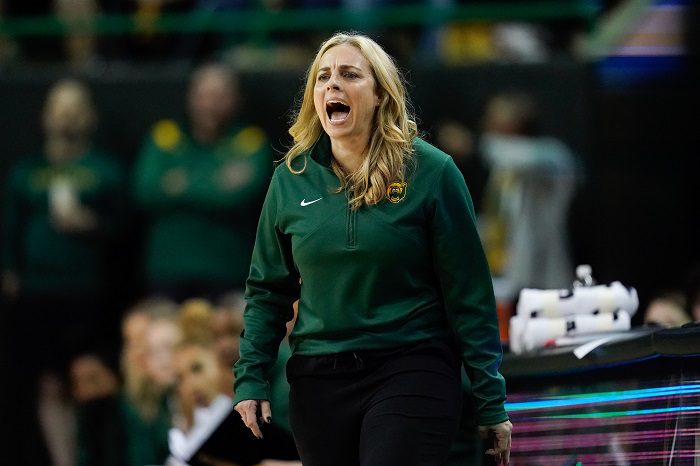 Leading up to the opening of the 2022-23 Big 12 Women's basketball season Heartland College Sports will analyze each of the Big 12 women's basketball rosters. Today it's the Baylor Bears.
2021-22 Season-Ending Roster: F NaLyssa Smith, G Jordan Lewis, C Queen Egbo, G Jaden Owens, G Andrea Katramados, G Ja'Mee Asberry, G Sarah Andrews, F Kendra Gillispie, F Caitlin Bickle.
No longer at Baylor: Smith (WNBA), Lewis (eligibility/WNBA), Egbo (WNBA), Katramados (not on roster).
2022-23 Season-Opening Roster: G Jana Van Gytenbeek (5-7, Jr.), G/F Darianna Littlepage-Buggs (6-1, Fr.), G Jaden Owens (5-8, Sr.), P/F Kyla Abraham (6-4, Fr.), F Erika Porter (6-3, Jr.), G Ja'Mee Asberry (5-5, Sr.), G Bella Fontleroy (6-2, Fr.), G Sarah Andrews (5-6, Jr.), F Kendra Gillispie (6-2, So.), G Catarina Ferreira (6-1, Jr.), G Aijha Blackwell (6-0, Sr.), F Dre'Una Edwards (6-2, R-Sr.), F Caitlin Bickle (6-0, Sr.)
How The Bears Are Built
Returning Players (5): Owens, Asberry, Andrews, Gillispie, Bickle.
Transfers (5): Van Gytenbeek (Stanford), Porter (Illinois), Ferreira (Eastern Arizona College), Blackwell (Missouri), Edwards (Kentucky).
Freshman/Recruiting Class (3): Littlepage-Buggs, Abraham, Fontleroy
Potential starting lineup: Asberry, Andrews, Blackwell, Edwards, Bickle
Why?: The Bears didn't bring in Blackwell and Edwards to sit. They're going to be a jolt of energy that can fill some of the void left by Smith and Lewis. Blackwell averaged a double-double last season, while Edwards averaged 14 points and eight rebounds. The pair brings in 30 points and more than 18 rebounds per game. Bickle is a solid scorer, but a tenacious, physical rebounder, and she'll grab the more difficult stuff around the glass. Meanwhile, Asberry and Andrews are back and were two of the Big 12's best 3-point shooters from a season ago. As far as soft landings after losing a player like Smith, this one is pretty cushy.
The bench: Van Gytenbeek, Littlepage-Buggs, Owens, Porter, Gillispie
Why? Van Gytenbeek is a high-percentage 3-point shooter, she just didn't get much of a chance at Stanford. Littlepage-Buggs was Baylor's top recruit and she'll get playing time from the jump. Owens can back up the point position. Porter gives the Bears height off the bench. Gillespie gets a crack at frontcourt playing time after little opportunity last season. There's room for competition here.
The wild card: Fontleroy. She was a Top 50 recruit as rated by ESPN HoopGurlz and the Missouri Gatorade Player of the Year. Littlepage-Buggs was more highly-rated and will play right away. But Fontleroy has the talent to worm her way into the rotation off the bench.
You can find Matthew Postins on Twitter @PostinsPostcard.