Big 12 News
Big 12 Conference Issues Texas Tech Public Reprimand and Fine for Field Storming Incident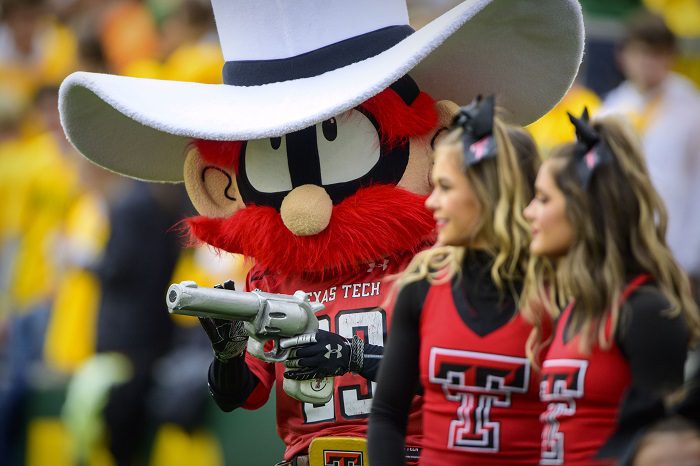 After its 37-34 OT victory over Texas on Saturday, Texas Tech fans stormed the field in celebration directly after the conclusion of the contest.
The Big 12 Conference has announced a public reprimand and fine of Texas Tech following the incident, according to a Big 12 press release.
"In accordance with the Big 12 Conference Principles and Standards of Sportsmanship, the Conference has issued a public reprimand and $50,000 fine of Texas Tech University for the field storming incident that occurred at the conclusion of Saturday's overtime victory against Texas."
 
"We have a duty to provide a safe game environment," said Big 12 Conference Commissioner Brett Yormark. "The Texas Tech Department of Athletics has a written event management policy that, while well thought out, was unsuccessful in ensuring the safety and security of all visiting team student-athletes, officials, coaches and staff. There is zero tolerance for any act that compromises the safety of game participants, and it is of utmost importance that home game management provide adequate security measures for our student-athletes, coaches, game officials and spectators."
Among the madness, was an incident that has sparked a police investigation after a Texas Tech fan is seen shoving a Texas player while storming the field.
Here is a look at the video if you missed it.
Texas Tech released a statement on Sunday night, writing, "A video clip of a fan pushing a University of Texas student athlete was recently brought to our attention. This behavior is unacceptable and Texas Tech athletics has turned the matter over to the Texas Tech Police Department. We will work together to identify the fan and take further action. If anyone with information can assist in identifying this individual, please contact the Texas Tech Police Department at 806-742-3931."
Texas Tech will be on the road this week to take Kansas State in Manhattan, Kansas.