Kansas Jayhawks
Joel Klatt Crushes AP Poll Voters for Not Ranking Kansas in Top 25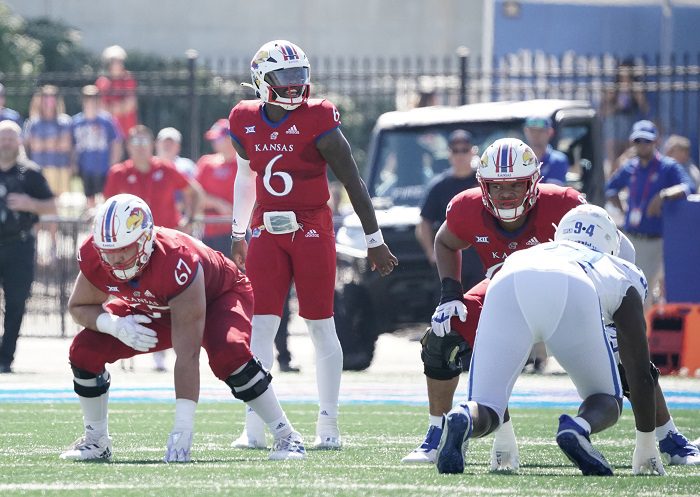 In case you missed it somehow, the Kansas Jayhawks defeated a previously 3-0 Duke team on Saturday afternoon by a score of 35-27, moving KU to 4-0 for the first time since 2009.
It was a monumental step for the program, which played in front of a sellout crowd for the first time since November 2, 2019, and it seemed just a matter of principle that the Jayhawks would jump into the AP Top 25 Poll this week. Except the Associated Press never got the memo, and the Jayhawks were left just outside of the poll in the "receiving votes" section.
FOX Sports College Football Analyst Joel Klatt was the voice of the people on Sunday when he called out the voters of the poll who didn't rank the undefeated Jayhawks.
With wins over Tennessee Tech, West Virginia, Houston, and Duke, this Kansas team has now doubled its win total from 2021 and looks to be a true contender in the wide-open Big 12 this season.
Part of the blame for KU not ascending into the Top 25 has to fall on their in-state rivals, Kansas State. On Saturday evening, the Wildcats took down No. 6 Oklahoma 41-34, which catapulted them ahead of Kansas and into the rankings at No. 25. However, that doesn't mean that Kansas doesn't deserve to be somewhere amongst the group after such a great start in 2022.
Joel is a man of the people, and he is simply speaking as one of the many who believe that KU should be up there. As I said after their win over Houston in Week 3, rank Kansas you cowards.