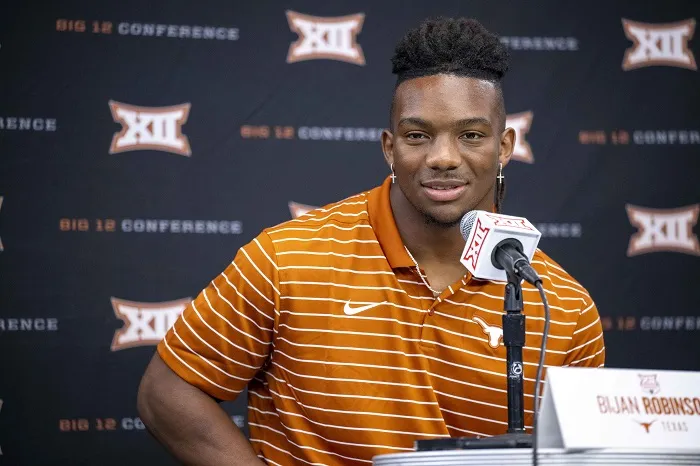 Texas Running Back Bijan Robinson has been spotted carrying a football around Campus and the football facility on Monday because he is focusing on securing the football for the rest of the season.
The update comes from Anwar Richardson on Twitter, mentioning that Robinson has been carrying a football around campus while his teammates and students have been trying to knock it out.
See Richardson's Tweet below.
Robinson lost the football in Saturday's matchup with Texas Tech and it was one of two turnovers in the Red Raiders 37-34 Overtime Win against the Longhorns. The other was an interception thrown by Hudson Card that led to Texas Tech pulling off the upset. Losing the turnover battle is usually a sure-fire way to find yourself on the losing end of a football game, and that was the case for the Longhorns on Saturday.
Fans will get to see if Bijan Robinson's methods pay off in Saturday's matchup with West Virginia as the Longhorns look to get back on track and jump up the Big 12 standings. The matchup will pit the two bottom teams in the Big 12 rankings against one another, with the loser left to look up at the rest of the conference at 2-3.